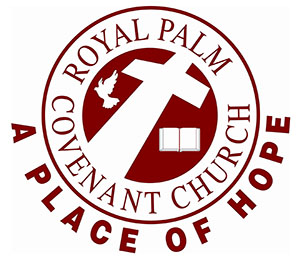 It has been a few weeks since the Royal Palm Covenant Church closed the doors to its longtime building and moved its services to the Regal Royal Palm Beach Stadium 18 movie theater on State Road 7, but for Pastor Michael Rose and his congregation, the move does not signal an end — but rather a new beginning with an opportunity to grow and flourish.
Royal Palm Covenant Church is the oldest church in Royal Palm Beach, Rose said, celebrating 54 years of ministry in the western communities this year.
Rose and his wife, Carolyn, have been pastors at the church for the last 13 years. They also established a food pantry that remains in operation, serving between 130 and 150 families a week.
"We will not turn anybody back," Rose said. "We welcome newcomers, as well as families that have been with us. We want to serve them and serve them well."
The food pantry has moved down the block from the old church building to 650 Royal Palm Beach Blvd., Suite 9, in the Royal Plaza. Food distribution hours have been extended to 9 a.m. to 2 p.m. every Thursday.
"The Southeast Conference of the Evangelical Covenant Church decided it was time to sell the building," Rose said.
The conference decided that due to economics, it would be better to sell the aging facility, which dates back to the 1960s.
Even without a building, the congregation has remained strong and is doing well with the move. The weekly service has changed slightly, running from 10 to 11:30 a.m., and Sunday school is from 9 to 9:45 a.m.
"The acoustics in there are very nice, and it's a very warm setting. People feel very welcome when they walk in the door because of the way the place is situated," he said. "It is a very fabulous place to have your service."
In the future, Rose hopes to double or triple the church's membership. At Regal, everything is handicapped-accessible, with plenty of parking available.
"The ministry is still going strong and worship is just as sweet as it has ever been," Rose said.
This weekend, Sunday, April 9, will be the fourth service at Regal. Members are still getting acquainted with the new location. Attendance, he said, hasn't changed much, though a few members prefer a more traditional setting.
Even though the venue has changed, though, Rose feels that it offers the perfect opportunity for the congregation to grow. Holding services at Regal, Rose expects the worship to be more accessible to the community.
"We welcome anybody who wants to come to our church services," he said. "We are a multi-ethnic, multi-cultural group, and we welcome everybody to come and worship with us. Also, those who want to participate, and become active in a ministry that serves the community, they are also welcome. We believe that we are to do love, mercy, compassion and justice in our community."
Within the next five years, Rose hopes to be working on building a new facility. The building fund project will start shortly, and donations can be made at any TD Bank for the "Building Fund of Royal Palm Covenant Church." Donations can also be made to the food pantry at TD Bank. "For those who have supported our ministry over the years, we want to say a special 'thank you' to them and also encourage them to continue to support us as we continue to support the community," Rose said.
For more information, visit www.rpcchurch.com or call (561) 793-1077.