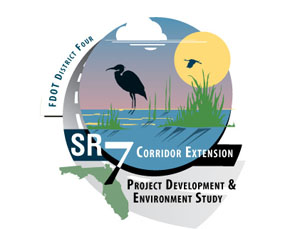 The Western Communities Council heard news Wednesday that the fight for the State Road 7 extension to Northlake Blvd. could go on for as long as another 18 months.
Western Communities Council Administrator Tanya Quickel reported that the organization, made up of representatives from several local governments, has more than $12,000 in its account, but it had exhausted its SR 7 fund.
Attorney Bob Diffenderfer of Lewis Longman & Walker was on hand to give an update, which was moved to the top of the agenda.
Indian Trail Improvement District Supervisor Michelle Damone, chair of the Western Communities Council, said that West Palm Beach Mayor Jeri Muoio had filed a lawsuit with the South Florida Water Management District and the Florida Department of Transportation.
Damone had spoken on a conference call with Diffenderfer, County Commissioner Melissa McKinlay, County Engineer George Webb, County Administrator Verdenia Baker and FDOT Secretary Jim Boxold to discuss the situation.
Diffenderfer said that the project has finally moved along to the point where the SFWMD had given a notice of intent to issue a permit for the extension from 60th Street North to Northlake Blvd.
"Under state law, that action is not final unless it goes unchallenged for some period of time," Diffenderfer said. "The City of West Palm Beach, as predicted, showed up to challenge that permit. They filed a petition challenging the issuance of the permit, so until that challenge is resolved, there is no permit. That challenge is basically the beginning of litigation."
He said that the SFWMD reviewed the petition and found it sufficient, referring it to the Division of Administrative Hearings, where it has been assigned Judge Bram Canter, who has done many similar cases.
"As of Monday, he has issued an initial order asking the parties to make certain disclosures, how much time they think the hearing is going to take and to give dates of availability," Diffenderfer said, calling it a fairly standard initial order. "It's at the very beginning of the litigation process."
He said that John Fumero, former counsel to the SFWMD, is representing FDOT in the matter, and Palm Beach County has two in-house attorneys assigned to the case. West Palm Beach is represented by Holland & Knight, which has represented the city in a number of cases regarding SR 7.
Diffenderfer said that the petition is very direct and straightforward, but very broad in the sense of what they are challenging.
"The City of West Palm Beach has stated that its objective is to make this as long and painful as possible, so I would not expect them to cooperate in a quick hearing on this," he said.
He added that FDOT will defend the case for its permit vigorously. "Knowing the quality of the staff that they have engaged to do the permitting, they will be very well prepared to defend the permit," Diffenderfer said.
Damone said that from her conversation with Boxold, he is anxious to get the project done, and McKinlay agreed.
"The biggest confidence booster I had at that call was his assurance that he would not be moving the construction funding out to future years," McKinlay said.
Diffenderfer said that there is a requirement in the process for mediation. "I'm not sure how fruitful any mediation discussion will be, but that's a required part of the process," he said.
He added that the action is open to participation by others. He has been asked what role the Western Communities Council might play.
"There is an opportunity to intervene in this proceeding as a party," Diffenderfer said. "The Western Communities Council, perhaps as an entity, or as individual entities, could ask to intervene in this proceeding. That will make you a party to this proceeding. That gives you the right to conduct discovery. You basically take the case as it has been framed, but it gives you a seat at the table and the right to participate in everybody else's discovery, notification in real time of what's going on in the case, and participation in the case as it develops."
He said there is no required time in which to ask to intervene, but asking early, before the case starts moving, is always better. He added that the council's bylaws are broad enough to support such intervention.
Damone added that U.S. Rep. Lois Frankel's redrawn district now covers the western communities, and she would like to write a letter welcoming Frankel to the area and let her know the community's position. In the past, Frankel has been supportive of West Palm Beach's position.
Wellington Mayor Anne Gerwig asked if there is liability in intervening. Diffenderfer said that there is cost, time and energy involved.
"There is the ability in an administrative hearing to recover fees from an entity if it is participating for an improper purpose," he said. "I don't think this board's participation could possibly amount to an improper purpose. This judge is very good about limiting the spectacle of a trial to focus on the issues that are on the table."
Despite that, Diffenderfer said that even if the case for the permit prevails, it will most likely be appealed, which will bring the total time for the case to about a year and a half or more, and a cost of $140,000 to $200,000.
Damone pointed out that it would be a shared cost of Western Communities Council members that choose to participate.
"I think there's strength in numbers," she said. "I think there's strength with this issue through the Western Communities Council."
McKinlay said that the county plans on being relentless regarding the lawsuit. "I assure you that all of our resources are on the table in this case," she said.
Wellington Village Manager Paul Schofield suggested that representatives go back to their respective bodies and ask for additional funding for the effort.
Damone said she would like to have a strategy in place to show her board before asking for more money. She also asked for a follow-up meeting on the topic in May.