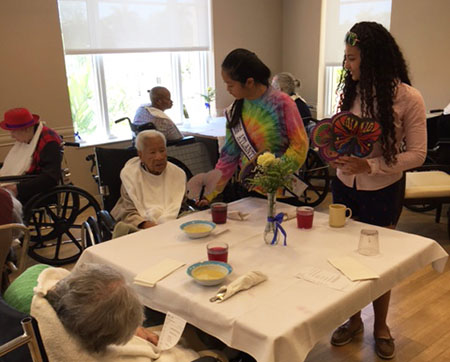 While Mother's Day is about celebrating with your mother, Crestwood Middle School seventh graders Amanda Ng and Natalie Santana took to visiting mothers who do not have their kids nearby.
Armed with fans and their smiles, they visited the MorseLife nursing home and brightened the day of many elderly residents.
Amanda Ng, reigning Atlantic Coast Preteen, will be competing for a national title at the Royal International Miss Pageant in July. This is a pageant designed around community service and empowering young women. Ng's motto is, "If everyone was blind, how would you impress people."
When asked why she selected that motto, Ng explained, "Everyone thinks pageants are about beauty, but the pageants I participate in is about inner beauty — how you can help others."
ABOVE: Amanda Ng and Natalie Santana visit the MorseLife nursing home.