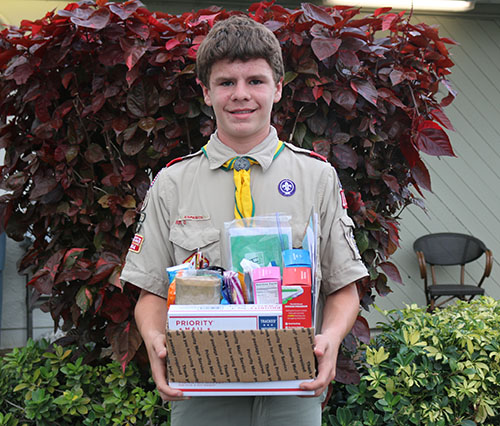 When it comes to Eagle Scout projects, there are plenty of options, but 14-year-old Justin Sterling knew exactly what he wanted to do.
"I wanted to show how we care for the military because sometimes the military doesn't get items that it needs," he said.
Sterling's project is to send at least 50 care packages and at least 200 letters of encouragement through Forgotten Soldiers Outreach to soldiers deployed overseas.
"People in the armed forces don't get a lot of stuff that make them feel at home, and I feel like this will be a little boost in their morale that will make them feel like they're at home, with supplies that they need," Sterling said.
Choosing Forgotten Soldiers Outreach as the beneficiary was an easy decision, he explained, because the organization sends boxes out regularly to deployed soldiers.
Sterling is working toward raising the money to send the care packages, at $25 postage each. He is hosting a car wash with a $5 donation on Saturday, May 28 at St. Peter's United Methodist Church (12200 W. Forest Hill Blvd., Wellington) from 9 a.m. to 1 p.m.
To send 50 care packages, Sterling needs to raise $1,250. As of this week, he has made a substantial dent in that minimum number, raising more than $1,000. But the more he raises, the more care packages he is able to send. However, the $1,250 doesn't cover the cost of the supplies.
Most of the things provided inside the packages come through donations. Sterling has gone to community businesses asking for items, and will purchase additional supplies needed to complete the boxes.
The project is also expandable. If he collects enough money to send 100 packages, that's what will happen.
Sterling, a freshman at John I. Leonard High School, is excited that his goal is within reach.
"The Eagle rank is a very honorable rank because only 2 percent of all Boy Scouts achieve it," he said. "Most Boy Scouts age out when they turn 18 or don't do it at all."
Sterling has been a Boy Scout since he was 11. His interest began when he saw the short-lived National Geographic television show, Are You Tougher Than a Boy Scout?
"It showed how their skills are useful. It got me interested," he said.
The coveted Eagle Scout rank is something Sterling wants to achieve because it demonstrates leadership abilities. He is showing that leadership through his roles as the assistant senior patrol leader and webmaster of Troop 125 in Wellington, which has approximately 60 scouts.
To help those on active duty, Sterling has been advertising through social media about his project, the need for letters of encouragement, a GoFundMe account (www.gofundme.com/helpthesoldiers) for buying supplies, and more to help Forgotten Soldiers Outreach.
The boxes are scheduled to be made on Aug. 27. The goal is to have all of the supplies and funds by then.
Jeanelle Avallone of Forgotten Soldiers Outreach is excited about Sterling's project.
"What makes this special is the fact that someone so young is going out of his way to help soldiers," she said. "It impacts us a lot because Justin is trying to raise enough money to send out 50 care packages. We just got a unit that has 500. So those 50 packages that Justin's going to be doing in August, that will help with our squad boxes in sending out the packages, and it will help lessen our load with trying to raise the funds that he will be bringing in."
Sterling's Eagle Scout project with Forgotten Soldiers Outreach is the second such project for the company since at least 2008, when Avallone started working there.
"I think it's awesome. He's showing initiative. I wish more kids his age would do stuff like that," she said. "Honestly, being a mom of a military service person, I think it's awesome what he's doing."
Recipients receive little to no support from home, she explained, and within each care package is a smaller box containing a letter of encouragement and supplies for someone else who doesn't receive something during mail call.
There is also a note telling troops that if they would like to receive a care package each month, to sign up on the Forgotten Soldiers Outreach web site.
Stephanie King, Sterling's mother, is also the advancement chair for Troop 125. She is tasked with helping boys reach their next rank and is proud of her son's dedication toward earning Eagle Scout status.
"It's really exciting to see him earn this at such a young age, and want to earn it. It's a lot of work. He's written the companies, he's contacted different people," she said. "It's really his job. I love that it shows leadership. He's basically a CEO, and he has to make all of the tough decisions."
Part of striving for an Eagle Scout rank is creating a project plan, which then goes through approval by the scoutmaster, committee chair and the project beneficiary before going to the project approval board.
Sterling's project was approved on the first try, with some suggestions. Since then, he has been busy asking for donations and visiting different companies. He began the project in January. Once completed, he will present it to the same board for approval.
From there, King said, the project is sent to the national office to go through a fine-toothed comb before Sterling earns his Eagle Scout rank.
Care package supplies include travel-sized mouthwash, deodorant, body wash, shampoo, shaving cream, baby powder, toothpaste, dental floss, razors, lip balm, bar soap, tampons, cotton swabs, batteries and socks; snacks such as beef jerky, crackers, popcorn, individual-size bags of nuts and dried fruit, breakfast bars, snack bars, coffee, microwavable meals, instant noodles and trail mix; small puzzle books; and any other small items.
Donations can be dropped off at the car wash, or at St. Peter's on Tuesdays. For more information, e-mail sterlingjustin8@gmail.com or call (561) 248-9420.
Donations are always welcome at Forgotten Soldiers Outreach. The next two quarterly box-packing events are at maximum capacity. To sign up for the November packing event, call (561) 369-2933 or visit www.forgottensoldiers.org.
ABOVE: Life Scout Justin Sterling is working on his Eagle Scout project.