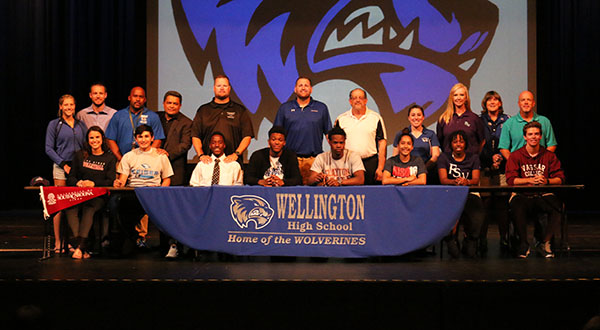 Eight Wellington High School student-athletes signed papers Wednesday, May 11 committing them to play for the colleges of their choice in a ceremony led by Athletic Director Pattie Fitzhugh.
"We're so very proud of everyone sitting at this table. I think they all need a round of applause," she said. "We are so very proud of each and every one of you for representing Wellington and your families and your friends. We can't say much more about you because you've shown it on the field, you've shown it off the field, and we appreciate everything that you've brought to Wellington High School."
Volleyball coach Chris Kushay introduced student Rebecca Martinez. "She is probably the most competitive person I've coached in all my years of coaching," he said. "She is going to the University of South Carolina at Aiken with a full scholarship. There's a big, big void to be filled in her shoes."
Soccer coach Jorge Perdomo introduced student Nicholas Gomez, who will be attending Keiser University. "He is the best I've seen around," Perdomo said. "Every one of his team members knew he was the MVP."
Football coach Thomas Abel introduced student Guerry Everett, who will be attending Webber International University.
"He's a three-year varsity football player who was a two-year starter for us," Abel said. "He's going to make an immediate impact at Webber International… We're very happy for him. We love him dearly. He's going to be truly missed."
Boys basketball coach Matthew Colin introduced students Lester Gates, who will be attending Lewis & Clark College in Illinois, and Alex Dieudonne, who will be attending Clayton State University in Georgia.
"Lester has done an unbelievable job for this program. He was awarded the Best Defender of the year, he was first team all-conference, he's done tremendous things with the way he played," Colin said. "Alex is a three-time first team all-area player, three-time first team all-conference player, was our team MVP twice and is responsible for many, many wins."
The two players, Colin said, are responsible for 54 wins and eight losses during the team's most recent seasons.
Coach Stephanie Weiss filled in for girls basketball coach Randy Soto to introduce students Aurelia Lebron and Latoya Ashman.
"Aurelia Lebron is very passionate about basketball, is very committed and very coachable," Weiss said. "She will be attending Johnson & Wales [University] in Miami," Weiss said.
Ashman will be attending Florida SouthWestern State College. FSW's coach Kristy Ward attended the ceremony to welcome Ashman. "We are super-excited about Latoya joining our program," Ward said. "We want to build strong character in our student-athletes, and she completely fits the bill on the academic standards, on the athletic, of course, and all the things that she's going to contribute to our institution and our community."
Baseball coach Scott Riddle introduced student Jake Silver, who will be attending Vassar College.
"When we bring kids into the baseball program at Wellington, we ask for a couple of things," Riddle said. "Most importantly, we ask for our efforts, character and hard work in the classroom. We don't necessarily ask that they be best on the field, most athletic. We just want them to do these three things. Not that he's not. That's not the point. What we ask for is effort, coachability and character. Jake has been in the top 10 in his class for four years running. His leadership on the field has led the baseball team to 37 wins in the last two years."
Silver is always putting more work in, Riddle said, and is someone who will be missed on and off the field.
Before the students left, Fitzhugh asked them to thank their coaches and their parents. She reminded the students that they have athletics, classes and college life to deal with in their future.
"Mom and dad, they belong to somebody else now," she said as the students signed their papers.
ABOVE: Rebecca Martinez (volleyball), Nicholas Gomez (soccer), Guerry Everett (football), Lester Gates and Alex Dieudonne (basketball), Aurelia Lebron and Latoya Ashman (basketball), and Jake Silver (baseball) celebrate with their coaches.