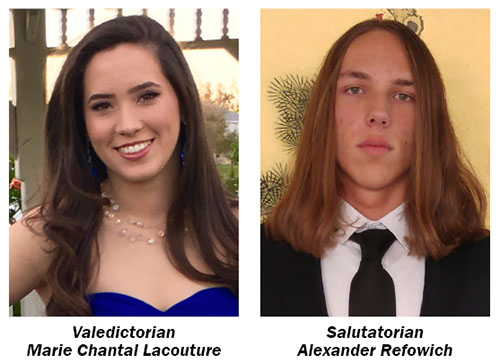 Palm Beach Central High School will hold its graduation ceremony at the South Florida Fairgrounds at 8 a.m. on Thursday, May 26. Leading the way for the Class of 2016 will be valedictorian Marie Chantal Lacouture and salutatorian Alexander Refowich.
Lacouture dedicated a great deal of time and effort to procure her place at the top. When Principal Darren Edgecomb called both Lacouture and Refowich out of class to tell them the news, it was an important moment for them both.
"It feels like the best reward that you can get for all the hard work you put in — the ultimate reward," Lacouture said. "I was really happy and relieved, because I wasn't sure if I was going to get it."
She was pulled from her calculus class to hear she was first among her peers, and quickly shared the news.
"I texted my family, my parents and my two sisters," Lacouture said. "They were sending so many messages, they were so happy and excited."
Part Colombian, French and Japanese, Lacouture is drawn to different cultures and history. She speaks Spanish fluently and has taken French classes for four years.
With a 3.9 GPA and 5.3 HPA, she will be attending the University of Notre Dame to study finance and history.
"I'm excited for college," she said. "I love history and always have. It's fascinating to me. Finance: I like the simplicity and structure in math, so I wanted to do a combination of both."
Afterward, she is considering law school.
Some of Lacouture's fondest memories and top accomplishments in high school revolve around a Pine Jog Environmental Fellowship Program project.
"With the help of my partner, we converted the school's retention pond into an urban wetland," she said, explaining that they organized a crew of 16 and had more than 2,000 plants donated.
Lacouture's graduation speech is written, and she is able to reflect on how she made it to the head of the class, and what advice she would give others.
"I think it's all about hard work and focus. It's trying your best," she said. "If you're always giving it 100 percent, then you can always be satisfied with the reward that you're getting, because you know you put everything into it… If you don't get it, you tried your best and put forward a good effort."
Refowich doesn't see his class ranking as being as significant as others consider it to be.
"I wouldn't say that there's any special prestige going along with it, especially since a lot of the classmates that I'm around are equally as motivated as I am and equally put in the work that I do," he said. "I don't see it as significant as some people play it out to be."
By his junior year, Refowich knew that his grades had him near the top of the class, so being second in the class wasn't a complete surprise. However, he was excited.
"It's a great honor to be able to speak at graduation. It's one of the perks, you could say, that goes along with it," he said.
Refowich's parents have always been supportive, he said, motivating him toward betterment and meeting his goals. "They were very excited. More so than I was, in fact," he said.
He's graduating with a 4.0 GPA and 5.2 HPA, and is ready for graduation.
Among his top high school accomplishments is starting the school's Mu Alpha Theta math honor society.
"We provide free tutoring for any of the lower-level math classes during lunch every day," Refowich said. "Just the ability to give these students the opportunity to succeed, and really appreciate what we're doing for them, is really amazing for me and something that we can leave as a legacy for the school."
Refowich has had a close group of friends through middle school, and has many fond memories from the group through different school assignments, including a dramatic reading of The Scarlet Letter.
He will be attending the University of Florida, participating in an interdisciplinary studies program, focusing on neuroscience. AP biology was a class that showed Refowich about the real-world implications of science, along with participating in a national student leadership conference in medicine.
"Just the experience of being around other people who are sharing the same ambitions that I am, and seeing up close and personal the environment, influenced me to go not only into neuroscience, but, more specifically, to go into the medical side, neurosurgery, which is my current ambition," he said.
More recently, he participated in a research internship at Max Planck, where he was able to get hands-on experience.
Refowich has also been a competitive swimmer and is looking forward to aquatic sports at UF. In 10 years, he looks forward to a residency program in neurosurgery.
For other students who would like to be at the top of their class, Refowich stressed the commitment involved. "You have to appreciate learning," he said. "You have to appreciate expanding your own world views and perspectives. That's what really motivates me to study. Go outside what was taught in the classroom to see how things that we are learning apply to the outside world."