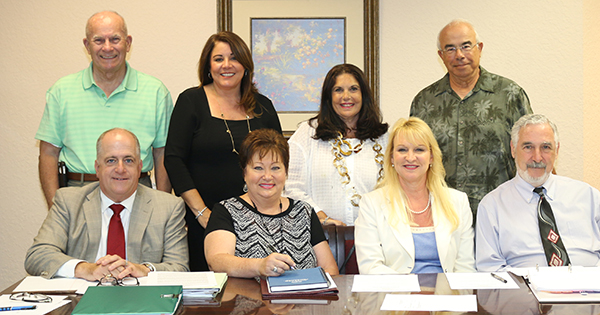 By Jason Stromberg
The newly revitalized Wellington Community Foundation will hold its first fundraising event on Thursday, June 2 from 6 to 8 p.m. at the Wellington home of Dr. Edward and Maria Becker.
It is an event that will open a new chapter in the history of the nonprofit organization, currently chaired by former Wellington Mayor Tom Wenham.
Created in 2009, the Wellington Community Foundation was originally envisioned as a nonprofit community service arm of the Village of Wellington, led by the Wellington Village Council. However, new rules have since been put in place that forbid elected officials from raising money through such an entity.
After years of discussion, the foundation was handed over to a community-run board last year. Since then, Wenham has been working with attorney Mickey Smith, secretary of the foundation, to expand the nonprofit's board and develop its mission.
"From my perspective, the foundation would have died without Tom Wenham's leadership," Smith said. "His relentless desire to give back to the Village of Wellington inspired me to help him."
With a new board coming together, Wenham sees bright days on the horizon.
"I'm very pleased with the positive spirit of the board of directors," Wenham said. "I'm so proud to be a part of this wonderful group."
Joining the board in recent months are treasurer Maria Becker, Wellington Regional Medical Center CEO Robbin Lee, Town-Crier Publisher Barry Manning, former Palm Beach County Commissioner Ken Adams, retired news anchor Jim Sackett, and local businesswomen Karen Cavanagh and Maggie Zeller.
Zeller is thrilled to be a part of the growing organization.
"I am honored to have been asked to serve as a member of the board of directors," Zeller said. "The Wellington Community Foundation will allow me to serve the children and seniors of Wellington to make a positive difference in their lives."
Lee will serve on the board as its vice chair.
"Wellington is a wonderful community, and it is an honor to be a part of a foundation that focuses on improving the lives of some of the community's residents," Lee said. "There is a misconception regarding the needs of some of our residents, especially children and the elderly. As a member of the Wellington Community Foundation, I can help align some resources for those in need."
The June 2 fundraiser at the Becker home will raise money to help supply backpacks for needy students in local schools.
"We are working with James Poag, the director of community services for the Village of Wellington, in supplying backpacks to students who need assistance when they go back to school in August," explained Wenham, who thanked the Beckers for their generosity in hosting the fundraiser.
Poag and the village expect to raise enough money to buy the backpacks and hand them out to students at a block party scheduled for Aug. 6, Wenham said.
Giving back to the community is why Smith came on board.
"I agreed to serve on the board because it epitomizes everything good about Wellington," he said. "It's about the community coming together to help our neighbors who need a hand. The board has very quickly grown to nine people, and I am thrilled to work with such a dedicated group."
The foundation has plans for a number of projects to support the most vulnerable people in the community.
"Many people only associate Wellington with affluence," Smith said. "This image of Wellington means absolutely nothing, though, to the many children and elderly people living right here who need our help. If we are successful in communicating the disparity between perception and reality, the foundation will be wildly successful. I believe with every ounce of my being that the generosity of the folks here in Wellington is second to none."
Sackett agreed. "Having lived in Wellington since 1985, I have seen sweeping changes to our village," he said. "I have seen it grow. I have seen it flourish. But I have also seen an increased need to extend a helping hand to those who need it. The Wellington Community Foundation is a perfect vehicle to do just that."
The Wellington Community Foundation offices are located in the original Wellington Mall at 12794 W. Forest Hill Blvd., Suite 19F.
For more information about the June 2 fundraiser, or to make a donation, call the Wellington Community Foundation office at (561) 333-9843.
ABOVE: Wellington Community Foundation board members include: (front row) Mickey Smith, Karen Cavanagh, Robbin Lee and Barry Manning; and (back row) Tom Wenham, Maria Becker, Maggie Zeller and Jim Sackett. Not shown: Ken Adams.