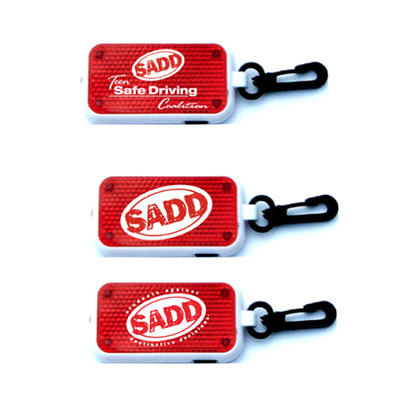 For the last few summers, Maya Williams, Marissa Premsukh, April Kho and Adecia Harrison have attended a program put on by the Teen Safe Driving Coalition.
"Every year, after we leave the coalition, they ask us to put in place a project at our school in terms of safe driving for pedestrians or drivers, or seatbelts, or different aspects of safe driving. This year, we're focusing on pedestrian safety," Williams said.
They approached Royal Palm Beach High School's SADD (Students Against Destructive Decisions) advisor Maureen Witkowski and the idea for blinking lights to increase visibility was put into action.
The girls are working with SADD volunteers on their "Get to School Safe" program, where they will be visiting Royal Palm Beach, H.L. Johnson and Cypress Trails elementary schools on Monday, May 16 from 7:30 to 8:30 a.m. The high school students will pass out blinking lights that can be attached to bicycles or backpacks to help make elementary school children more visible on their way to and from school.
The principals of the three schools, Witkowski said, are excited about the project.
The first batch of 150 blinking lights, Williams said, has already come in, and she's excited to test them out. However, in order to pass out the lights, they need to buy them first. They are asking for $250 sponsorships, but any amount is welcome, she said.
"We're still going around, asking local businesses and people associated with safe driving to make donations or sponsor us," Williams said.
The blinkers currently have the SADD logo on them, Witkowski pointed out, but can easily be customized with a sponsor's logo.
"I'm so excited," Williams said. "It's great because with an interactive project like this, you get to see the people you're impacting."
Williams, and the rest of the organizers, enjoy doing things to help the community, and are excited to spearhead a project that could save lives.
"Personally, I biked and walked to school for the majority of my life, and I know how scary it can be," she said. "I feel that if you were illuminated, and drivers had an easier time spotting you, the casualties would be lessened so much."
The scary part, Williams explained, is going to school in the morning when it is dark, especially with time changes, or leaving school later in the day as the sun is setting because of staying later for clubs and extracurricular activities — or even unexpectedly walking home because a ride fell through.
"It would just be great to have everyone feel safe," Williams said, noting that she would like this project to continue after she and her friends graduate. "I want there to be enough for everyone who would need one to have one."
Though plans can change, and each year there is a different number of students, there are always going to be kids walking or biking to school.
For now, Williams, a senior, is looking forward to handing out the blinkers. "I adore the elementary schools, and I think it's going to be a lot of fun," she said. "I hope that they find it exciting and cool. It's fun when you get something, and the fact that its helping you is even better."
There is still time to help purchase more blinkers and be a sponsor. Witkowski thanked sponsors Murray & Guari Trial Attorneys P.L. for their continued support. For more information on sponsorship opportunities, contact Witkowski at maureen.witkowski@palmbeachschools.org.
ABOVE: Blinking lights like these will be handed out to elementary school students.