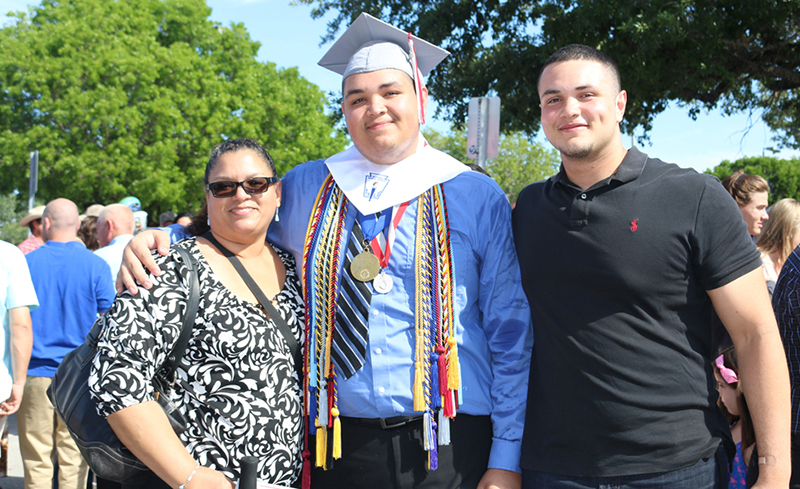 Seminole Ridge High School held its graduation ceremony for the Class of 2016 on Thursday, May 19 at the South Florida Fairgrounds Expo Center.
Principal James Campbell welcomed a large crowd of family members after the school band led the processional, the SRHS Army JROTC led the presentation of the colors, Student Government Association President Christopher Godfrey led the Pledge of Allegiance and the chorus sang the national anthem.
"On behalf of the faculty, staff and students, I'd like to welcome you to the graduation of the Class of 2016," Campbell said. "These young men and women have put in a great deal of work to reach this day, and I want to thank everyone for joining us to honor this outstanding class."
Superintendent Dr. Robert Avossa pointed out that in the graduates' 18 years, they have gone through many changes and transitions, and will continue to do so.
"Life is at an all-time high pace," Avossa said. "It will continue to happen over your lifetime. Change is inevitable, and it is so important that you embrace that change and you prepare yourself for all of the transitions yet to come."
Facebook didn't exist when the students were born, he said, and their lives have spanned three decades, two centuries and two millennia. Information is available at their fingertips, and the current graduating class knows little about pagers, modems, fax machines and other technology that is now obsolete.
"Change is your friend; embrace it. Don't run away from it. Don't run away from hard work, run toward it," Avossa said. "But remember, change will serve you well if you stay focused on your primary goal, which is investing in yourself, investing in your family and friends, and doing what's right for yourselves and your families."
Class of 2016 President Emily Keogh reflected on how far the class has come, from ninth-grade students working to find their way around, Tropical Storm Isaac's arrival, going through freshman and sophomore year, then dealing with flies during their junior year.
"It got to the point where students were bringing fly swatters to school and teachers were giving extra credit for killing flies in the classroom," Keogh recalled. "This was also the year where senioritis started kicking in, even though some of you had it before our first day of high school."
Being part of "Team Thomas" and raising more than $18,000 for Dance Marathon were some of the more memorable moments Keogh noted, along with the school pulling together in 2015 after the loss of a student.
In their senior year, Dance Marathon raised more than $30,000, breaking the previous record and being the first school to raise more than $30,000.
"Finally, after four long years, we won the spirit stick," she said.
Keogh thanked administrators and teachers, as well as her parents and friends.
"I wish you all the best of luck in your future endeavors," she said. "Once a Hawk, always a Hawk."
In 2013, this year's salutatorian, Madeline Harding, watched her sister give a speech at the same podium. She thanked her sister for setting the bar so high.
"Although high school brings different memories for each of us, it is these accomplishments and countless others that bond us together forever as part of the Hawk nation," Harding said.
Teachers, staff and administrators have taught the students, leading them to their futures, she said, teaching them to find their passion, work hard, be the best they can be and never give up on their dreams.
"Our family has helped mold us into the people we are today, and will continue to motivate us to dream big and follow those dreams for the future," Harding said. "Our families have taught us right from wrong and prepared us for today, the day we enter into the real world. Without our family's support system, we wouldn't be here today. Thank you to everyone who demanded excellence from us all."
Valedictorian Shane Artiles asked everyone who was on Facebook, Twitter or other social media to put their phones down to be in the moment. "Your life is all about the choices you make," he said.
Artiles, an athlete, played football and was a heavyweight wrestler during his freshman year, when he learned he was 13th in the class.
"It wasn't enough for me. I wanted to be No. 1, but I had to make a choice," he said. "Sometimes to reach your goals, you have to make sacrifices."
He turned in his football pads and wresting shoes for advanced classes.
"I sacrificed my love for sports, but I have no regrets," he said. "It got me where I am today, and if I could go back in time, I'd make the same choice over again."
He thanked his parents and four older brothers for their support, as well as his friends for their laughter, his teachers and the great memories at Seminole Ridge.
"Life is full of choices. It takes hard work and sacrifice to reach your goals. Sometimes you will make the wrong choice, but that's OK. Learn from your mistakes and make a new choice instead," he said. "Find your true talent, work hard and you're unstoppable… Work hard and stay determined to make your dreams come true."
Campbell closed the program, reminiscing about the first senior class meeting in August, where he told them that his main goal was to see them cross the stage where he would hand them their diplomas.
"Well, seniors, you've made it," Campbell said, asking the students to recognize their parents, teachers and guidance counselors for their support, hard work and dedication.
As Campbell spoke of all of the senior class's accomplishments, he brought attention to the first student to attend the Massachusetts Institute of Technology, Gabrielle Marvez. Nicholas Fah-Sang will be the school's first Ivy League student, attending Brown University in the fall.
"Keep in mind that while graduation represents the end of one phase of your life, it's also the beginning of another. Remember that reaching today was a goal," he said. "A new phase of your life is starting tomorrow… Focus on the opportunities that lie ahead of you."
After the turning of the tassel by Keogh, Campbell introduced the Class of 2016.
"Congratulations to the graduates of the Class of 2016," he said. "Best wishes as you soar into your future."