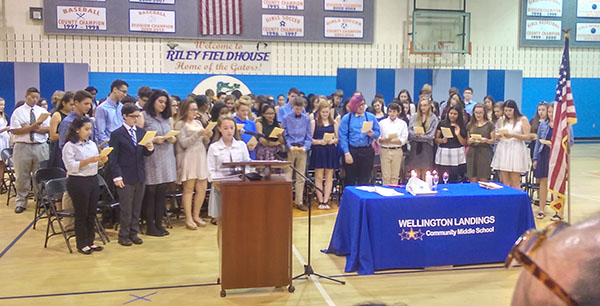 The National Junior Honor Society at Wellington Landings Middle School inducted 130 new members on Wednesday, May 11.
Families and friends attended the ceremony, in which 25 eighth-graders and 105 seventh-graders were admitted to the NJHS.
The students have demonstrated a commitment to academic achievement by maintaining a 3.5 GPA. The ceremony included a celebration of the many service activities that the current National Junior Honor Society members have participated in throughout the year, and a candle-lighting ceremony that emphasized the five qualities that the NJHS seeks in its members: service, scholarship, leadership, character and citizenship.
New members were recognized individually. The Wellington Landings Jazz Band also performed during the ceremony.
ABOVE: New WLMS National Junior Honor Society members.