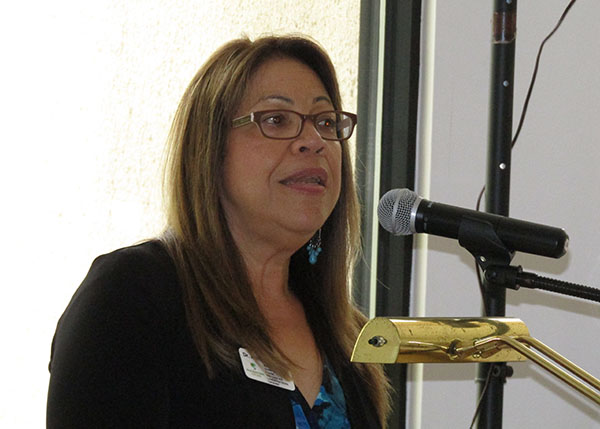 Palm Beach State College threw a reception at the Dolly Hand Cultural Arts Center on Tuesday announcing Dr. Maria Vallejo as provost of the Belle Glade and Loxahatchee Groves campuses.
Vallejo, a 17-year resident of Wellington, served as provost of the Lake Worth campus for 17 years before taking over as provost of the Belle Glade campus and soon-to-open Loxahatchee Groves campus on Southern Blvd.
"I have the great pleasure of introducing the new provost who will be serving this campus, as well as Loxahatchee Groves," said Suellen Mann, executive director of the Palm Beach State College Foundation. "I've worked side by side with her at the Lake Worth campus for just over 10 years, and I will tell you she is a person of integrity, she is a person of vision and she is a person who really understands the mission of education."
Vallejo was proud to reintroduce herself to the community.
"Most of you have seen my bio in terms of my educational background, but where I come from as a person is something I do like to share," Vallejo said. "I am an immigrant. My first language was not English. I came to this country like everyone else, for the dream to find hope and understanding and opportunity."
Coming to New York City from Puerto Rico, she had quite an experience adjusting.
"I think that not only has that taught me resiliency, patience and stick-to-it-iveness, but it has also helped me to understand our students," she said. "They, like me, just want an opportunity. They want to find a place that accepts them, welcomes them, and tells them that they can do it — that they have what it takes to be successful."
Vallejo said that when PBSC President Ava Parker offered her the job, she jumped at it.
"For me, it was a wonderful way of giving back to the institution that I love," she said. "I'm coming into my 18th year at Palm Beach State, and it has been very, very good to me."
Vallejo has assigned Dr. Roy Vargas, dean of academic affairs for the Belle Glade campus, as dean of the Loxahatchee Groves campus as well.
"That is very important because we want to be very strategic about how we provide our services to the community," she said. "We want to really look at the areas, their needs, what the niche will be, and how to respond as quickly as possible."
Vallejo said she did not want the institution's campuses competing.
"We want them to share resources, to share faculty and staff wherever possible, and to look at the big picture in terms of what the needs of this county are, and how we can respond to them," she said. "I think that putting one individual in charge of the two campuses and one academic dean is going to make a big statement about what we're all about and what our commitment is."
Vallejo said she will be putting together a provost advisory committee to give continuous feedback.
Parker said she still considers herself a newcomer to the college.
"My one-year anniversary is July 1," she said. "I can tell you it has been one of the fastest years of my life. It's hard to believe that we've already gone through 12 months."
She said the college is looking to offer programs that make a difference.
"As business leaders, if there are things that you think… we can do to help support your business activities, or things that you think we can do that will make a difference for your students, or the folks in your church, please know that we have an open ear and that we're open to developing plans that make sense and help to grow the campus," Parker said.
Parker urged people in the community to encourage students who could attend any college to come to PBSC because it offers programs that will make a difference for them and their community.
"Sixty-five percent of our students come to us because they want to get an AA degree and transfer to a university or college," she said. "They come to us because we have small classes. We have teachers who want to teach because they care about the success of our students. We have the most cutting-edge technology that's available for our students, and we are the place that ensures that when you finish, you are competitive at any university or college that you want to transfer to."
Parker pointed out that PBSC also has quality technical and vocational programs.
"We have a welding program, a diesel mechanic program, a heavy machinery program," Parker said. "Those students who want to have those types of careers, those who want to be nurses, they can come to Palm Beach State College and get the type of academic training that is going to make a difference for them."
She has heard students say that they are afraid they won't be successful in college. "This college is for everybody," Parker stressed. "Whether you're the smartest kid in the class or having a hard time, we have something for you at Palm Beach State College. We believe in your excellence, and we're here to support you and get it done."
Vallejo received her Ph.D. in bilingual curriculum development/higher education from New York University. She also holds two master's degrees from Columbia University and a bachelor's degree from Hampshire College.
ABOVE: Dr. Maria Vallejo, provost of the Belle Glade and Loxahatchee Groves campuses of Palm Beach State College, speaks at Tuesday's reception.