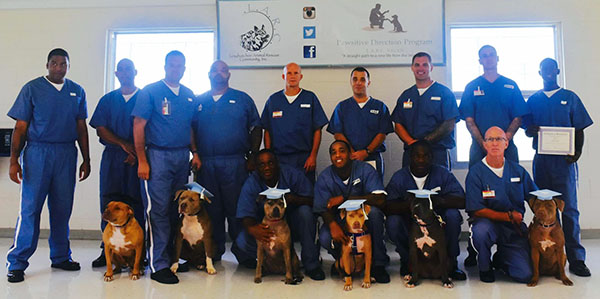 By Hailey George
The Pawsitive Direction program pairs prisoners with rescue dogs for them to train. Denise Rock and a rescue organization known as the Loxahatchee Animal Rescue Community (LARC) developed the program to serve both at-risk prisoners and at-risk dogs.
Nicole Arndt and Melody Owens run LARC, a foster-based rescue facility, meaning that it can take in only as many dogs as there are foster homes.
For nearly two years, no institution was interested in the program. So, when Rock approached Arndt and Owens about the Pawsitive Direction program, a great collaboration occurred.
"The Pawsitive Direction program is part of the rescue organization that I run with my best friend and rescue partner Nicole Arndt," Owens said. "I am a professional dog trainer. We were asked to help out with the Okeechobee Correctional Institution. They were looking to start a dog-training program."
The Okeechobee Correctional Institution introduced the Pawsitive Direction program on Jan. 6. Its goal is to help both the rescue dogs and the inmates. The dogs, mainly pit bulls, are given handlers. Owens, a dog trainer of 10 years and owner of Star Dog Obedience, then joins in and teaches the inmates how to train the dogs.
"Dogs are pulled from various shelters, mainly Palm Beach County Animal Care & Control," Owens said. "We place them with inmates at the correctional institution at their work camp. Each dog has a few handlers. They are there anywhere from eight to 12 weeks. They get full obedience training."
Not only do these rescue dogs graduate with full obedience training, but they also graduate AKC Canine Good Citizens (CGC) ready and/or bachelor's in Canine Life and Social Skills (CLASS) ready. The training these dogs receive is a very important factor for adoption.
"The dogs become more adoptable. The more you add to their resumes, especially because we primarily deal with pit bulls — we do have different breeds going into the next session, but we primarily rescue pit bulls — so the more positive aspects you can add to their resumes, so to speak, the better," Arndt said.
But the dogs are not the only ones who benefit from the program.
"It also gives the men a chance to love something, to take care of something, to feel appreciated and to feel loved in return," Arndt said.
The Pawsitive Direction Program allows the prisoners to learn skills that will hopefully build their resumes and give them opportunities for real-world employment when they are released.
"I have learned that the program is not only for the dogs, but for the people," Owens said. "A lot of the guys have come to us and said how much they appreciate the program, and us giving them the opportunity to do it."
Some even come from a background of dog fighting and not really caring for dogs. "So being able to have them in the program, they now see dogs in a completely different light, which is really cool," Owens said. "A couple of the guys have said that once they are released, they wanted to go out and be dog trainers themselves."
Arndt has had similar experiences noticing a transformation in the men who participate.
"I've watched men who consider themselves to be hard — you know, a lot of these men have been in prison for a very long time, so they tend to be on the outside, people would consider them, rock-core hard — and I have watched these men be complete mush balls with these dogs. They take such good care of them, and they're protective," she said. "It's amazing to see how they open up with each other, with us, and with these dogs when given the opportunity to work with them."
The success of the program can speak for itself. The second class graduated Friday, June 3, and the third began Monday, June 6. Each round, another dog is added. The first round graduated five dogs, and the second graduated six. The third will have seven dogs.
Not only is the number of dogs growing, but also the program will be expanding to another facility.
"We've been in contact with a facility in South Bay that is interested. It takes about six to eight months to get everything cleared and get everything ready," Owens said. "By the end of the year, we will be in the South Bay facility as well."
As the Pawsitive Direction program looks forward to its growth, it also celebrates the graduation of another class. All the dogs graduate micro-chipped, up-to-date on shots, and spayed or neutered. As for the men, they graduate with skills that will help them get employment once released.
"It makes me really happy to be a part of it," Arndt said. "It is really inspirational."
All the dogs that graduated from the Pawsitive Direction program are available for adoption. For more information, or to adopt a graduate of the program, e-mail loxanimalrescuecomm@gmail.com or call (561) 723-8197.
ABOVE: Pawsitive Direction canine graduates with their trainers during the recent graduation ceremony.