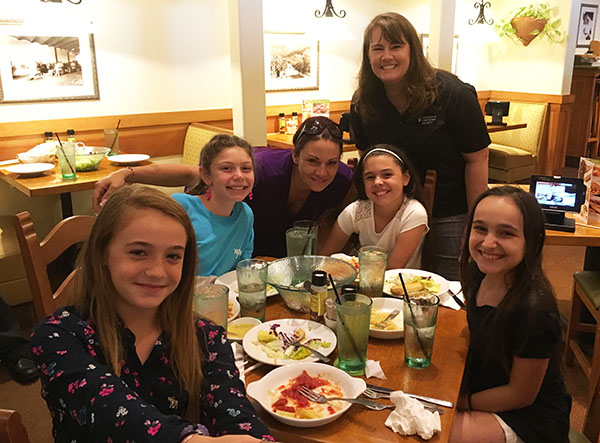 Approximately 90 Elbridge Gale Elementary School students, teachers and chaperones were treated to a special meal at Olive Garden in Wellington on Monday, May 23 to celebrate raising more than $27,000 for the Leukemia & Lymphoma Society.
LLS Palm Beach Senior Campaign Manager Stacy Hewitt is proud of the students.
"It's amazing to me when they put their minds to it that they did something so selfless to help others," Hewitt said. "They're all rallying together for this common purpose."
The students partook in the LLS Pasta for Pennies program, presented by Olive Garden, where they received recognition for their hard work and fundraising efforts.
The students work diligently throughout the year to raise money to help patients and families through fundraising to help with blood cancer research. Their efforts made them the top school in Florida, the top school in the Southeast and eighth in the country for fundraising.
"The reason the students do all the fundraising is because we're really trying to make an impact on research. Blood cancers affect young people. It's one of the top cancers in children and young adults. They're really doing this to make a difference in research funding," Hewitt said.
The progress being made, she said, is also being applied to breast cancer and other cancers.
"Just the fact that they're able to do something that has an impact across multiple diseases was something that the kids felt was really important," Hewitt said.
The Elbridge Gale community has been touched by blood cancers. In 2007, student Sebastian Sarmiento was diagnosed with leukemia. Two years later, he passed away. Currently, 6-year-old student Andrew Dawson is in the maintenance phase of his chemotherapy treatment for leukemia.
Sarmiento's mother, along with Principal Gail Pasterczyk, Assistant Principal Chad Phillips and several teachers were on hand for lunch, joined by Olive Garden's operations manager and the national director from the Leukemia & Lymphoma Society.
"We presented an award to Olive Garden thanking them for their support," Hewitt said. "They lost an employee to leukemia a couple of years ago, so we gave them a special award in his memory. We also presented to the school the research award because of their efforts in fundraising. We did it in memory of Sebastian, who passed away, and in honor of Andrew, who is the survivor there right now."
Having such a personal tie has motivated those at the school to rally together against a common enemy, cancer.
Last year, Elbridge Gale raised more than $17,500 for LLS. This year, the school topped its $25,000 goal, which is the specific number needed to be involved in a particular research project.
Though $27,000 might not seem like a lot of money in the grand scheme of things, it is important to remember that there are 26,000 other schools across the United States doing the same fundraisers, Hewitt said, raising somewhere around $25 million.
The students put on mini golf tournaments, lemonade stands, Pi Day events and more to make an impact. The achievement earned the school the honor of being connected with an LLS research portfolio.
Elbridge Gale held numerous fundraising activities throughout the year, including its second annual Pi Day in March, where students were able to smash plates full of whipped cream into the faces of their teachers and administrators, for a small fee.
"It's amazing what our students can accomplish when we set a goal and everyone works together," Pasterczyk said. "It's something that I think is very hard to attain, but it doesn't surprise me. With [guidance counselor] Nicole Martinez at the helm, when she sets a goal, she is very creative, and she accomplished $25,000 and then some."
Siblings Jaidyn and Drake Brody were presented student of the year and runner-up awards, and held a friendly competition while raising money for LLS, earning them the top two fundraising spots in the school. Jaidyn raised more than $13,000 in the last year, with Drake raising more than $1,000. Their grandfather has battled leukemia, making it a personal cause for them.
Students who raised $100 or more were presented with leadership awards.
"Sibling rivalry at its finest," said Martinez, who has spearheaded the school's events for the past five years. "This year was exceptional because we had Jaidyn's help. We never would have reached $27,000 without her help."
Despite that, it's a team effort, she stressed.
"Our students are so used to raising money for LLS," Martinez said. "They know what it's about. They know who it impacts. I think the fact that we have a survivor here, on our campus, makes it more real to them."
Elbridge Gale was first in the state last year, but wanted to be first in the Southeast region. Roswell High School in Roswell, Ga., previously held the top spot.
This year, Elbridge Gale claimed the regional title.
"When Stacy gave us the official word that we did it, it was pretty phenomenal," Martinez said.
For years, Pasterczyk said, the students have been donating to various charities, as part of the school's way of teaching them to be good citizens and help those in need.
Along with Dawson and Sarmiento, the school has had other students coming in and out of the school battling leukemia, Pasterczyk said. "We want to be able to make a difference for those students who are fighting that fight now," she said.
Participating in these fundraisers shows the kids how much of an impact their caring can make, and they're not slowing down.
"I can pretty much guarantee we'll be top in Florida. We'll see how the Southeast region goes," Martinez said. "We're all in it for the same cause."
The competitive spirit that drives the students is an undercurrent. They know that they are working together for a good cause, Martinez explained.
Andrew Dawson's mother sent a text to Hewitt after school on Monday, May 23. It contained what he said upon coming home from school: "Mom, today was epic."
ABOVE: Brandi Brody and Stacy Hewitt congratulate Student of the Year Jaidyn Brody and Leadership Award winners Summer Elkin, Brookelynne Brewer and Isabella Tombari.