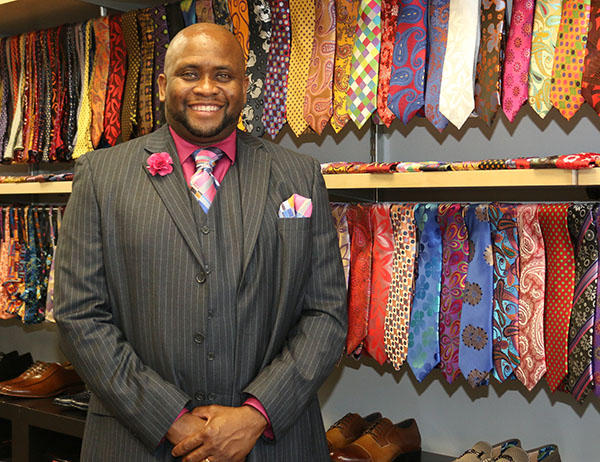 By Jason Stromberg
"Dress to impress" is how Henry N. Mosley Jr. goes about his business. The Wellington resident knows how to be in style and look good.
When entering Mosley's store, HNM Menswear, which specializes in fashion for today's man, everything stands out.
"What I like about men's fashion is that it's evolving," said Mosley, whose initials make up the HNM Menswear name. "There are better options for gentlemen of all sizes."
Opening in Wellington's Kobosko's Crossing shopping plaza on March 21, HNM Menswear has embraced everyone seeking that perfect attire for all occasions.
Mosley uses what he calls his gift of putting together fashionable clothing choices to create an outfit with personality and quality.
"The need so far here has been shirts and shoes," he said. "A lot of guys are looking for better quality merchandise that is affordable. We are a moderately priced men's clothing store, with top customer service, where our desire is for the customer to be happy."
Let's say a customer walks into HNM Menswear and wants to find a dress shirt size of a 15-inch neck and a 32-inch sleeve length, or a 24-inch neck and a 39-inch sleeve. Would that be a problem for Mosley?
"Not a problem," he said. "I can dress men from 36 short in a suit to 70 regular. It's that simple. I measure customers for everything, whether it be shoes, shirts, pants, coats, jackets. That's very common here."
If a guy wants a size 7 dress shoe, or a size 15 shoe, Mosley has that as well.
"One of the unique features of my store is there aren't any duplicates of neckties. They are all one of a kind," Mosley said. "It gives the gentleman a little bit of individuality."
Mosley works with a seamstress and many vendors to bring the best of the best to the Wellington area, where he is ready to outfit anyone in a stylish suit to fit his needs.
A vast array of ties and accessories line the store, ranging from equestrian cufflinks to colorful pocket squares. Mosley uses his keen eye to put together items that might not otherwise seem to work. Pointing around the store, he can show two different shirts, or suits, styled differently, in ways that make them appear as though they are completely different outfits.
A tie switch here, a pocket square swap there, different cufflinks and accessories can all make a difference.
Mosley himself is partial to three-piece suits, rather than two-piece suits that are often seen on businessmen. They're more fashionable, he said, and the extra layer brings a sense of elegance and sophistication.
Even though we're in Florida, the right suit, made of the right high-quality material, isn't as hot as it would seem, he explained.
At HNM, Mosley and his team strive for perfection in helping men of today choose the right style for them.
"What makes customers happy is attention to detail," Mosley said. "Understanding their needs, and going above and beyond standard service. There's attention to detail, which is about understanding body types. For example, a customer may like one item, but that item doesn't fit them well. It's my job to give them the best look."
Italian designer suits, including Statement Italian Clothing and Giorgio Fiorelli, are featured at Mosley's store. All-cotton shirts by Steven Land, along with leather shoes by Steven Land and American classic Stacy Adams, are in stock. The huge neckwear collection features Verse 9 Neckwear.
"I don't know why, but the big and tall market for men's clothing has been passed over, even for myself," Mosley said. "As a big and tall gentleman, I've had my troubles finding just basic clothing in the dressier attire. That's what made me start the business."
Mosley had an HNM Menswear store in Winter Haven for a year and half and moved to South Florida because his wife, Tonja, got a job at Good Samaritan Medical Center, where she serves as chief financial officer.
With a family of five, he's loving it here, doing his best to promote his business.
"The goal of HNM Menswear is to build a customer base, where the customer is satisfied," Mosley said. "I specialize in big and tall attire for those guys who are getting left out. We are there for you. This is fashion design clothing for men."
HNM Menswear is located in Kobosko's Crossing at 9192 Forest Hill Blvd. in Wellington.
For more information, call (561) 281-9522, e-mail sales@hnmmenswear.com or visit www.hnmmenswear.com.
ABOVE: HNM Menswear's Henry N. Mosley Jr. with just a few of the store's vast collection of always-unique ties.