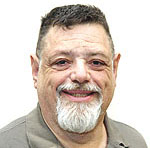 'I' ON CULTURE
Americans used to be famous for their love of comedies. There were lots of funny movies made over the years, and we've been through the golden age of situation comedies on television. That was the past, and I wonder if we will ever really laugh a lot again.
Yes, there still are funny movies. We used to laugh at the Marx Brothers or the Three Stooges or other comics who just wanted us to laugh. Now the laughs come from romantic stories or are slipped into superhero films to relax the tension. Many comedies just go nowhere. I tend to give them nicer reviews because I am so pleased to actually laugh a bit. This year, I reviewed only six movies that were actually comedies, and we're just about halfway through. A couple, though, Hail Caesar and The Nice Guys, were good.
TV is even worse. How many remember "appointment television" on NBC every Thursday night? That is the biggest night for advertisers, and there was a streak of some of our best comedies there: Taxi, Cheers, Friends, etc. Before that, we had great sitcoms on CBS on Saturday, such as All in the Family and The Mary Tyler Moore. Now The Big Bang Theory leads in on CBS, and the rest of the shows pick up its leavings. That show and Modern Family are the only two truly hit comedies.
What happened? It would be easy to point out that the world situation is awful, so people are not ready for comedy, but some of our best movie comedy was done during the Great Depression. The "Golden Age" of comedy on television was during the Cold War. A real culprit, however, seems to be political correctness. There are just so many things we are not allowed to show the world anymore.
We are allowed to laugh only at targets designated by pressure groups as available. Not surprisingly, a large portion of the comedies planned for next year involve men suddenly forced to stay at home and take care of kids. Chances are, few or none of them will be minorities. Showing a white man being a moron taking care of children is one of the few funny things allowed.
Jerry Seinfeld and many other comedians have stopped appearing on college campuses. Jokes that were funny 20 years ago bring out rage. Some targets for humor are totally forbidden. Of course, others are still allowed. We now see ads for comics that stress "clean material" or "family-friendly" when years ago there had to be warnings that there would be adult humor. Rodney Dangerfield did joke about his wife, but most of his one-liners had himself as a target. I saw a comic on a cable station this week talking about women, and it sounded like a therapy session about an ex-girlfriend. Dangerfield was funnier, a lot funnier.
We have become so scared of offending anyone that much of our humor is gone. Mel Brooks became famous for doing movies that were designed to offend and were often hysterically funny because of it.
I saw a preview performance many years ago of The Producers, the original movie. No one had any idea of what we would see, and the salute to Nazism had people falling off their seats laughing. Some places, including universities, have now banned it as being offensive to Jews… just about all of whom loved it.
Brooks has said that he could never get Blazing Saddles done today because of the racist humor. That the humor generally was aimed at racists no longer makes a difference. Of course, Young Frankenstein is still OK since we're allowed to laugh at vampires, because they don't exist.
We need to have comedy that punctures the egos of the powerful, and these days that also includes pressure groups. No one protested Chris Rock's gibes at racism at the Academy Awards or his one-liners about Republicans, but no one dared criticize any of the Democrats.
We need to have sharper looks at the world, and the only way to do it is to let the restrictions go away. People should learn the difference between criticism that is often loving and simply being nasty. And if it's both nasty and funny, well, that's what makes the world go 'round. If we don't learn that, this will be a far sadder world.