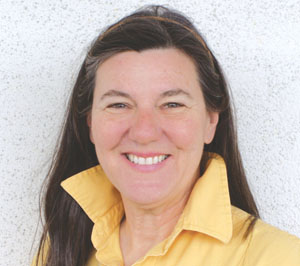 THE SONIC BOOMER
When my editor called this week, looking for my column, I had to admit that I had forgotten to write it. I was on vacation at my parents' place in Wisconsin. Of course, it was a "working vacation," as my parents are 87 years old now. Mark and I try to help them out with a few projects whenever we are there.
On the first day, Mark changed a lightbulb in the hallway, installed a dimmer switch in the dining room and assembled the new barbecue grill dad had received for Father's Day. ("What's wrong with my old barbecue grill?" "You have to poke a match through a hole in order to light it!" "So what? I like it!")
On the second day, I took mom shopping for a new blouse, which wasn't so much "work" as it was dangerous — I spent $300 in an hour and a half, $150 of it on a swimsuit. (Gone are the days when I look good in any old $20 swimsuit.)
On the third day, mom and I hung new curtains in the master bedroom, which meant restringing her ancient drapery hardware, both of us teetering on chairs up near the ceiling until Mark stepped in to save us.
On the fourth day, we rested — not in a Biblical sense, but in a Scrabbatical sense. The word game Scrabble has defined the hierarchy of our family for as long as I can remember. It's important for mom to continually defend her position as matriarch, and it's almost our duty for my siblings and me to try to dethrone her. As a result, we use the dictionary — and the rules pamphlet — early and often. But listen to what she pulled this time…
I was official scorekeeper because mom said she was too tired. She had been up since 5 a.m., as is her habit, and it was now 9 p.m.
I fell for it. But about halfway through the game, she pounced. She plopped down a seven-letter word worth 31 points and got the 50-point bonus for using all her tiles. I was seriously behind. But the game isn't over until the skinny lady crows, so I put down my word, tallied my score and got up to refill our wine glasses. (It was a blatant attempt to force her to play with an impairment, but she's on to this and demurely put her hand over the top of her glass as I approached.) She then put down a six-letter word and reached for the bag of letters.
"Wait a minute, mom," I said. "I used one letter last time and didn't take my replacement letter yet."
I reached for the bag, and she sat on it, saying, "Didn't you write down your score?"
"Yes," I answered.
"And then I took my turn, so you don't get any new letter. You missed your chance. You have to play with six."
"What?"
"It's in the rule book."
I checked. "No, it's not."
"Well, it's a rule."
"No, it's not! You just made that up!"
"Emmett!" (She always calls my dad in when she needs reinforcements.) "Who do you like better — Debbie or me?"
Predictably, my dad kept walking. When she turned to Mark, he, too, left the room. Not to worry, mom won the game, her dynasty secure… for now.