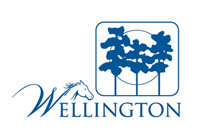 Late last year, W&W Equestrian Club LLC, a company affiliated with Wellington-based Ward Real Estate, purchased the defunct Wanderers Club executive golf course. At the time, there was speculation about what the company planned to do with unused golf course land that winds its way around the Lakefield South residential community.
The intent is no longer a mystery. Winding Trails is the new name for the 65.45-acre project along Aero Club Drive in Wellington.
W&W Equestrian Club LLC is requesting approval to convert the golf course into nine luxury equestrian estates ranging from 2.27 to 3.96 acres each, with a home, a groom's quarters, a stable with eight stalls, paddocks and a practice ring. The overall density will be 0.14 dwelling units per acre.
The land is not currently part of the Equestrian Overlay Zoning District, but the applicant is asking to extend the EOZD designation to the property. There will be barns downstairs with living quarters upstairs, with attractive structures, said Sharon Merchant, spokesperson for Ward Real Estate.
"It's not going to look like a barn, it's going to look like a beautiful home," Merchant said. "There will be a lot more water features added to that community, in general, so we expect property values to be positively impacted."
The plan received by Wellington's Planning & Zoning Department on June 6 shows that the application includes a comprehensive plan amendment, master plan amendment, rezoning, site plan amendment/subdivision and zoning text amendment.
The proposed use for the property is equestrian residential, and the agent for the project is listed at the architectural firm Cotleur & Hearing.
Cory Lyn Cramer, development review coordinator for the village, said Winding Trails has scheduled and attended community meetings with Lakefield homeowners to discuss the proposal.
"They are taking steps to reach out to the community," Cramer said. "They have been cooperating with us. They have been addressing as many preliminary comments as possible. They actually completed a resubmittal based on some pretty standard comments, things that happen as far as the process is concerned, before it goes to the first Development Review Committee meeting, which is scheduled for June 22."
From the developer's standpoint, feedback from Lakefield South is important and is being taken seriously, Merchant said.
"We want the homeowners' association to be very pleased with their new neighbors," she said. "The best way to do that is work on it together, and that's what we've been doing."
The meeting next Wednesday will review the five applications that make up the proposal.
"The way the process works is that we generate comments from all different departments — engineering, planning and zoning, building, the fire department. We come up with all of the comments and see what the departments have issue with, if they have issue, and we provide them to the agent and give them the ability at the Development Review Committee to address them," Cramer said.
From there, it could move forward or need further changes.
"It's a 50-50 shot for getting certified for public hearing or being requested to resubmit and come back to DRC before certification is issued," she said. "It really depends on what takes place at that meeting and how well they address the conditions or comments that are put upon them in the next couple of days."
After the meeting, an updated proposal will have to be submitted, addressing the comments.
The process for Winding Trails is lengthier than what is typical for Wellington, since most of Wellington is already built out, she explained. By going through such an informal comment process ahead of time, it will make moving through the project a smoother process, Cramer said.