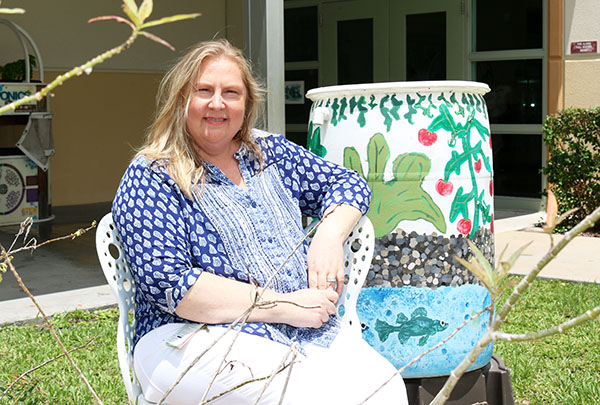 Emily Sagovac of Elbridge Gale Elementary School in Wellington is proud of her green thumb.
Sagovac, a fourth-grade science and social studies teacher, was recently named the Green Teacher of the Year and won a $500 award from the Pine Jog Environmental Education Center's Green Schools program.
Sagovac was up against several other teachers for the honor.
"The award is to recognize a teacher who really embodies what it means to be green, both in the classroom, in the school itself, and in their day-to-day life," Green Schools Program Coordinator Andrea Lazzari said. "We're looking for a teacher who really walks the walk and talks the talk."
The selection committee chose Sagovac, who has made numerous contributions toward making, and keeping, Elbridge Gale's highest possible ranking as a Green School of Excellence.
Sagovac was chosen because of her ability to incorporate hands-on activities, bringing the children outside to learn, as well as her grant and leadership abilities.
"Some of those things include writing grants — I've received $20,000 worth of grants — to help the garden and to help our green program here for alternative, renewable energy materials," Sagovac said, also citing "my contributions to the garden, keeping the kids involved, and getting the kids involved in aquaponics, different garden activities and lots of field trips."
Popular trips she has taken include visits to the Okeeheelee Nature Center, the Loggerhead Marinelife Center, the Grassy Waters Preserve and the Loxahatchee National Wildlife Refuge.
Sagovac works to base all the fourth-grade field trips on an environmental focus, derived from the social studies fourth-grade curriculum of studying Florida. "I get them out to see the beauty that they're working to protect," she said.
Science and the environment have always been important to Sagovac, who has been teaching science for the last 20 years and has been focusing on the Green Schools program for the past few years.
"It's something I've always felt passionate about, protecting the planet and teaching the kids conservation and sustainability," she said.
To win recognition as Green Teacher of the Year was an honor and a surprise for Sagovac, who has been nominated for other awards.
"This one I really thought would be the most meaningful," she said. "I believe in all of the things I teach, about being green and eco-friendly. I'm known as the 'Green Teacher.' I like to make a difference."
Sagovac has secured grants from the American Heart Association, Whole Foods Market and Lowe's Home Improvement, which recently gave the school money for a reading garden.
"We're so excited that Emily has won this award," Lazzari said. "She is a wonderful green leader for her school, and she absolutely deserves it."
Principal Gail Pasterczyk is excited that one of her teachers received the honor of being the Green Teacher of the Year.
"It encompasses all grade levels and every school in Palm Beach County. It is truly amazing to have a teacher who has won that award," Pasterczyk said. "She's extremely deserving of the award. It was nice to see her get the recognition I felt she had earned."
Elbridge Gale is the first school in Palm Beach County to have water filling stations that they were able to pay for through money raised during a green fundraiser.
Students are able to get filtered water for their reusable cups at the water fountains, and can refill their standard water bottles. The idea, Pasterczyk said, was Sagovac's.
"That's just one of the things Emily has done for our school," Pasterczyk said. "She has gotten unbelievably large grants and is a vital member of our garden committee… She takes care of our gardens, our aquaponics fish and many other things."
For more information about the Green Schools program, visit www.ourgreenschools.com.
ABOVE: Elbridge Gale Elementary School's Emily Sagovac was recently named Green Teacher of the Year.