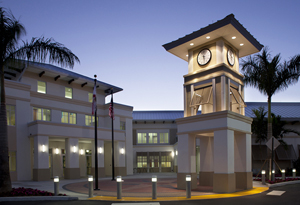 Wellington's newly configured Equestrian Preserve Committee met for the first time on Wednesday.
The panel elected officers and also heard a presentation on the village's Equestrian Master Plan.
New board members are Doug Hundt, Carol Cohen, Jane Cleveland, Sergio Guerrerio, Robert Bushey and Dr. Rachel Eidelman. Bushey and Eidelman were not at the meeting. Dr. Kristi Lund, the only returning board member, was also not at the meeting but sent an e-mail requesting the nomination of Cleveland as chair.
Guerrerio made a motion to select Cleveland, which carried 4-0.
Cleveland nominated Lund as vice chair, which also carried 4-0.
Wellington Projects Manager Mike O'Dell handed out copies of the Equestrian Master Plan and explained its highlights, encouraging members to familiarize themselves with it.
The Equestrian Overlay Zoning District is about 9,200 gross acres, which makes up 41 percent of Wellington. Approximately 95 percent of the overlay is privately owned, and 89 percent is built out. Almost all of the land owned by the village is public easements, including roads and canals.
Data collection for the master plan started in 2011, and meetings were conducted with the public, as well as several joint meetings with the Wellington Village Council to get input on what should be in the plan, with the council giving approval to move ahead with the preparation of the Equestrian Master Plan in 2014.
Later that year, the committee put together goals, which in general are to support the expansion of equestrian competition in the Equestrian Preserve Area while seeking more land for public use.
"There's not much left for us to physically master-plan," O'Dell said. "The plan itself is what we see out there today, the community we have today. The community supports polo, dressage, hunter and jumpers."
What came out of the public meetings was that equestrians want roadway improvements foremost. The second priority was venues and show locations, followed by land use, pathway circulation and water quality.
"One item that came out of our public meetings was educational outreach," O'Dell said. "The community thought there was a need for us to engage in actual education of what the equestrian industry is, what it means to all of Wellington and how it helps identify the community."
Stabling issues and land development regulations also made the list. "Just so you know, we are in the throes of rewriting the zoning code of land development regulations," he said.
With staff input, the committee also put together milestones in three phases over 10 years to establish a plan to accomplish some of the goals.
Developing an economic strategy that relates directly to Wellington was part of phase one.
"To my knowledge, there have been at least three, maybe four economic studies done on the equestrian industry," O'Dell said. "Every study that gets done associated with that ultimately comes out with a huge number as an economic impact, but it does it for Palm Beach County. We always talk about what it does for Palm Beach County, but there's never a number we can actually pinpoint that says, 'This is the economic impact on Wellington.' Our recommendation in this is that we actually do a study that looks at what it means to Wellington."
Golf carts are also an issue for discussion, as to whether they are acceptable on bridle paths or need to be separated, or could be allowed on the roads. "They're a hot-button item, and we need to address it," he said. "It's another item that we need to get done this year, in the first phase."
Another question is whether completing a potable water system to all the southern half of Wellington will add value. "We have much of it in place, and we can show you in maps where it exists today and what's remaining," O'Dell said. "It's a matter of putting together the plan and acting on the plan."
Irrigation water is another issue.
"We've been through droughts, and our canal systems in some areas have dried up," he said. "As we've developed even further, we have more polo fields and more activities. More irrigation water is needed throughout the Equestrian Preserve Area. You may look at our canals and lakes and say, 'Wow, we've got a lot of water,' but let me tell you, when it starts to dry up, it dries up fast. There will be another drought, and there will be another crisis. We need to address it."
Temporary structures are also a discussion item for the initial phase.
"As you may know, we now have the ability to erect temporary tents and stabling facilities throughout the village," he said. "There's an impact. The tent goes up, but those additional horses, additional people that use the roadways, bridle paths get used, and the impact to our infrastructure is there as well. On some properties, that's all they do; they just erect a tent on their property. They don't have any other structure at all. Those are some of the kinds of things we are looking at."
Equestrian commercial recreational zoning has been proposed by staff that will allow a landowner to obtain that zoning category in order to provide equestrian shows and events.
"Once that goes through the public hearing process and a development order is given, [it] would define such things as the amount of parking, total uses, what the total impacts would be with vendors or patrons, spectators and whatnot," O'Dell said. "Once those provisions were provided, that would give the landowner the opportunity to have any type of event they want to have on their property as long as they remain within those guardrails."
Other issues for the committee's consideration include addressing a commercial service district; traffic performance standards and agricultural exemption standards, which he said are starting to infringe on the rights of neighboring landowners; equestrian overpasses; and establishing an effective broadband system for the area.
Future phases will consist primarily of implementing items that are approved. "We're asking you to think about it and speak to people who you think will give some more ideas about what is actually missing or what we need to do," he said.
Cleveland asked what the next step is, and Growth Management Director Bob Basehart said that the plan is an ongoing project.
"We don't expect that you will have thoroughly digested this and be able to come together as a group and make final recommendations next month," Basehart said. "We'd like you all to read it in the next month, and we can begin to attack the sections one at a time."