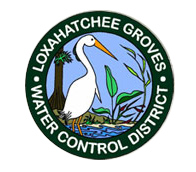 A candidates forum will be held Thursday, June 9 at 7 p.m. at the Palms West Presbyterian Church (13869 Okeechobee Blvd.) featuring the three candidates running for two available seats on the Loxahatchee Groves Water Control District Board of Supervisors.
The Loxahatchee Groves Landowners' Association is hosting the event.
The three candidates are incumbent Supervisor Dave DeMarois and first-time candidates Simon Fernandez and Anita Kane.
DeMarois is running on the strength of his 18-year history on the board and its improved working relationship with the Town of Loxahatchee Groves, which had been strained in the past.
"I've seen it all there," DeMarois said. "I believe I've done a pretty good job. We've made a lot of advancements in the last 18 years."
He pointed out that he was on the board when the county first put road rock on district roads and later started open-graded emulsified mix, or OGEM, paving projects and canal clearing projects that started under former LGWCD Administrator Clete Saunier.
"We've worked with the town now and the gas tax money," DeMarois said. "We have interlocal agreements with them to go ahead and collect gas tax for all the roads, and after five or six years, we've started turning over the OGEM roads to them, and we've been turning over some of the other roads. We've also bought equipment so we can keep up the canals ourselves."
DeMarois said that there has been talk of the LGWCD becoming a dependent district to the town, which would involve approval from the state.
"We've been talking with our attorneys," he said. "It's quite entailed to do that."
DeMarois added that he has been in conversations with town representatives, including Town Manager Bill Underwood and Mayor Dave Browning, about improving relations between the district and the town.
"We're trying to progress through that," he said. "You have to have a little bit of past knowledge to sit down and know what you're talking about when it comes to those issues."
The district is also continuing to work with the town on an agreement for equestrian trails, using the district's canal easements, which also required approval by the state.
Fernandez, who owns several businesses in the area, including an excavating company and a plant nursery, said he sees the need for citizens to get involved in local politics.
"I'm a landowner in the district," he said. "I own more than 35 acres, and obviously I pay a good chunk of taxes, so I need to see that my tax money is going to the right place."
Fernandez added that he believes that the LGWCD has been under the control of a minority for a long time.
"We're trying to bring a new thinking, new ideas and see if we can make it more streamlined and more efficient," he said. "I'm not saying it's inefficient now, but as a business owner, I want to take the business approach to it and make sure that we're getting our money's worth."
Fernandez, who said he pays about $30,000 a year in assessments and property taxes, said that there are few business owners on the LGWCD board or the Loxahatchee Groves Town Council.
"A lot of them are ex-government workers. There's a lot of that bureaucracy-type mentality there," he said. "In my point of view, by bringing in the business mentality, it takes away the duplicity that we see in government nowadays."
Fernandez could not say whether the LGWCD should become a dependent district until he is elected and can see the actual interaction between the district and the town.
"I heard a comment the other day that they are afraid they are going to dissolve the water control district," he said. "I don't know where all of this is coming from. You know politics. It seems like Loxahatchee Groves has forever had this kind of gossip."
Fernandez said he wants to make property owners more aware of what they are paying in assessments and taxes, and why they are paying it.
"In other words, scrutinize the costs, scrutinize the services, and request the best services that we can get for the money that we're paying," he said. "If I am elected, I will try to do what's best for the landowners of Loxahatchee Groves."
Kane, CEO of #1 Education Place in the original Wellington Mall, chairs the town's Finance Advisory & Audit Committee. She said that she is running because fresh ideas are needed in local government.
"I'd like to see more cooperative government between the town and the district," she said. "I don't have negative things to say about the other candidates. I just feel that certain people have been in leadership positons in our town for a long period of time, and it's time to do things a little bit differently as the town moves forward and grows."
Kane said she wants to "move things forward in a more positive and cooperative light," adding that the negativity that has been occurring has not been productive.
"Everything that has been happening in the town is a stalemate," she said.
Kane feels that she has the knowledge, experience and background to be a positive influence on district business.
"I've run my own business for a number of years," she said. "I've also been involved in government at the federal level when I was in law school, so I feel like I bring everything to the plate, trying to come up with some new ideas and some progress. That's really what it's all about."
Kane has lived in Loxahatchee Groves for a little over three years. While in law school, she worked as a special investigator with the Senate Subcommittee on Aging. She never took the bar exam and eventually earned a master's degree in teaching.
Questions at the candidates forum will be asked by moderator Ken Johnson. Candidate questions can be sent to krj0188@aol.com. For more information about the forum, contact Marge Herzog at (561) 818-9114 or marge@herzog.ms.
The two available seats are for three-year terms. One is currently occupied by DeMarois. The other is held by Supervisor John Ryan, who chose not to seek re-election.
The proxy-vote election will take place on Monday, June 27, with ballots to be counted and results announced at the LGWCD annual meeting at 7:30 p.m. The top two vote-getters will take the open seats. Property owners can obtain a voting proxy form at www.lgwcd.org.