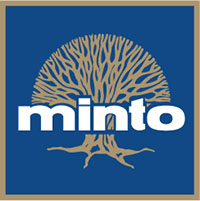 The City of Westlake, a Minto community on the former Callery-Judge Grove land, became Palm Beach County's 39th municipality on Monday after its five residents cast votes to incorporate.
The move came at the frustration of county commissioners, who went through a lengthy process before finally approving the 4,500-home community on almost 3,800 acres situated between The Acreage and the Town of Loxahatchee Groves.
Commissioner Steve Abrams, who was a member of the election canvassing board along with Supervisor of Elections Susan Bucher on Monday, announced the results of the election at the commission meeting on Tuesday.
"As a member of the canvassing board, I had the privilege of attending the certification of the election that was held to incorporate the City of Westlake," Abrams said. "I'm reporting that all five of the residents of Westlake voted in the affirmative to create that city."
Abrams made clear that he was concerned about the incorporation, which was not part of the approved Minto West proposal and could undo many of the county's compromises with the developer.
"My serious point on this is to the county administrator to bring back a report on what this means for the county. What are a new municipality's financial obligations that they take on when they are a city?" he asked. "What are the obligations that the county might now be relieved of? Of course, we're losing some tax base as that project develops. I anticipate that it will be somewhat of a net loss for us, but in any event, we'd want to achieve whatever savings we're entitled to by virtue of the fact that there is a city that will be in a position to provide services."
County Administrator Verdenia Baker said that she will work with the county attorney's office and bring a report back to the board.
"I certainly look forward to watching that unfold," Mayor Mary Lou Berger said.
Commissioner Shelley Vana asked about the agreement that had been reached with the Seminole Improvement District, which encompasses the City of Westlake.
"It was my understanding that we would work with them to try to get a mutually agreeable limit on growth that we could both live with, and we did at that point," Vana said.
A special district, the Seminole Improvement District had the opportunity to incorporate, Baker said.
"Now that they did this, they can actually incorporate more houses?" Vana asked.
"They will be their own government, and they will be responsible for land use and zoning," Baker said.
"So our actions prior to that were with the knowledge that if we did not do this, that could be the outcome, so we at least did try," Vana said.
Commissioner Melissa McKinlay was disappointed to hear of the incorporation and said it reflects the increasing encroachment on the county's home rule power.
"Minto's actions are nothing short of greed, in my opinion," McKinlay said. "I commend staff for putting the good faith effort that they did to negotiate with them. I've said it once, and I'll say it again, Tallahassee has more control over our growth management decisions sometimes than we do, and we must continue to push back in any efforts to take our home rule authority. I promise you that as long as I am sitting up here that I will be echoing that message in as many halls in Tallahassee as I can, so hopefully we can prevent this from happening again in the future."
She asked Baker to include in her report requested by Abrams specifically how it affects the fire station plans pledged by Minto.
Bucher said Westlake has residential status now, enabling people living on the property to vote.
"Their lawyer brought us a letter in May indicating that they wanted to convert their independent special district into a municipality," Bucher said, explaining that because there were no candidates involved, she was able to mail out the ballots.
"When I first agreed to do that, there were four voters," she said. "Once I prepared the ballots on June 3, there were five voters."
According to a statement by Minto, the approved plans call for 4,500 homes and 2.2 million square feet of non-residential commercial and employment center zoning. The Palm Beach County Commission approved Minto West/Westlake and amendments to the county's comprehensive plan in October 2014.
Once the decision was made to incorporate the Seminole Improvement District, the district, as outlined in Florida statutes, prepared an incorporation and conversion plan for Westlake.
On June 3, the Supervisor of Elections mailed ballots to the local residents qualified to vote on the question. As part of the vote, a city charter immediately became effective and five founding council members were automatically elected.
"As the largest landowner in Westlake, we will work constructively with the new city administration with a focus on responsible and visionary growth," said John Carter, vice president of Minto Communities Florida. "We will also continue to work with Palm Beach County on a previously agreed transportation plan, as well as land for parks, a fire station, a sheriff's substation, and solutions to drainage issues that will benefit the City of Westlake and central Palm Beach County."