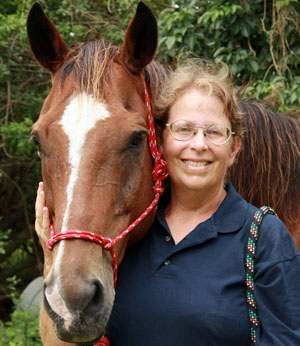 TALES FROM THE TRAILS
Founded in 2011, Karen's Equine Intervention is a small, community-oriented therapeutic facility. The company combines rehabilitating former Thoroughbred racehorses with assisting people dealing with depression, anxiety, grief, trauma and PTSD.
Founder Nora Janssen has years of experience as an ER nurse and patient advocate. With a strong love for horses from an early age, she learned from some of the best horsemen and veterinarians at Belmont Park Equine Hospital in New York, where she assisted with surgeries and equine medical care. She named Karen's Equine Intervention after her beloved daughter, Karen, who passed away unexpectedly in 2011.
"We focus on the medical side of dealing with various issues in a non-clinical environment," Janssen explained. "People with chronic diseases such as diabetes, kidney failure, cancer, chronic pain and Alzheimer's often suffer secondary conditions like depression. Their caregivers may also be under a great deal of stress. These are the people we reach out to."
Karen's Equine Intervention serves 15 to 20 clients, children and adults, and gets many of its referrals through physicians. Because it's a therapeutic program, as opposed to therapy, it's not covered by insurance. But the company offers its services on a sliding scale, based on the client's ability to pay. It is run out of Janssen's home, situated on three acres in Loxahatchee. In addition to five horses, there's a pig, some dogs, a few goats and many chickens.
Janssen is always on the lookout for more volunteers and sponsors. She is also hoping to add another horse. Ideally, it should be very quiet and OK with all sorts of riders, not too tall but able to carry a heavy person. It can't be a horse that is too old or has expensive medical conditions.
Karen's Equine Intervention offers a variety of programs. Riding lessons are available to the general public, as well as clients. Farm visits and birthday parties are a fun way to meet the animals. Birthday parties can be scheduled for a reasonable fee and include a two-and-a-half-hour party for up to 10 kids with lots of games and pony rides.
Therapeutic sessions allow clients to bond with one of the animals during a personalized therapeutic session. They're run by a registered nurse and an animal "assistant." Therapeutic sessions relieve stress, boost self-esteem and provide strength to tackle new challenges.
The Nurse Advocacy Program provides nurse care managers who can accompany clients to doctor appointments, assist with medical instructions and the proper usage of medication, and perform weekly home visits to follow up on recommendations. They can help patients navigate the often confusing healthcare system to ensure optimum delivery of medical care.
Another program is Camp Karen, a summer camp that offers fun and purposeful healing through equine therapy for girls ages 11 to 14. It is geared toward children suffering from traumatic experiences such as the loss of a parent or sibling, major home problems such as substance abuse and other issues. It's limited to six children, and runs from 9 a.m. to 3 p.m. on Monday, Wednesday and Friday from July 6 through Aug. 3. The cost is $275 per week, but Janssen is always willing to discuss that on an individual need basis, and also is always on the lookout for generous people willing to sponsor a child.
"It's a day camp, but it's more like an internship," Janssen said. "Our campers have a daily riding lesson, and also learn total horse care: grooming, handling the horse on the ground, feeding, horse psychology and basic anatomy. We also do crafts in an air-conditioned building, and incorporate math and English into real-world skills. We read a horse book and also figure out such things as how much feed a horse needs based on its body weight and riding discipline. Children need to understand that a good education is necessary for a successful career. Our primary focus is empowering each individual so they can achieve their goals."
Janssen hopes that afterward, the children will be able to apply what they learned to become counselors. In order for campers to receive the maximum benefit, Janssen prefers that they sign up for the entire five weeks, since the program is a progressive learning experience rather than a typical camp. Each camper receives an individually crafted program.
Jami Sheldon of Royal Palm Beach heard about the program a year ago. Her daughter, Rebecca, was referred by her doctor. Rebecca has Asperger's and anxiety issues.
"Going there has been really helpful for Rebecca," Sheldon said. "She likes animals a lot, and it was the only thing we found that she wanted to do without complaining. She goes twice a week and likes riding and being with the horses. She likes Nora, too. Nora knows when to be stern and when to be lax. She has rules, but she's flexible. They have a good relationship. I'd think that Camp Karen would be worth a try for a lot of kids. It can really help them deal with all sorts of issues. It's a quiet, soothing kind of place; a great place to relax and get away from the pressures of everyday life. I'd absolutely recommend it."
For additional information, call (561) 318-8043 or visit www.equineintervention.org.