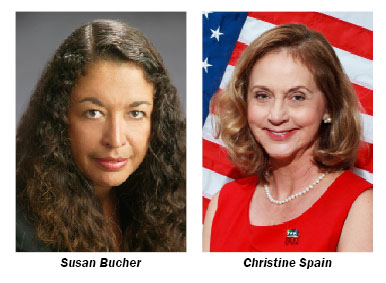 Palm Beach County Supervisor of Elections Susan Bucher is being challenged by attorney Christine Spain in her bid for a third term as the county's top elections official.
Due to the filing of write-in candidate Philip Donovan, the non-partisan election will be held during the primary election on Tuesday, Aug. 30. All registered voters are eligible to vote in the countywide race.
Susan Bucher — Bucher was elected into the position of supervisor of elections in November 2008 and took office in January 2009.
"Prior to becoming the supervisor of elections, I served eight years as a Florida State Representative," she said.
Joining the legislature following a special election in 2000, Bucher served on a committee that revamped election laws in the aftermath of the controversial 2000 presidential election.
"I continued to serve on that committee for a very long time," she said. "I came out of the legislature with a very clear understanding of election law. Before I was a legislator, I used to work on campaigns, so I had a pretty good understanding of elections and the functions that happened. Once I became the supervisor, then I had to educate myself about the processes that were being used in Palm Beach County."
Bucher said she had a strong support group while getting acclimated to the job, and can now perform every one of the positions in the office.
Bucher has been working with programs to increase voting, with funding for voting equipment and improving elections. Online voter registration will be effective October 2017, she noted.
She was also the first elections supervisor to work with a vendor to use technology that allows photos to be checked at precinct locations with mini iPads, creating a history for voters based upon their license cards.
"We've worked on a lot of projects here to try to streamline the system and make it better," Bucher said. "We've worked on a lot of processes to provide for not only more efficiency, but for more security measures."
Bucher has lived in Florida for 31 years. She was born in California and has been married to Richard Bucher, a native of Cocoa Beach, for 27 years.
"I'm running for re-election because I believe that I am the best equipped person in Palm Beach County to continue to conduct elections," she said. "I believe that I have the appropriate background and the proven track record to hold the job and continue to bring us into increased technology, more training for the staff and efficient elections."
She wants to continue to advance the office in terms of technology. A private warehouse facility to operate elections is in the plans, and during an off election year, voting equipment needs to be upgraded, she said.
"I believe that I am the best equipped, having researched voting equipment, to be the person to choose the next voting equipment that Palm Beach County purchases," she said.
Both the warehouse and the voting equipment, Bucher said, are big ticket items in excess of $15 million.
To date, she has saved taxpayers $21.6 million over the last seven years, while increasing training and technology.
"I want to continue to save taxpayers money," she said. "I believe that I have the proven track record, I understand Florida law, I understand the rules and I understand the services that the voters and the other customers — our candidates — expect from this office. I believe that I can deliver them in the best manner possible."
Christine Spain — Spain has been a business attorney and CPA for more than 30 years. She has lived in South Florida for more than 40 years, working in Miami-Dade, Broward and Palm Beach counties through her practice in Boca Raton. She currently lives in Palm Beach Gardens.
"I'm not a politician. I'm a concerned citizen, which is why I got involved," she said.
Spain's husband, Paul Spain, is a candidate for the U.S. House of Representatives in District 21. He is the Republican candidate challenging Democratic Congresswoman Lois Frankel in her re-election bid.
Spain said that she has been involved in many campaigns as an activist — and has not been happy with how county elections are run.
"It's really who counts the vote, sometimes more than who is voting, that really matters," Spain said. "We've just had a lot of problems in Palm Beach, especially since 2000, but a lot in the immediate past eight years with issues every election — whether they're problems with the ballots, whether they're problems with mistakes, losers being declared winners, problems with the ballot where they have to be manually entered, creating all kinds of errors."
The Supervisor of Elections Office, she said, does not treat its volunteers fairly.
"A lot of people who have volunteered, have frankly been quite abused by that office. It's quite a hostile office — very partisan," Spain said. "Palm Beach voters and residents deserve better than that. With close races, every time there's a close race, we can't have things determined because of manipulation, errors and failure to maintain accurate voter rolls."
For example, an independent public interest group made Spain aware of an inquiry claiming more than 100 percent of the eligible voting base has voted. "I'd be very interested in following that, but it's just very typical of the things that are going on," she said.
Spain would like to restore integrity and confidence and public trust into the electoral system.
"I have a lot of background in independent and internal audits, internal controls and fraud detection, as well as technology," she said. "I'd like to make some improvements with the voting machines, for instance. How do people know that their vote is counted?"
Spain suggested that a receipt be given to voters after they vote to show their vote was counted. She also wants a citizens' advisory board that is supportive rather than defensive.
"Instead of being defensive when people bring problems and complaints to you about what they see going on at the polls, you should welcome those things," she said. "Those are opportunities to improve the system. Instead, those people are met with such hostility, told that they can't prove it, told that they don't know what they're talking about… That's just not acceptable. These people give up their time and they volunteer, and we should all — no matter if its Republican or Democrat — we should all be vitally interested in seeing fair elections, neutrally and impartially conducted."
Her platform, Spain said, is to prevent voter fraud and to restore public trust in the voting system. When people don't trust the system, she explained, they become cynical and don't vote.
"Then you've got public officials being elected by fewer and fewer people each time, and that's just not right," she said. "Like I said, we deserve better."