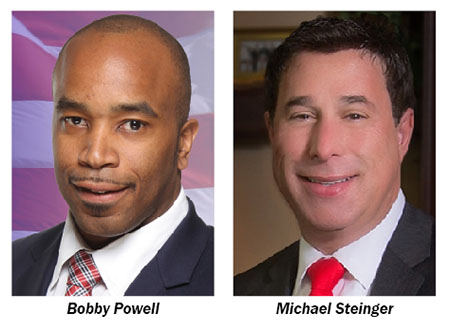 Two Democrats, State Rep. Bobby Powell (D-District 88) and well-known attorney Michael Steinger, are facing off in the Aug. 30 primary election for the newly drawn District 30 seat in the Florida State Senate.
The newly redrawn and renumbered Senate District 30 covers Royal Palm Beach, Loxahatchee Groves, eastern portions of The Acreage, and extends to the coast to include Jupiter to the north and Cloud Lake to the south.
The winner of the primary will be favored to win the general election in a district that trends Democratic. Either Powell or Steinger will face Republican Ron Berman and write-in candidate Steve Austin in the Nov. 8 general election.
Bobby Powell — Riviera Beach resident Powell, an urban and regional planner, was elected to the Florida House of Representatives in 2012 and was re-elected in 2014. He is the Democratic ranking member of the Transportation & Ports Subcommittee, and a member of the Agriculture & Natural Resources Appropriations Subcommittee, Economic Affairs Committee and the Economic Development & Tourism Subcommittee.
Although out-funded by his opponent, Powell said he hopes to overcome that by focusing on the issues and his own experience.
"In any election, we leave it to the voters," he said. "Money is an object that people can use to get their message out. What I would say is although the other candidate who is running for the seat may have financial wealth, I would venture to say that as it relates to serving people, being active within the Democratic Party, being active within politics, and working hard, my social and civic capital would make me a very good candidate."
Money does help get the word out, and Powell has raised quite a few dollars as well. As of June 25, Powell had raised $136,256 and spent $36,258. As of June 25, Steinger had raised $237,235, received a loan of $240,000 and spent $199,776.
"I think we've got to get away from the idea of somebody purchasing an election without having served before," Powell said. "We have to get away from people believing that politics is about buying elections, especially in a district like this where there is a variety of people. Many of the people in this district are middle class, and people who can relate to someone who has had to work his way up and continue to work hard in the community."
Powell noted that he has numerous endorsements, including the Florida Professional Firefighters, the Palm Beach County Firefighters, the Police Benevolent Association, the Classroom Teachers Association and the Fraternal Order of Police.
"Public safety and education — those are some of the things that I stand on very strongly," he said.
Powell also has endorsements from the business community, including the Economic Council of Palm Beach County.
"We've got every endorsement with regard to working hard and working people, whether it be progressive Democratic organizations or business organizations," he said. "I've got great relationships in the legislature."
Powell added that there are wealthy people all over the state who have never been involved in politics who are willing to freely spend their money to serve people they had never previously had an interest in serving.
"It's happening in Tampa, it's happening in Miami, it's happening in Broward, and it's happening here in Palm Beach County," he said. "When it comes to being a Democrat, I've worked with the party. I've gotten awards for being with the League of Cities for the work ethic that I have. I've passed legislation every year, and I've worked with many members of the legislature."
Powell pointed out that more than 30 members of the legislature have endorsed his campaign, including Senate Minority Leader Arthenia Joyner and House Minority Leader Mark Pafford.
"When that many people stand with your campaign, it shows how that person is the best candidate," he said. "I work very well with most members of the legislature."
One of his main issues is gun control legislation, which he has fought for as a state representative.
"When it comes to firearms, people can talk about how they are going to change the way that we look at firearms, but I have a record and a history of filing legislation that deals with firearms," Powell said. "People will ask, 'What will be your first bill when you get into office?' If you think about it, some of us who have been in office can actually look back and see what our first bill was that we actually filed, and in 2013, the first bill that I filed was House Bill 97, which would have allowed local governments to have a say-so, gave the power and authority back to local government if someone wanted to carry a concealed weapon inside of a government function or government building."
Powell holds a bachelor's degree in public relations from Florida A&M University and a master's degree in urban planning from Florida State University.
Visit www.votebobbypowell.com for more info.
Michael Steinger — Steinger, a successful trial attorney who has not held or run for office before, said that he felt it was time to give back to his community.
"Before I made the decision to run, I sat down with my wife and 12-year-old twins and talked about it as a family and realized that because we are so blessed in everything we have in our lives, we always have an obligation to give back. My family encouraged me to do just that," he said. "With my law firm, Steinger, Iscoe & Greene, fighting for people, for the injured, for those who don't have a voice for the last 20 years in the judiciary here in Palm Beach County, I decided it was time to use my voice to help everybody in the county."
A Palm Beach Gardens resident, Steinger said one issue he is passionate about is education. He was raised by a single teenage mother who worked two jobs to put food on the table and a roof over their heads.
"I went to public school, and I received public assistance for school lunches, so I understood and do understand what it's really like to struggle," he said. "My mother always said to me that the one thing that will change your life is education. On that, she was completely correct."
He was the first in his family to graduate from college and then went on to law school.
"Schooling and education is the thing that changed my life, so that is the biggest issue that I'm most passionate about," he said. "We're 46th out of 50 in per-student funding in the country as a state, so we are way down there, and we need more dollars toward education. I think every kid deserves an opportunity like I had to be able to live the American dream. They can only do that with the proper education."
Steinger was born in New York and grew up in Arizona, where he attended public school. He went to law school in Los Angeles and moved to Florida in 1995.
He said the mid-decade redistricting and renumbering of districts, although done to more properly represent the people of Florida, has been a major source of confusion for everyone, especially since District 30 only a few weeks ago was on Florida's west coast.
"Everybody in the last few weeks just got a brand new voter registration card," he said. "People are completely lost in their districts. People are completely lost on where they are registered to vote. I've had people tell me, 'You're running in District 30? That's on the west coast of Florida.' I told them, 'No, it's here,' and that has confused a lot of people."
With the district considered Democratic, he said the race between him and Powell will probably decide the eventual winner.
"It runs about 12 points Democratic, so that is probably correct," Steinger said. "Especially in a presidential election year, that is going to be tough to overcome."
Steinger said he is putting a lot of his own money into the campaign because he believes in what he has done in the last 20 years for the community.
"I'm willing to put my time, effort and my resources to work on behalf of everyone in Palm Beach County," he said. "Besides my own contributions, I've received contributions from hundreds of different individual people. I have not, like my opponent in the Democratic primary, been accepting monies from a whole bunch of special interests. What I don't want to happen is see special interests control this Senate seat."
Steinger added that he got into the race late, in May when Emily Slosberg pulled out, after most of the endorsements had been made.
"Sitting politicians have come to me now and said, 'Wow, we wish we had known you were in.' So, they have been very helpful behind the scenes in assisting me, but the bulk of the endorsements got out before I even got in."
He said Slosberg pulling out had a lot to do with his decision to jump in.
"We had a lot of similar views, and I thought she was able to serve the constituents of this county properly," he said. "When she determined that she did not want to, then I certainly thought it was my opportunity and obligation to step in."
For more info., visit www.steingerforflorida.com.