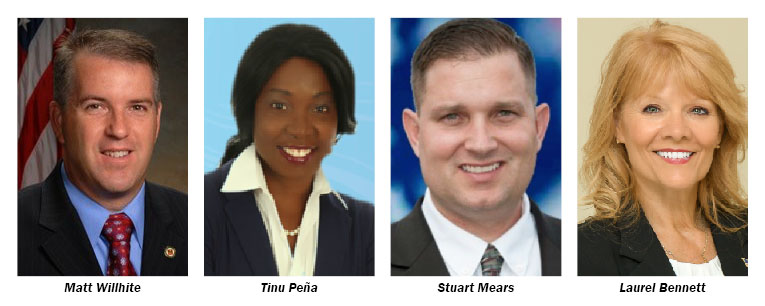 At the primary election on Tuesday, Aug. 30, area residents will see several familiar names running for state representative in District 86. Former Wellington councilman Matt Willhite and businesswoman Tinu Peña are running for the Democratic nomination, while educator Stuart Mears and businesswoman Laurel Bennett are seeking the Republican nomination.
The District 86 seat is currently held by Democrat Mark Pafford, who is leaving due to term limits. Encompassing all of Wellington, Royal Palm Beach, Loxahatchee Groves and several communities to the east, District 86 trends Democratic.
Matt Willhite — Willhite is in his 21st year working with Palm Beach County Fire-Rescue. He served for eight years on the Wellington Village Council, leaving earlier this year due to term limits. He is married with two young sons.
"I am the only person in this race who was able to get on the ballot by petition. I collected 1,030 signatures," he said. "The other three had to pay a filing fee. I have a great campaign team, and we've been working hard on this race."
Willhite has an extensive list of endorsements from a wide array of union groups, public safety groups, professional organizations and local leaders. Among them are U.S. Reps. Ted Deutch, Patrick Murphy and Lois Frankel; State Attorney Dave Aronberg; State Sen. Joseph Abruzzo; Sheriff Ric Bradshaw; and Clerk & Comptroller Sharon Bock.
In addition to working in fire-rescue for 21 years, Willhite served in the U.S. Marine Corps for eight years. He is running to continue his life of public service.
"I'm trying to teach my kids that giving back to your community and public service is the key to a better tomorrow, and so I want to continue to represent the people in Wellington that I have in the last eight years, and represent the people in Tallahassee," Willhite said. "If we don't care about giving back to our community, our country, who is going to? It takes people to step up and be in the political arena and work to make this community a better place."
Some of Willhite's main issues are protecting seniors, be it from fraud or keeping prescription costs down; working on infrastructure such as roads and bridges; ensuring water quality; working to improve public safety; and giving children better opportunities through public education.
"We're working very hard. We're running like we're losing. We're not standing back or taking things lightly. We are going to work hard for this election. We are going to work hard to make sure we represent the people in this district," he said. "On Aug. 30, the voters will decide. Hopefully, they'll decide they want me as their Democratic nominee. We'll work on November after that."
For more information, visit www.mattwillhite.com.
Tinu Peña — Peña has lived in Royal Palm Beach for 17 years, moving to Palm Beach County in 1999 after completing her tour with the United States Army.
"I've lived in the same community since then and served on the Planning & Zoning Commission in Royal Palm Beach," she said. "I currently serve on the Citizen Advisory Committee of the Metropolitan Planning Organization, representing Royal Palm Beach. I was on the Palm Beach County Zoning Commission. I recently stepped down from that position. In addition to that, I am a working mom. I own a small business doing engineering design consulting work."
Both of Peña's children have gone through the Palm Beach County school system. She is a strong supporter of public education, as well as job and economic growth in the county. "I am running for this seat because it's an opportunity to send somebody to Tallahassee who truly understands the community's diversity, looking to represent all of the distinctive communities in the district," Peña said.
With Peña's work, she often collaborates with others. "At the end of the day," she said, "I know how to build consensus."
If elected, Peña would like to work with others to get many projects accomplished. First, she would like to take a long-range approach toward revamping the education system in the state. Peña has noticed that trade industries and STEM (science, technology, engineering and math) industries, need to be encouraged as viable sources for careers. "If we're bringing jobs to Florida that we do not have the talent to fill, how are we going to improve quality of life?" she asked.
Peña believes that she is the best candidate for the position because of her skill set and approach.
"When I talk, I talk about 'we.' The campaign itself is about the people, not me. At the end of the day, I am sacrificing a lot to be able to do this. But the bigger sacrifice is, if we don't put the right person in place, the community is going to lose," she said. "I bring a sense of community to the table. I bring a sense of knowing the importance of the different issues that affect the different communities in the district, and I'm looking to represent each community in the district."
Peña ran twice for seats on the Royal Palm Beach Village Council, losing to Martha Webster in 2008 and Richard Valuntas in 2010.
For more information about her current campaign, visit www.votetinupena.com.
Stuart Mears — Mears, a fourth-generation Floridian, graduated from Lake Worth High School in 1992 and served in the U.S. Army before attending Palm Beach Community College and graduating from Florida Atlantic University with a bachelor's degree in political science and a certificate in peace studies. He earned a graduate degree in education at Nova Southeastern University and is currently an assistant principal at the Palm Beach County School District's Adult Education Center.
"My wife and I have chosen to raise our family here, and ultimately, I want to be a voice to keep Palm Beach County and West Palm Beach the same great place that I experienced growing up and experienced as an adult," he said.
Mears is out knocking on doors, working to bring what he considers a polarized political climate together.
"I want to represent people, not a letter in the alphabet. Yes, we have to have a party, and I get that, but at the end of the day, I'm running to represent my community as a whole," he said.
Mears wants to continue improving the economy for all Floridians, through lowering taxes and loosening the reins on businesses so they can hire more people. He wants to have another educator in the legislature to be a voice for children and education.
Students need to be exposed to languages, math and technology, in ways that are challenging, he said, rather than in the high-stress environment that students are currently in.
"Common Core, specifically, has got to go. We have to get back to teaching and learning; teaching these kids to love learning and embrace it for a lifetime," he said. "Right now, all they're learning is anxiety."
Mears doesn't like the Affordable Care Act.
"It had its merits; yes, people should not have to worry about how or where they're getting their much-needed healthcare, but there's got to be a better way," he said. "This transformation of our healthcare system has basically penalized the American people and Floridians. The cost of healthcare has gone up tremendously and continues to rise."
In 2014, Mears challenged Pafford, the incumbent, for the District 86 seat. Pafford won with 59.78 percent of the vote to Mears' 40.22 percent.
However, that election made Mears' name more well-known.
"It really speaks to what I can accomplish, not being the new guy and running against the incumbent," he said.
His strategy is to knock on doors and talk to those in the community.
"I think that's going to achieve more votes than raising money," Mears said. "I think the more doors I knock on, that's just as good as checks coming in."
For more information, visit www.votestuartmears.com.
Laurel Bennett — Bennett has an MBA in healthcare administration and a bachelor's degree in computer science. Along with running her personal health records company, PHR Solutions, she has been politically active in the county.
In 2014, Bennett ran for mayor of Royal Palm Beach, finishing fourth in a four-way race. She has been involved in government affairs and economic development with the Central Palm Beach County Chamber of Commerce. With PHR, Bennett has been on TV, explaining how her company's ID cards can save lives.
Bennett is running for the District 86 seat because she believes that she can do a better job.
"I think there are some people who need to be replaced. We've got to clean Congress out; the House and the Senate, make a clean sweep, so that we can get the government back to the people, and I think I can help with that. I believe in that. I believe in the Constitution," she said.
Bennett believes in taking care of veterans, explaining that her husband is a Vietnam veteran who is one of 11,500 on appeal with the St. Petersburg VA.
"Veterans are huge to me because I am living that nightmare where the veteran does not receive the benefits he should, and he is a hospice patient. It's not something I'm talking about; it's something I'm walking," Bennett said. "If you want somebody who is actually doing something about it, rather than just talking about it, I'm your girl."
Second Amendment rights are important to Bennett.
"I believe you should be able to protect yourself, especially if the police are not going to do it for you," she said.
Getting her PHR ID card out to everyone is a priority because it would allow first responders to learn a person's allergies, medications and doctor information in case of an emergency.
"I'd like to be sure our community is covered by that so we can save lives and not waste money at the hospitals doing tests that aren't needed," Bennett said.
Bennett believes that she is the strongest candidate because of her background.
"I think I'm the better candidate because I'm involved already," she said. "I know what we need to do as far as saving lives, saving the community, saving the veterans and making sure that they have jobs in the area… It's all there, and I can do that. And I have a plan and a platform, and it's not based on wishful thinking."
For more information, visit www.laurel-bennett.com.