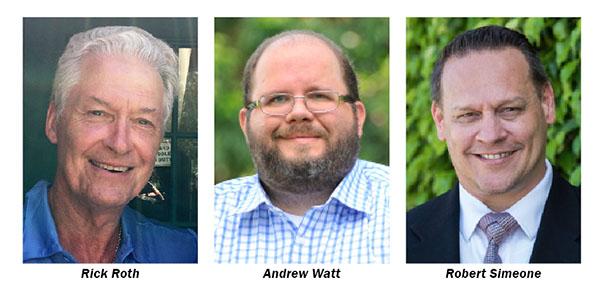 Two Republicans are vying for the Florida House of Representatives District 85 seat in next month's primary election.
Rick Roth and Andrew Watt are seeking the Republican nomination to succeed State Rep. Pat Rooney, who chose not to seek re-election. The winner of the Aug. 30 primary will face Democratic candidate Robert Simeone in November.
The northern Palm Beach County district includes most of The Acreage. District 85 trends Republican.
Rick Roth — A Palm Beach County native, Roth grew up in the Glades and is a vegetable and sugar cane farmer. He's the owner of Roth Farms in Belle Glade.
"I'm seeking political office for the first time in my life," he said. "I'm running because, as a business owner for 30 years and a farmer for 40 years, I'm a little bit frustrated about what's going on in this country, and I'm concerned about our communities."
Education, Roth believes, is the most important issue.
"I think we're failing our kids today. Too many kids are graduating from high school or college and not able to get a job," he said. "I think we have to improve the economy, but we also have to improve the education system in the State of Florida."
Roth said Florida is a great place to live with a unique environment, and it needs to be taken care of.
Roth wants to improve the economic environment so more people can get jobs and more revenue can be produced through economic development.
"We can use those tax dollars to improve education and improve our environment, protect our resources," he said. "I think it all fits together very well. We need to grow the pie of economic development. We don't need to raise taxes per person, we need to increase the size of the pie."
Roth said his experience as a businessman and business owner, having employed thousands of people and making thousands of decisions, makes him the best candidate.
"If I make a bad decision, it costs me money, so I learn very quickly from my mistakes. I'm not opposed to doing things differently; I like trying different things," he said. "Technology, information, science — everything is changing fairly rapidly. There are a lot better solutions on how to do things than there were 20 years ago, and we need people who know how to employ those solutions to get things done. That's why I'm running. We're not really dealing with the major issues of society today."
Roth has lived in Wellington, and been married, for 38 years.
"I think I have the bumps and the bruises to prove that I've been through a lot of experiences," he said. "I think 38 years of marriage is a testimony to the fact that I've been able to learn from my mistakes and make things better."
For more information, visit www.rickroth.org.
Andrew Watt — Watt has spent the past six years working as Rooney's legislative aide. He attended Cardinal Newman High School and Palm Beach Community College before earning his bachelor's degree from Florida Atlantic University.
After about six years at a software company, Watt decided to get involved in politics and local government, joining Rooney's campaign.
"I grew up around government; I grew up around politics," he said. "It's something I've always had an interest in. I've been very lucky to spend the last six years heavily involved in what goes on in our community, both in the local and state level, working on a range of issues from education to healthcare to growth management."
Watt, 36, is married to wife Kate, and they have three children, Ethan, Reese and Ainsley. He is the son of Jim Watt, a former Palm Beach County commissioner and state representative.
Watt, who has called Palm Beach Gardens home his whole life, has been able to see what has been done well, what hasn't been done well and what could be done better to serve the community.
He's starting to see more changes due to the Scripps Research Institute, and is paying close attention to what is going on with schools, particularly public schools and testing.
"Once they graduate high school, are they going to be able to, if not go to college, [be] ready for a career, some sort of job, training, something?" he asked.
Creating jobs, a corridor on the Beeline Highway, working on tech and trade jobs, and getting kids ready for the work force are all items of interest to Watt, who has seen Palm Beach County grow and evolve.
"I want to make sure all future development is something that, while we know it is going to have an impact, we want to make sure it has a positive impact, not a negative impact," he said, focusing on water quality and infrastructure for the growing population.
Economics, education and environment are the three main focuses of Watt's campaign, he said. His goal is to ensure that growth management includes good, sound regulation to complement the current community and not create problems.
Watt views his residency and raising his family in the district as a unique strength.
"I've grown up around this community. I've seen the needs of this community," he said.
Roth, Watt said, has spent most of his time in Belle Glade and not in northern Palm Beach County. "He doesn't know the issues of what's going on, the needs; he doesn't work with the local community leaders as I've done," Watt said.
For more information, visit www.voteandrewwatt.com.
Robert Simeone — The winner of the primary will face Simeone, a 20-plus-year resident of District 85. He lives in West Palm Beach with his wife, Vivian, and two teenage sons.
A retired U.S. Navy veteran who served in Operation Desert Storm and a member for two years of the Individual Ready Reserve, Simeone graduated from the Indian River Community College Police Academy in 2005 went to work for the Palm Beach County Sheriff's Office, where he has worked as a deputy in Wellington.
"I saw firsthand what substance abuse and untreated mental healthcare issues were doing to our families and neighborhoods. As an alternative to arresting those afflicted, I decided to open a professionally staffed and state licensed outpatient treatment facility, giving hundreds of individuals and families in distress a second chance," he explained.
In 2011, Simeone founded the Children of Wounded Warriors, a nonprofit dedicated to ensuring that children of wounded veterans continue to have access to extracurricular activities after their parent's injury to ensure normalcy and happiness in their lives.
"The charity has done numerous events at the Wellington Amphitheater," he said.
Simeone also earned a bachelor's degree in professional aeronautics and a master's degree in public administration at Embry-Riddle University, and is working on his doctorate in education.
Simeone feels he is well-prepared for office.
"I have gone to Tallahassee multiple times over the years to learn the processes of our state government, particularly concerning first responders and substance abuse issues," he said.
His top priorities include finding definitive answers to water issues, in particular alleviation of the current pollution problems stemming from Lake Okeechobee.
"As a centrist, business-oriented Democrat and an environmentalist, I believe the current situation this summer is grossly unfair to our coastal businesses catering to tourists and our residents enjoying the benefits of our treasures," he said. "This can has been kicked down the road for way too long. We must confront the reality of climate change, eliminate fracking in the Everglades, take action on rising sea levels and get the real job done of protecting our coastal environment."
Simeone feels that he can make a difference.
"I am the best candidate for the position, as the two Republicans running currently in the primary both represent a continuation of failed policies in Florida," Simeone said.
For more information, visit www.voterobertsimeone.com.