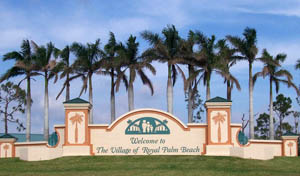 The Royal Palm Beach Village Council met last week for a workshop on its 2016-17 budget, which has the property tax rate remaining the same at 1.92 mills, but with increased staff and salaries, thanks to improving property values and the use of money from reserves.
"We're adding more people," Village Manager Ray Liggins said at the July 7 workshop. "We haven't added more people in quite a while. This proposed budget adds two public works employees to maintain irrigation and private pump stations within the public rights of way and public properties. Currently, public works is doing that. With the amount of parks and rec that we've added, specifically Commons Park, they just haven't had the time to give the rights of way the attention that they need."
The budget also adds one full-time equivalent employee in parks and recreation, and another in information services. Liggins noted that all the departments are increasingly dependent on information services to do their jobs.
Two positions at the Palm Beach County Sheriff's Office District 9 substation approved in this year's budget will show up for the first time in the 2016-17 budget.
A part-time contracted project manager was also converted to a full-time position.
"There are some significant changes to the budget that we haven't had for quite some time in the general fund," Liggins said, adding that no other significant staff increases are anticipated for several years. "We haven't had any increases like this since prior to 2008."
Liggins' budget message noted that policy has been changed so that transfers in and out of the general fund will no longer be used as sources of revenue or expenditures. The fund will be required to sustain itself and will use reserves as necessary. A rate stabilization fund of $5.5 million will become part of the total reserves and will be maintained in the capital improvement fund.
The budget incorporates several policies outlined in the new strategic plan for the 2016-17 fiscal year.
Finance Director Stan Hochman said that the total proposed budget for 2017 is $38,160,175. The general operating budget comprises 60 percent of that, capital projects 35 percent, reserves 3 percent and the stormwater utility 2 percent.
Hochman added that property values are up again, projected at 9.8 percent, from $2.282 billion last year to $2.507 billion now, which went a long way in allowing the addition of four full-time employee positions and the incorporation of strategic plan initiatives.
General operating revenues decreased by 5.65 percent and expenditures increased by 5.53 percent due to personnel services increases.
With the 1.92 millage rate, the village tax on a home valued at $190,000 before a homestead exemption would be $269.
The general fund revenue is expected to be $22,977,957, with about 20 percent of that from property taxes, 26 percent from other taxes and fees, 15 percent from licenses and permits, 18 percent from intergovernmental revenues, 2 percent from charges for services, 1 percent from fines and forfeitures, 5 percent from miscellaneous revenues and 13 percent from the current year fund balance.
Expenditures are expected to be 42 percent for personal services, 40 percent for contractual services (primarily the PBSO budget), 14 percent for other charges and services, and 4 percent for commodities. "About 80 percent of the expenditures are personnel services," Hochman noted.
The budget proposes an average of 3.5 percent merit pay increases for all employees, a cost-of-living adjustment of 1 percent and a medical insurance increase based on market projections.
Revenue for the stormwater utility fund is projected at $868,338, which comes from the village's stormwater utility fee.
The capital improvement fund will be $14,313,880, with the impact fee fund comprising 37 percent, 55 percent in general capital improvements and 8 percent in reserves.
Significant portions of the capital improvement budget include construction of a southern access from Commons Park to Seminole Palms Park via the FPL easement at a total cost of $575,000, with $275,000 being spent in 2017.
Construction of the Commons Park amphitheater is to start in 2017 with a cost of $500,000 and a total cost of $968,570.
The Royal Palm Beach Cultural Center expansion is set with a total cost of $2,312,408.
General improvements include basketball court repairs at Robiner, Crestwood, Okeeheelee Blvd. and Preservation parks at a cost of $210,000 for 2017 and a total of $427,017. Security cameras will be installed at Robiner, Marcello, Ferrin and Okeeheelee Blvd. parks at a cost of $75,000. Sports lighting replacement is set for Marcello Park at a cost of $115,000, with new LED lights.
Site improvements are planned at the Royal Palm Beach Recreation Center at a cost of $200,000 to include new site lighting, milling and resurfacing of the parking lot, root barriers around the parking lot trees and landscape services for two new entrance signs.
Athletic field resodding is planned at Katz Field and the east fields at a cost of $100,000 in 2017 and a total of $320,000.