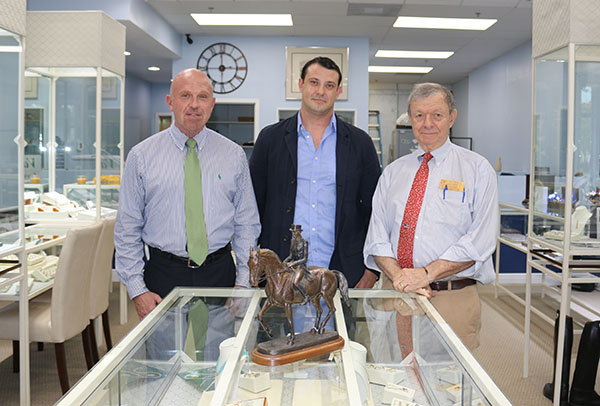 By Jason Stromberg
Van Dell Jewelers has expanded. The longtime local jewelry business opened its third location last month between Fresh Market and Oli's Fashion Cuisine in the Wellington Green Square plaza on Forest Hill Blvd.
Alexander Van Dell, son of owner Jack Van Dell, is excited about the new location.
"I am very satisfied that we opened up our newest location," Alexander said. "I look forward to serving new clients."
Serving clients is business as usual for his father, who opened the first local Van Dell Jewelers store more than 35 years ago in the Wellington Plaza. It is currently located in Wellington's Courtyard Shops.
Another store opened six years ago in the Southern Palm Crossing shopping plaza on Southern Blvd. in Royal Palm Beach.
The Van Dells will welcome their new clients, and returning ones, with open arms.
"If you put in multiple locations of your business, you increase the effectiveness of the business," Jack explained. "That's what we're trying to do here."
Having the new location up and running gives local customers easier access to the Van Dell business.
"We have customers down there who will be easily served there," Jack said. "It's very easy to get to this new location. It was needed. You can only reach so many people with one location."
Dwight Huntoon will manage the new location. Huntoon, who has worked as a manager at Van Dell Jewelers for 14 years, is excited about the potential of the new location's success.
"I think the most significant thing is good customer service," Huntoon said. "Most people only do fine jewelry purchases a few times in their life. It's an emotional and significant purchase. When you see someone buy a special piece that is emotional, and it makes that special someone in their life happy, it's very rewarding to see that."
Huntoon invited the community to visit the new Van Dell Jewelers location.
"Customers, when they are looking for jewelry, should look for a jeweler that is well-established with a good reputation," he said. "We have many good references, and we maintain customers' jewelry pieces for a lifetime after they make their purchase. We offer a wide variety of services. We do repair and maintenance at all three premises."
Huntoon has been in the jewelry business for 35 years. He previously served as a manager at the Van Dell Jewelers location in Royal Palm Beach. April Faciane is now the manager there. She is also excited about the new location.
"Jack is really good at having his finger on the pulse of the market," she said. "He knows the best locations for us to open in. We are very active in the local community. We believe in giving back to the local community, and we support many events that take place here."
A family-owned business for more than 85 years, Van Dell Jewelers originated in Massachusetts, founded by Jack's late father, John.
Van Dell Jewelers is a hands-on jewelry business with complete jewelry making and repairing workshops in all three locations. It is staffed by expert jewelers. A major facet of the business is its custom designs. The staff does casting, setting and finishing on the secured premises.
With everything performed in-house, Van Dell Jewelers controls its costs and offers customers great value on having a custom piece designed and made just for them.
"There aren't many jewelers that do a whole gamut of services and offer trustworthy service from beginning to end," Huntoon said. "We do custom design and jewelry appraisals. We buy jewelry and also do trade-ins for new purchases. We buy diamonds, gold, precious stones, and also take them as trade-ins on new jewelry purchases."
Family jewelers that do complete service on the premises are not as common as they once were. That's what makes Van Dell Jewelers so special.
"I've worked for big companies, and the services are not done on the premises," Huntoon said. "We offer more personal service and are there at any time, from the initial purchase through the lifetime of the piece."
Due to its high-tech workshops and expert jewelers and stone setters, Van Dell Jewelers can make finished pieces quickly. The repair capability is strong, from minor soldering and sizing to complete restoration of vintage and antique jewelry.
"We take great pride in the trust that people have in us to care for their jewelry," Faciane said. "Whether it's cleaning, or inspections, or repairs, or restorations, we get it done for you in a professional manner. We treat the jewelry pieces as if they're our own. We want to give it back to you better than you ever thought it would be. We are extremely passionate about what we do."
Van Dell Jewelers also designs and makes trophies for the equestrian season. Priding itself on being the largest maker of fine equestrian jewelry in the country, Van Dell Jewelers also has a great selection in all of its stores of engagement rings, wedding bands, earrings, bracelets and pendants.
Van Dell Jewelers, which is scheduled to open its fourth store near the new Palm Beach State College campus on Southern Blvd. in Loxahatchee Groves, can use a customer's existing precious metals and gemstones to create a great-looking new piece.
"We never say no. That's what makes us so successful," Jack said. "As long as it is a jewelry-related question, we will find an answer to it."
For more info., visit www.vandell.com.
ABOVE: Dwight Huntoon, Alexander Van Dell and Jack Van Dell at the new Van Dell Jewelers location.