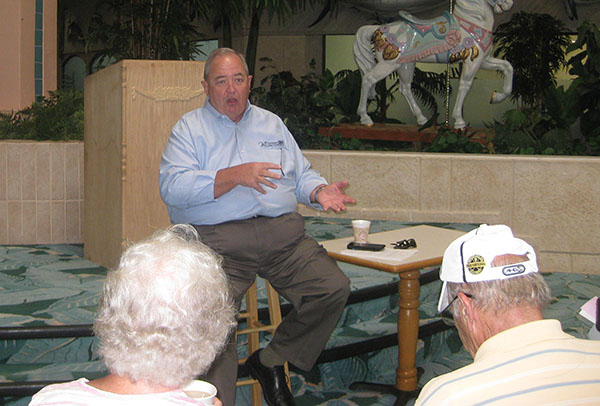 By Jason Stromberg
Wellington Village Manager Paul Schofield hosted "Coffee with the Village Manager" on Thursday, June 30 in the center court at the original Wellington Mall. A host of residents, mostly senior citizens, brought questions for Schofield on how the village can better serve the community.
Schofield came away pleased with the event.
"I'm very happy. This was the time we wanted to come out and talk to the seniors," Schofield said. "I try to get out and speak to community groups at least once a month. It's one in a continuing series. What we wanted here today was a focus on what the seniors want, because Wellington's seniors are generally different than everybody else's."
Schofield was not surprised by the questions asked. "I have been working professionally for 43 years in public forums like this. I got about the questions I expected," Schofield said. "I thought the seniors were well engaged and well represented, and I don't know one question that stood out more than the others. I was just happy to see the number of people here."
Schofield suggested that the seniors get out into the community and speak to the younger generation. Even the village manager said he needs to do more of that. It was a hot topic of discussion.
"When is the last time you talked to a 20-year-old?" Schofield asked. "We tend to be afraid of kids, and we shouldn't be. In their own way, they are afraid of us. Talk to them. They need it."
For those seniors who graduated from high school in the 1950s and the 1960s, the education they got was very different, Schofield said.
"When I talk to a kid today and I ask a fourth-grader what 12 times 12 is, they are going to want to sit down and write an equation," Schofield said. "These folks, every one of them, don't need to do anything. They just know the answer is 144 because we memorized it."
Schofield wants the seniors to go out in the community and teach today's youth the value of communication. "The best way for seniors and kids to feel included is to talk to each other," he said. "Don't isolate yourself. Get out and be more actively involved with more than just the seniors."
Howard Trager, who chairs Wellington's Senior Advisory Committee, agreed.
I think this was a great give-and-take between the village manager and the residents," Trager said. "This should really become a regular program, because people get a chance to voice their concerns about the future of Wellington."
One of the concerns that Trager pointed out was that the Wellington seniors want to see balanced growth.
"What I took from the meeting today was that our seniors recognize that Mr. Schofield has the answers that they are looking for, or he can direct the questions and/or solutions to the various department directors and managers," Trager said. "I was interested in the role of seniors in our growth plans."
Like Schofield, Trager wants to see more of a role for seniors in the community.
"The seniors have a tremendous amount of knowledge to pass on to the younger generations," Trager said. "That's only going to help the Village of Wellington."
Schofield spoke very highly of Meridith Tuckwood, the village's senior services specialist.
Seeing the seniors engaged and interested in the future of Wellington is wonderful from Tuckwood's perspective.
"The whole purpose was for the manager to get the information out and to get feedback from our residents as to what services we may be lacking," Tuckwood said. "This was more of an opportunity for residents to be able to share what they feel are their concerns."
To Tuckwood, today's seniors are what made the Village of Wellington so special.
"They are what made this a great hometown. These are the people who did that. We need to honor and respect what they say," Tuckwood said. "These are the residents who built Wellington. This is our foundation."
Schofield and Tuckwood answered questions posed by the seniors to the best of their abilities.
"How can we do it better? That says a lot about us as a community, because we want to do it better," Tuckwood said. "You can always be better. My job is to provide services to them in education and information. I want to make sure their quality of life is good."
Wellington Vice Mayor John McGovern said he thought the event was an opportunity for seniors to have a better understanding on how to navigate Wellington's government.
"This was a great installment of our Coffee with the Village Manager series," McGovern said. "It's focused on senior services and senior issues in our community. I am most excited about the great turnout of almost 50 people."
Outreach with all residents continues to be a village priority, McGovern added.
"I think this event signaled this sector of our community's desire to be involved in ensuring that the best aspects of our community are preserved," he said. "What we heard today were a lot of great ideas and good questions focused on ensuring the long-term success of Wellington. I could not be more thrilled with the outcome, or thrilled with the fact that our residents want to be so involved in working with us to continue to make Wellington a great hometown."
ABOVE: Wellington Village Manager Paul Schofield answers questions from local senior citizens.