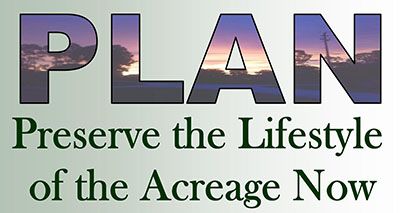 A group called Preserve the Lifestyle of the Acreage Now (PLAN) has been meeting to promote the idea leading The Acreage toward incorporation as a municipality. The group's next meeting is set for Tuesday, Sept. 6 at 7 p.m. at the Acreage library.
The group has been working to gather all the facts, the advantages and disadvantages of incorporation, including the ability to collect state revenue sharing and the ability to stand up against encroaching development.
"Over the last two or three meetings, there seemed to be people who vocally support the idea," said Brett Taylor, who is leading the effort. "We want to expand the central core group of PLAN, so these are individuals who are willing to step up and get involved and try to make this thing happen."
Taylor said there are several people who were involved in the original incorporation effort, which he said got hijacked by people who wanted to retain influence over the unincorporated area.
"They're going to come back and give it a second try," Taylor said. "They worked for two years and really had their ducks in a row, and they did all their due diligence to come up with the right numbers, and everything should have gone according to plan, but then at the last minute, outside influences came in with money and basically bankrolled the anti-incorporation movement."
Taylor said that anti-incorporation activists at the time used misinformation to derail the incorporation effort.
"It was fear-mongering using scare tactics to convince the property owners that their property taxes were going to triple, which in no way, shape or form was going to happen, but it was enough to scare people," he said.
That incorporation effort was led by members of the Indian Trail Improvement District Board of Supervisors. When those opposed to incorporation won seats on the board, the effort was stymied.
Taylor said that the result of the anti-incorporation effort was to set ITID and The Acreage back 20 years. "It cost millions of dollars in terms of revenue, gas tax and all types of municipal revenue sharing, not to mention that they were on the verge of reaching a deal with Callery-Judge," he said. "This whole Westlake thing never would have happened, so it really cost The Acreage a whole lot by subverting the earlier process."
Taylor said PLAN is trying to get in a position so nobody can come back at the end and try to question what they're doing.
"We do our due diligence, and we're trying to figure out what's best for The Acreage," he said.
Research they have done shows that The Acreage as a municipality would be entitled to roughly $9 million annually in municipal revenue sharing, with no need to levy ad valorem taxes to residents.
As a municipality, The Acreage could have its own dedicated county police substation, enhanced with additional deputies, with the additional cost coming from revenue sharing, he said.
"That's without adding ad valorem taxes to the residents," Taylor said. "If anybody questions these numbers, if anyone thinks we're pulling these numbers out of thin air, they're wrong, because we've researched it."
He said anyone who wants to do their own research can go to www.myflorida.com and look at the Municipal Revenue Handbook.
"It points to all the revenues that municipalities are entitled to that The Acreage is not because we're unincorporated," Taylor said.
He said the cost for a feasibility study would be about $40,000 based on information from the Florida League of Cities.
"They're very helpful because they give us a lot of the information we need," Taylor said. "We need money for that feasibility study, and/or try to convince Indian Trail that maybe they would be willing to possibly contribute to that."
He said that all sitting members of the board, as well as candidates in the upcoming election, have shown at least an interest in a feasibility study to see if it makes sense for The Acreage to incorporate.
"We're looking at what is best for the residents of The Acreage and at least if Indian Trail would be willing to invest in the feasibility study," Taylor said. "From what I'm hearing, none of them have an argument with that."
Taylor added that it will be a complicated process and the purpose of the PLAN meetings is to involve the community, get as much information as they can and listen to arguments on both sides.
He said the biggest arguments against incorporation are that taxes would go up, which he insists is not true, and that it would impose more regulation.
"The Acreage is pretty freewheeling," he said. "We're guided basically by county ordinances, which are very lenient. We, as a group, would like to maintain what we have out there now. We're not interested in changing the codes."
He pointed out that over the past 20 years, the county has changed the codes nine times. "They can, at their own will, change our county codes, whereas we can have our own planning and zoning, we can have our own code enforcement, and we wouldn't run the risk of having the county stepping in," he said. "We want to keep the character of The Acreage the way it is."
Taylor believes incorporation is a way to defend residents from the impact of widespread development nearby.
"Minto is incorporating and taking a field of orange trees and turning it into a city," he said. "They're taking our high school from us, and they did it by some backdoor political deal up in Tallahassee."
Those pro-developer deals were a catalyst for PLAN's incorporation efforts.
"We're being taken advantage of by the county," Taylor said. "The state's not really stepping in to help us; developers pretty much ignore us, but yet they want to come and use our roads — and we have no say in that."