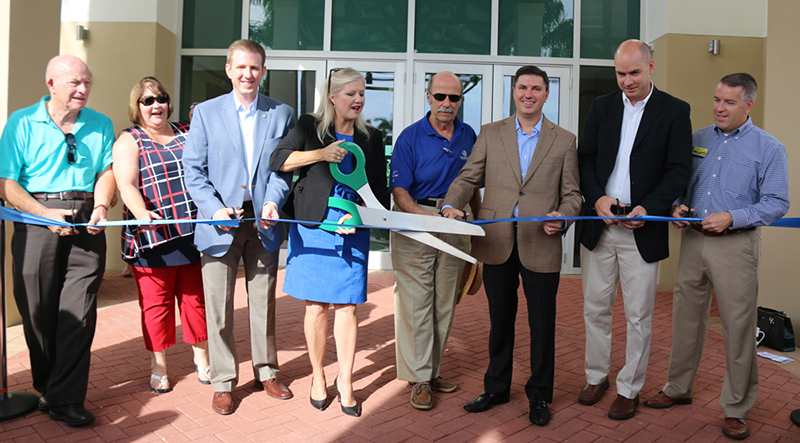 The Village of Wellington held a grand opening and ribbon-cutting ceremony for the new Wellington Community Center on Saturday, Aug. 6. The community came out for tours of the facility as residents learned about the many activities and rental opportunities available there.
Mayor Anne Gerwig began the event as the morning sun illuminated the building.
"What better way to mark a 20th anniversary of the Village of Wellington's incorporation than with a brand-new Wellington Community Center?" Gerwig asked. "This community center was built for all of us. The fantastic activities that are going to happen here are going to be a part of this community starting today. We are so proud to have this accomplished."
Gerwig pointed out several current and former village officials in the audience. "I want to mention, whether they're here or they're not here, that the past councils have made the best decisions possible for this village, and I want to thank them for the hard work that went into it," she said. "This was not built with a loan. We did not bond anything. This was built because the village has been so responsible with spending, and we had the money to do this facility over."
Assistant Village Manager Jim Barnes brought plans for a new community center to the council when Gerwig was first elected six years ago. Those plans showed that the former community center had been repaired and bandaged but was nearing the end of its lifespan, Gerwig recalled.
"That was one of the first things I considered, over six years ago, as a councilwoman here," she said.
Gerwig gave kudos to engineer Jason Hanchuk for the redesign.
"This was really a labor of love for a very young, talented engineer on our staff," she said. "I'm so proud of the work that went into that."
She also thanked Young Song of Song + Associates, the architect for the rebuild.
"This is a very modern design. This is very chic," Gerwig said. "This is so different, and I can't wait for you to see how usable every bit of this building is. I think you're going to love it when you get to know it, and you're really going to admire the work that went into it."
Pirtle Construction, she added, had to overcome various obstacles when building the new building. "They've done a great job of working with us on our schedule, getting this thing in place and ready for us today," she said.
Mock-Roos was the engineering firm on the site, Gerwig said, explaining that they did a fantastic job, especially with the unknowns of working on a site that previously had another building.
Gerwig also gave credit to community groups, such as the Wellington Seniors Club, which were inconvenienced as the building was remade and meetings and events had to be rescheduled and moved around.
Vice Mayor John McGovern proclaimed it an exciting day for Wellington.
"Having grown up visiting the original Wellington Club and the old Wellington Community Center, I so much envy the children who will have the opportunity to learn and grow in this great new building," McGovern said. "I am so proud to have been just a small part of the team that brought this from concept to reality,"
McGovern thanked Wellington staff members — the team that really made the building become a reality.
"The mayor had it right. This building is going to be the place for all generations to come together and learn and communicate and grow together as Wellington moves to its next 20 years," he said. "We are so excited to have all of you here today to see this great place and explore it with us."
McGovern thanked the prior council for its leadership, votes and vision to allocate funds and put the shovels to the ground to bring the new community center to fruition.
Councilman Michael Napoleone thanked everyone for coming out on a Saturday morning to celebrate the grand opening.
"This is a place for coming together as a community, whether it's for Wellington events, whether it's for a private event or whether it's for an impromptu picnic on the new great lawn," he said. "This community center is really the culmination of the vision of our prior council."
Napoleone thanked everyone for making the vision a reality.
"When your government invests in a community center, it's really investing in the people of the community," he said. "The opportunities that this center presents, to bring our residents together and to enrich our community, are limitless."
Councilman Michael Drahos called being part of the Wellington Community Center opening a thrill. "This is an investment that is going to enrich the quality of life for our residents," he said.
Gerwig ended the ceremony by thanking Parks & Recreation Director Bruce DeLaney's staff for making the building ready for the grand opening.
And with that, officials cut the ribbon and everyone went into the building to discover all that the new Wellington Community Center has to offer.