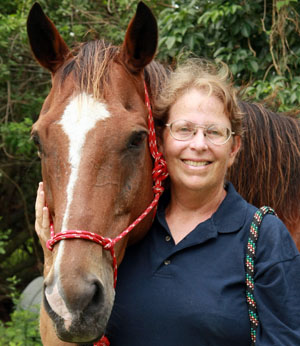 TALES FROM THE TRAILS
When most people think about going out for a trail ride, they envision a trip around the neighborhood. Some take it a step further and organize a meeting of friends, with trailers and horses, at a nearby park like Dupuis or Jim Brandon. And then there are riders like Tonya Rector and Dakotah Thiery of Loxahatchee.
When they think trail, they're envisioning something altogether different. They plan trips all over Florida and even to other states. Earlier this year, they signed up for the Great Florida Cattle Drive.
The event, which seeks to preserve Florida's cow culture and heritage, takes place every 10 years. It strives to re-create the life of Florida cow hunters on a cattle drive in the mid-1800s. Living this history, while having fun with friends and horses, helps keep traditions and heritage alive. A lot of planning and preparation go into making it as historically accurate as possible while maintaining the riders' and livestock's safety.
"I'd heard about the drive and looked it up online," Tonya recalled. "I'm always looking for new things to do with my horse, and this was the chance of a lifetime. I was so excited, I signed up a year in advance and started training and conditioning with my horse, Ahzti."
Unfortunately, tragedy struck.
"One day, Ahzti was turned out in a field, running around as usual, and he dropped dead right in front of me. He had an aneurism. He was only 8. It was crushing and traumatic. But, I wasn't going to give up on going. I borrowed Taffy, a Quarter horse mare, from a friend," Tonya explained.
The drive was from Jan. 23 through Jan. 30. More than 500 people and 400 head of cattle started in St. Cloud and ended at the Silver Spur Arena in Kenansville. All the food for the rider and horse was included with the $600 fee. Chuckwagon duties were handled by a catering outfit, and meals were served in a tent big enough to accommodate everyone.
A typical day started at 5 a.m., when most participants fed and watered their horses, and got ready for breakfast at 6 a.m. After breakfast, it was time to pack up the gear, which was loaded onto a truck and moved ahead to the next night's camp. By 9 a.m., everyone rode out, taking turns so everyone got to ride with the cattle. The ride traveled through private ranch and state lands not open to the public. It was like experiencing history on the original Florida cattle range.
At noon, riders would stop for lunch and a break, then ride out again at 1:30 p.m. By 4 p.m. they were at the new camp, caring for the horses, setting up tents, and sitting down to supper at 6 p.m. After supper the group enjoyed activities revolving around the central theme of preserving and promoting Florida's cow hunter/Cracker culture.
"We covered about 20 to 25 miles a day," Tonya recalled. "It was incredible, riding with that many horses and cows. We were broken down into five groups so everyone got a chance to work the cattle. My group worked them the first day, and my horse did really well. Nothing fazed her."
It was a great experience. "Riding across the beautiful Florida land with everyone is really something special," Tonya said. "There were so many of us, it took about an hour for all of us to pass any one point. The meals were great, and it was fun meeting other riders and finding out about them, while we rode and at night around the campfires. You meet people from all over the U.S. and the world, people from all walks of life."
Another fun part was seeing how everyone dressed.
"You have to wear clothes like they would have worn back then. No ball caps or T-shirts," Rector said. "It was a wonderful experience. I'd absolutely do it again. And the good news is they're organizing another one in five years instead of 10. It'll be in January 2021 to celebrate 500 years of ranching in Florida. I have a new horse, a 3-year-old. I have big plans for him. Hopefully, we'll both be there."
Dakotah also enjoyed the experience. She rode her 6-year-old buckskin, Rock Star, that she has had since he was a colt.
"We spent a lot of hours preparing for the cattle drive," she said. "I kept to a consistent program, and also desensitized him to cattle and the sound of the bullwhips. We went on a lot of long, hot trail rides."
Dakotah said the hardest part was consolidating all her gear; each rider is allowed only 60 pounds of stuff, and you need clothes for all sorts of weather: hot, cold, wet, dry. She was especially glad she brought her rain slicker.
"The first night we froze," she recalled. "Then we had a couple of days of rain. At night, everyone hung clothes to dry on every tree and post. The horses seemed to enjoy the whole thing. They looked happy and enjoyed pushing the cows. They were tired at the end of the ride."
Dakotah enjoyed the camaraderie.
"I loved meeting people, riding next to them and hearing stories about where life had taken them," she said. "I'd highly recommend this to anyone who likes spending time with their horse and other riders. If you have the opportunity, you should go. You won't regret it."
For more information, visit www.greatfloridacattledrive16.org.