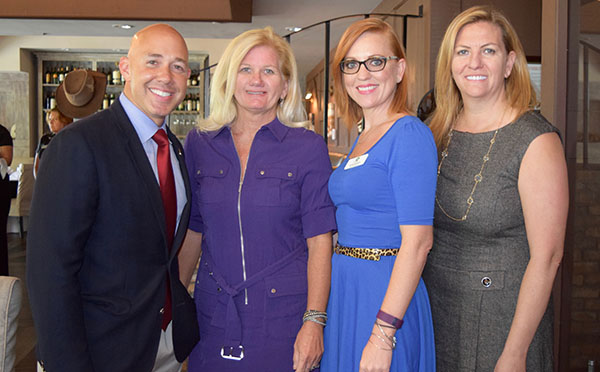 By Hailey George
Wellington Chamber of Commerce members heard from a 10-year-old anti-cancer crusader and a wounded Afghanistan veteran who's running for Congress during a luncheon July 27 at the Wanderers Club in Wellington.
Young Wellington resident Jaidyn Brody told of her goals to raise money to fight blood cancer.
"My name is Jaidyn Brody. I am 10 years old and a soon to be sixth-grader at the Bak Middle School of the Arts. I am the 'Student of the Year' for the Leukemia & Lymphoma Society, and my mission started due to my grandpa's battle with blood cancer," she explained. "That is why I have been fundraising for about a year and a half, and I have raised approximately $15,000. I raised that money doing things such as collecting at our local Food Truck Invasion."
Brody plans on hosting more events to raise even more money to fight blood cancers.
While Brody is battling to raise money here in Wellington, the day's other speaker began his battle overseas.
Wellington Chamber of Commerce President Debbie Crompton introduced Brian Mast.
"After graduating from high school in 1999, Brian Mast enlisted in the U.S. Army, serving over 12 years. During his service, he had the honor of serving under the elite Joint Special Operations Command, the JSOC, as a bomb disposal expert," she explained.
Crompton said Mast's job was to detect and destroy improvised explosive devices, or IEDs, in Afghanistan, which placed him in the line of fire on every mission. The last IED he found resulted in a catastrophic injury that caused the loss of both his legs.
"Brian was awarded medals of honor for valor, merit and sacrifice," she said.
Mast shared the story of the incident that ended his career, but also touched on other pressing issues in society.
"Awareness is something that matters, whether you are talking about awareness for something like blood cancer or… any other issue," he said.
He cited a troubling phenomenon among his fellow veterans.
"The reality today is that 22 veterans a day commit suicide. There really are demons that are associated with spending a life in service where you're surrounded by death."
Mast loved his job, he said, but added that for many, it is hard to understand why he was willing to risk his life on the battlefield.
"I was serving out of love for everything that our country represents," he said. "The enemies that we face on the battlefield… attack us because of their hatred for who we are as a people."
The night that Mast was injured, Sept. 19, 2010, seemed like a normal night, he recalled. His team worked using only night-vision optics. They were dropped into fields with tall crops and had to cross a fast river and a wall too tall to ladder over. One way remained to get across the river, raising the possibility of explosives. Unknowingly, Mast walked straight into an IED.
"The next step that I would take would be the last step as I conventionally knew it," Mast said.
He was dazed from the explosion. But Mast's fellow soldiers did their jobs, took care of him and saved his life.
"Every single one of us faces challenges in life, but the choice for [all] of us is what we choose to do in response to any challenge that we face," he told chamber members. "That's how our lives will be determined going forward. It will destroy you, it will define you or, if you let it, it will be the tool that makes you the strongest you have ever been in your life."
After retiring from the military, Mast continued working in national defense and counterterrorism with the Department of Homeland Security as an explosives specialist. He is currently a candidate in the 18th Congressional District facing a six-way Republican primary on Aug. 30.
The Wellington Chamber's next luncheon will be Wednesday, Aug. 24. Also coming up is a golf tournament scheduled for Oct. 22. For more information, visit www.wellingtonchamber.com.
ABOVE: Guest speaker Brian Mast with Debbie Crompton, Tiffany Rodriguez and Blanca Greenstein.