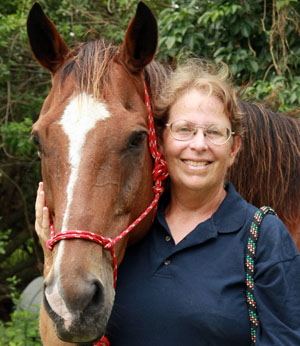 TALES FROM THE TRAILS
Even though Joe Norick's whole family is involved with horses — he trains and sells horses, his wife rides and his oldest daughter is on the University of Georgia equestrian team — his 9-year-old twin daughters, Sophie and Grace, were lukewarm about riding.
"They liked it, but they only played with it," Joe recalled. "Then, this summer, for the first time, they developed a true passion for it. It was more than just riding; it was a significant interaction with horses. They were so involved, so excited, they jumped out of bed at the crack of dawn because they couldn't wait to get there."
Where? The Cherokee Riding Club, where Sophie and Grace attended summer camp. Located in Wellington's Palm Beach Point neighborhood, the club is owned and run by Nicki Shahinian Simpson, Mary Rivas and Angel Karoyli.
"Mary and I wanted to start a grassroots program in Wellington for people who were into horses, giving them a place where they could move up in the show world, if that's what they wanted, or just come out and ride and enjoy the sport on any level," Nicki explained. "We're very inclusive. We have programs for riders of all ages and levels of experience. We offer group and private lessons on our 10 lesson horses and ponies. There's summer camp and Pony Play Time, a two-hour program for children age 5 and under. Owners can trailer in their own horses for lessons, and we also offer boarding and training. We're very hands-on and personal."
Mary spends her summers showing in the Hamptons and winters in Wellington. She and Nicki met on the show circuit years ago and began working together. Dreams became reality when they started the Cherokee Riding Club program in May.
"The thing I enjoy most is the innocence of kids just starting out," Mary said. "Watching horses and riding through their eyes. Witnessing a child develop that passion for horses. It's very endearing. Our instructors have great chemistry. We can accommodate every type of rider in a relaxed atmosphere."
The main objective is to bring riding back to being all about the horse/rider combination, and the relationship developed through grooming and caring for the horses outside the show ring. "I think people are shortchanged without that; they don't get the whole experience," Mary said. "True partnership is about spending time with a horse, not riding in a show ring for five minutes."
Riding is a unique sport because it's usually done individually, but it is a team sport, with the team being rider and horse, Mary explained.
"Horses have minds of their own. The more we respect and understand their needs and wants, the better the relationship is for both horse and human," she said. "Our lesson horses are schoolmasters, and we have really special ponies. They're so loved by the kids. They get painted and decorated. They love all the attention and give that love right back. At CRC, we're grateful to be able to share this world with our clients, to give back a little of what we've gotten out of it."
Lauren Beer, 11, of Wellington rides at the Cherokee Riding Club. Both she and her mom, Bridget, love being there.
"As a parent, it's scary to put your child up on a 2,000-pound animal and watch them jump," Bridget said. "I feel absolutely confident in leaving her there. The staff is very safety conscious. They empower Lauren by not just correcting her. They ask her if what she's doing is correct, and if not, how can she fix it. They don't just tell, they ask. It's turned on a light within her and ignited a true passion for horses. She spends a lot of time working in the barn, not just riding. Her confidence has soared, and not just with riding, but in other areas of her life as well."
It has also given Lauren new goals for her life. "One day she watched a chiropractor work on a horse," Bridget said. "She thought that was so cool that she decided to become an equine chiropractor so she could make horses feel better. The CRC staff has taught her to be assertive and clear about what she wants to achieve, both in riding and life. They're really, really wonderful."
Jane Brown's 12-year-old daughter, Whitney, also rides at the Cherokee Riding Club.
"They have excellent, very knowledgeable instructors," Jane said. "Whitney spends a lot of quality time at the barn five or six days a week. She loves it. I'm an attorney, and I appreciate how professionally they run the business. They're straightforward and upfront, also very accommodating. I also appreciate that they don't require a large commitment in terms of pushing for horse ownership or leasing or more lessons or shows. They let us choose how involved we want to get and allow Whitney to progress as far as she wants to go at her own rate."
Whitney does plan to show at the Winter Equestrian Festival this year, but won't attend the entire circuit.
"We'll show when we feel like it and pick our own shows," Jane said. "I didn't grow up riding, so I came to this sport without a lot of background knowledge or experience… Showing at this level can be a big commitment in many ways. The people at CRC get that. They calm the qualms of this novice pony/show mom and show me that we can do this and be OK."
To find out more about the Cherokee Riding Club, visit www.cherokeeridingclub.com or www.facebook.com/cherokeeridingclub.