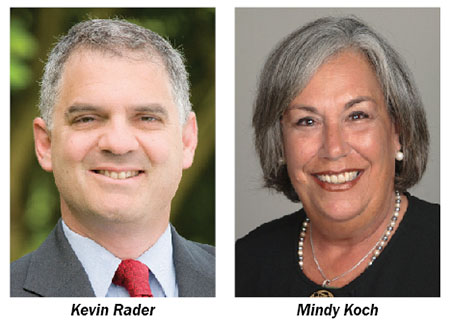 There are two Democrats seeking the Florida State Senate seat in District 29 in the Tuesday, Aug. 30 primary election. Democratic Party activist Mindy Koch faces State Rep. Kevin Rader (D-District 81), who is seeking a promotion.
Because no one else filed for the race, the Aug. 30 contest will be a universal primary, open to all voters in District 29, a newly drawn seat including much of western and southern Palm Beach County. The largest concentrations of voters are in the Wellington and Boca Raton areas.
The race for District 29 was originally expected to include incumbent State Sen. Joseph Abruzzo. However, he decided to run unopposed for Rader's current seat instead.
Rader has been a member of the Florida Legislature for six years and owns a small business, an independent insurance agency in Boca Raton. He has lived in Delray Beach since 2007. Rader and his wife, Rabbi Amy Rader, have four children between 14 and 19 years old.
"I have a proven track record and experience of fighting for my district. I brought over $30 million for the western communities — the Glades community — in the last number of years, not only with Sen. Abruzzo and County Commissioner Melissa McKinlay," he said. "I've worked well with the other side of the aisle, and I'm looking to get a promotion to the State Senate based on all that I've done."
If elected, Rader wants to continue working toward getting teacher pay to the national average of approximately $50,000 a year. Each year, he said, that teacher pay bill is the first bill he files.
"Hopefully, we'll be able to get something like that done," he said. "I'd love to get Bright Futures fully funded to the 100 percent level that it used to be many years ago, where students who want to continue their education, they don't really have to worry about the tuition — the good students at our finer public universities in the state."
Rader also wants to continue the discussion and fight to expand health insurance for the working poor.
"It's a Medicaid expansion bill that expands Medicaid to allow it to cover folks who can't afford it. If you make $25,000 a year, and married with two kids, you're not spending $1,200 a month, $1,500 a month, on family health coverage," he said. "There's federal dollars there. Left-leaning and right-leaning states have all done this to help the working poor. Approximately 1 million people in the State of Florida would be covered."
Rader believes that his proven track record, the appropriations he has brought to his district and what he has been able to accomplish in Tallahassee are the reasons voters should choose him.
"I'll even go as far as to say that in the State Senate, it's where the rubber meets the road. It's where Palm Beach County, to have someone who has been there, who knows what they've done in the past and who knows the relationships, knows people on the staff committees, understands how the process works, that's vital in getting things done and getting appropriations back for our community," he said.
Rader noted that he has many endorsements, including the teacher's union. Considering that his opponent is a teacher, he found that endorsement noteworthy.
"Almost every organization has endorsed me, from the public school teachers to the AFL-CIO to the Boca Chamber, the Florida Chamber, the National Federation of Independent Business, the Realtors, Congressman Ted Deutch, [former] Congressman Ron Klein, [former] Congressman Robert Wexler, Congressman Alcee Hastings, County Commissioner Melissa McKinlay, School Board members Karen Brill and Marcia Andrews, and State Sen. Joe Abruzzo, who has been my partner in getting things done in Tallahassee and who has represented Wellington since 2008," he said. "I've got an enormous number of people who believe in what I've done, and think that I'm the right person for this open seat."
To learn more about Rader, visit www.kevinrader.com.
Mindy Koch is a schoolteacher with a Ph.D. who has taught for 40 years in both Palm Beach and Broward counties.
"I'm a Democratic Party activist," she said. "I've registered voters, and I've raised money for the party. I've been protecting the votes for many different candidates. I'm the president of the Democratic Club of Boca Raton and Delray Beach, an elected member of the Palm Beach County Democratic Executive Committee, and I'm a precinct leader."
The race is for an open seat, she pointed out, without an incumbent.
Koch is running because she thinks that the citizens and people of the State of Florida deserve direct representation.
"I think that my major concern is education, our environment — which is obviously a mess — and the Medicaid expansion. Because I don't take any special-interest money, I think I can help represent them a little better," Koch said.
Koch would like to see Medicaid expanded, which she said would create between 80,000 and 100,000 jobs in Florida. "It would help everybody," she said.
Regarding the environment, Koch said that the state needs to stop dumping water into aquifers and the ocean, and that purchasing the land south of Lake Okeechobee would provide a possible filter for the water.
Koch believes that she is the strongest candidate for the position because things have not changed with Rader in office.
"In fact, he was named the Insurance Association's Legislator of the Year last year," she said. "Having that serious kind of insurance interest being represented by our representative is not a good thing. The insurance market is what is costing Floridians thousands of dollars."
Koch also has a focus on education. "I'd like to see real education reform that doesn't just include testing and charter schools," she said.
Koch said she has seen the damage that bad education reform and charter schools have done.
"It's something we need to focus on," she said. "If we have a really good education system in Florida, that will be a natural business attraction."
To learn more about Koch, visit www.votemindykoch.com.