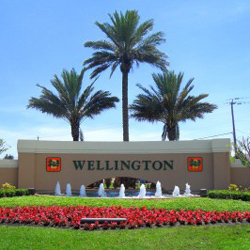 One Wellington referendum question will appear on the Tuesday, Aug. 30 primary election ballot asking village voters whether council vacancies should be filled by a special election rather than by appointment.
The question is a carryover from a series of referendums voted on in March. The council vacancy question was pulled from the municipal election ballot by the Wellington Village Council after the wording was challenged by several residents as being confusing to voters.
"We felt that rather than go forward, we should just pull it off and wait," Village Attorney Laurie Cohen said. "We took it off because we didn't want to have a challenge. We pulled it out of an abundance of caution, just to revise the wording. We think that we corrected the issue of concern, and there was a consensus of the council to move forward with it and to eliminate the appointment process in favor of the election process if there is a vacancy."
Cohen said the effect of the question, if approved, would eliminate the appointment of a council member when there is a vacancy.
"If there is less than six months remaining to the term, it's just going to remain vacant until the next election," she said. "If there is more than six months, then it's going to go to a special election."
The ballot question asks if council member vacancies with more than 180 days left in the seat's term should be filled by special election rather than by appointment.
The current charter requires council vacancies be filled by appointment. The proposed amendment would eliminate appointments, filling council vacancies in the same manner as mayoral vacancies by requiring a special election if 180 days or more remain to the term, and would specify the timing requirements for special elections to fill such vacancies.
Three previous Wellington ballot questions in March passed easily, which asked:
• Whether to change the composition of the elections canvassing board to make it an independent panel.
• Whether the charter should be amended to include a provision protecting the Equestrian Preserve Area.
• Whether commercial transient occupancy uses other than bed-and-breakfasts, such as hotels, motels and rental apartments, should be prohibited in the Equestrian Preserve Area.
Early voting is going on now, through Sunday, Aug. 28, from 10 a.m.to 6 p.m. daily. The early voting site in Wellington is the Wellington branch library. However, registered voters can vote at any of the other early voting locations in the county to cast their vote.
Other early voting sites can be found by accessing the Palm Beach County Supervisor of Elections web site at www.pbcelections.org. Registered voters should bring a current photo and signature ID.