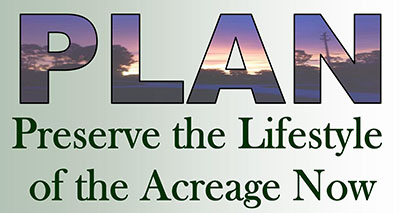 About 60 people filled the conference room at the Acreage library on Tuesday to hear about the incorporation effort being led by the group called Preserve the Lifestyle of the Acreage Now (PLAN).
Brett Taylor, president of PLAN, said the organization is gathering information that seems to favor the idea of incorporating The Acreage as a municipality, as well as information that is unfavorable.
"Everybody on this board is basically intent on one thing, and that is maintaining what we have in The Acreage the way it is," Taylor said. "By incorporating, we think that may be the best way to preserve our lifestyle. You know that we are under a lot of external forces by developers, and we really think that we ought to take control of our own local affairs."
He said The Acreage is never going to be a "city" in terms of the classic definition. "We all live on our acre-and-a-quarter lots," he said. "We don't have room for large shopping centers. We don't have room for even a downtown area."
What Acreage residents could gain is revenue sharing and the opportunity to represent themselves within and outside the community, he said.
"It puts us in a better position to negotiate with other municipalities," Taylor said.
Scott Barnwell, a coach at Seminole Ridge High School, made a PowerPoint presentation on the pros and cons of incorporation.
Barnwell pointed out that an incorporation effort must be approved by a majority of voters in a referendum.
He said one of the benefits of incorporation is self-determination and local representation.
"Your council is elected by the people who fall within your boundaries," Barnwell said. "You can control your own destiny. Whatever is in your boundaries, whatever the people want, the people get."
Incorporation guarantees that the municipality will have a seat at the table with federal, state, regional and local authorities, and gives access to grants and technical assistance, Barnwell said.
Perhaps the greatest benefit is that a majority of local tax revenues will come back to the municipality instead of wherever the county wants it to go, he said.
The argument against incorporation is the power to tax, which he said is not necessarily a bad thing. Barnwell pointed out that a municipality does not have to levy a tax for the first three years if it can sustain itself on other revenue sources, such as those that would be coming to the municipality instead of the county.
"Why the other cities don't want us to incorporate is because their chunk of the money goes down because it's a shared revenue, so they want you to stay unincorporated," he said.
For police and fire protection, the new municipality could contract for those services with the Palm Beach County Sheriff's Office and Palm Beach County Fire-Rescue, or with another municipality that adjoins it and offers those services.
Solid waste services could be contracted by competitive bid, Barnwell said, and pointed out that the cost of that service in Loxahatchee Groves went down after that town incorporated 10 years ago.
Public works and parks and recreation would also come under control of the municipality, which he pointed out could be regulated as the community sees fit, and through revenue sharing, it could enhance recreation facilities and landscaping throughout The Acreage.
The municipality could have the county enforce code compliance, but The Acreage municipality's regulations would have to be identical to the county's, so it may want to have its own code enforcement department.
The new municipality would need a staff and office space, which involves a cost that could be easily absorbed by revenue sharing, Barnwell said.
The estimated shared revenue to the municipality would be about $8.4 million, based on a population of 38,000, he said.
"That is shared revenue the county would have to give us every single year," he said. "We don't get that right now."
Permits and fees would amount to almost $800,000. Utility and service taxes would amount to about $4.4 million.
"We see none of that," Barnwell said. "Just those three is $13,690,991.20. Unless someone can show me differently, I don't see that kind of money being spent out here, and these figures are low. Obviously, we're losing out by not being incorporated."
Barnwell also pointed out that those figures do not include road or gas tax money, or any ad valorem taxes, if levied.
Taylor said PLAN is gathering to reexamine incorporation after the effort was shot down years ago.
"We think everybody may not be in favor of it, but we think it is at least worth looking into," he said, adding that PLAN is also trying to raise money to cover the initial costs of seeking incorporation.
PLAN has a Facebook page at "Preserve the Lifestyle of the Acreage Now," where there is an option to make donations.
"We need money both to educate the public and to pay for the feasibility study," Taylor said.