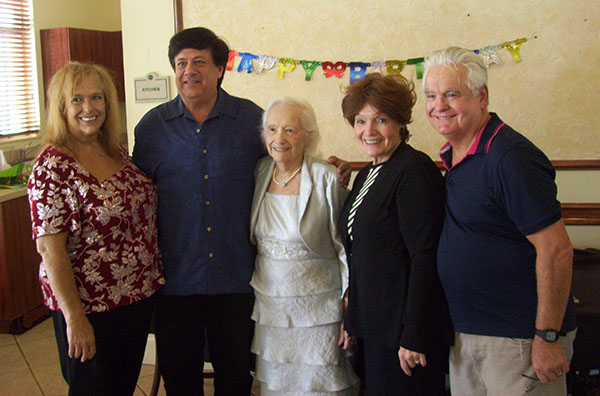 One hundred years ago, Bertha Faleck came into this world. The vivacious, spunky and independent centenarian recently celebrated her milestone birthday with her family in Wellington.
Faleck was born Sept. 7, 1916, delivered by a midwife in her mother's home in New York City, daughter Judith Lauro said.
"That's the way they did it back then. They had horses and carriages, and very few cars," Lauro said. "She said they used to play stoop ball on the street for entertainment. They used to have to put a quarter in the machine in the kitchen for electricity. They used to get heat by putting coal in the stove, and the ice man used to come every other day. They put ice in the ice box, and that's how they used to keep the food cold."
Faleck's parents owned a local grocery store. Her first job, at 15 years old, earning $5 a week, was working in a factory for a company that made neckties.
"She used to turn the ties inside out so they could sew the seams," Lauro said. "She got married, and had children, and eventually moved to Great Neck, Long Island, and had a career in real estate in which she sold homes to the rich and famous. Eventually, she started working for the National Bank of Westminster, where she became a banking officer. She was one of the first people to sell credit cards to companies and convince them of the importance of having customers using credit cards."
Faleck would teach the merchants how to use the first credit-card machines. When she retired from working at the bank at 65 years old, she moved down to Florida.
"In 1993, she decided that she wasn't through and decided that she wanted another career, so she became an actress and got her [Screen Actors Guild] card," Lauro said. "Her first job was working as an extra in the movie Ace Ventura: Pet Detective, and that started a career as a lifestyle model. She's on many product endorsements for senior citizens, and she has been in several movies."
Lauro noted that her mother's face is on pharmaceutical tissue boxes, magazine product layouts and more.
"The thing I like most of all, I enjoy a lot, is when my daughter says to me, 'C'mon, I want to take you somewhere.' She took me down to Miami, and she introduced me to an agent, and I got started," recalled Faleck, who was 82 at the time.
She appeared in several commercials, but was unable to pick a favorite.
"I liked them all. I really do like them all," she said. "I really had a good time."
Faleck has traveled all over the United States, has been to Europe, England, Israel, Cuba before visiting wasn't allowed, on cruises and more.
"She really has had an amazing life," Lauro said.
Now, Faleck is "more or less" retired. She's seen the globe recover from two world wars, the Great Depression, and many things change, including women gaining the right to vote.
"I've had a very interesting life. It was very productive, and I'm happy doing it. I'm lucky I have that," she said.
If history repeats itself, Faleck is sure to continue having adventures. Her late mother was still spry and active at 103 years old.
How does she do it?
"I cut out smoking, so that's one advice — don't smoke anymore. Eat the right foods. Only now I have chocolate every day; I didn't have it before. Right now, I have a Hershey bar. All my life, I stayed away from candy and anything like that, but lately, I have a Hershey bar," she said.
Faleck has three children, two grandchildren and two great-grandchildren, many of whom were able to make it to her 100th birthday party.
"I just had a beautiful, beautiful party, 100 years, lovely years," she said.
For her party, where she received an abundance of gifts, her granddaughter baked her a chocolate cake.
Lauro, who turns 70 in November, is in awe of her mother's adventures and longevity.
"She's a little bit unusual for a person of her generation," Lauro said. "She's had quite the life… Who knows what the next 100 years is going to bring?"
ABOVE: Bertha Faleck (center) with her daughter Judith Lauro, nephew Steve Backman, niece Barbara Costa and nephew Paul Backman.