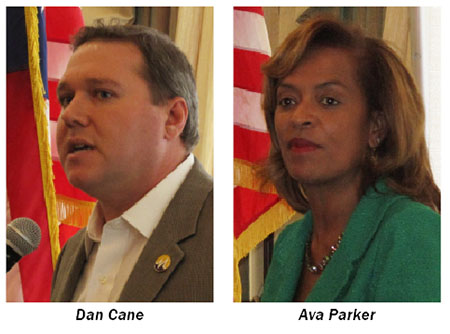 Palm Beach State College President Ava Parker and Dan Cane, CEO of Modernizing Medicine, were keynote speakers at the Central Palm Beach County Chamber of Commerce luncheon on Thursday, Sept. 8 at the Wycliffe Golf & Country Club.
The theme was "Preparing Today's Students for Tomorrow's Job Opportunities" and featured an appearance by Lt. Gov. Carlos Lopez-Cantera, who stood in for Gov. Rick Scott. The governor was busy addressing the aftermath of Hurricane Hermine.
Cane, who co-founded Modernizing Medicine in 2010, was named Entrepreneur of the Year and Ambassador of the Year by Gov. Scott in 2015. His firm employs more than 500 people.
Cane said Modernizing Medicine is dedicated to the vision that healthcare needs to be fixed in the country by using technology to inform doctors and allow them to make better decisions.
"We can use data to drive up efficiency," he said. "We can use data to improve outcomes. That really is the mission of the organization. We're going to use information data to change how we create information, how we capture it, how we use it to make decisions that will make us more efficient for the patient and providers, as well as improve the outcomes, because we live in a day and age where technology can be accessed in ways that weren't even possible until the last few years."
Cane, who lives in Wellington, attended Lake Worth High School and Cornell University. He is the vice chair of the Florida Atlantic University Board of Trustees.
"I am a very proud product of the school system here in South Florida, and I use that information to attract and retain some of the great talent we have been able to surround ourselves with," he said.
His company uses iPads and mobile apps to connect the healthcare system through the cloud.
"We are the modernization of the healthcare system," Cane said. "We need these bits of information, these technologies, to get out of the way of the doctor/patient interaction. The best technology is the one that does its job for you and you don't even have to think about it. It just works, and so our mission is to make sure that when the doctor enters the room, you know that they're using Modernizing Medicine if they're actually making eye contact with you. If they turn their back and use a computer, that's not our tech."
Cane said physicians tend to "treat the chart," rather than the patient.
Modernizing Medicine also offers other products, such as practice management and billing, home management, telemedicine and pathology systems. Many of the programs are specialty-specific.
"The products have grown as the company has grown," Cane said. "We started this company just a few years ago, and today we have more than 35 percent of the U.S. market in dermatology. We have more than 1,000 ophthalmologists. We have thousands of gastrologists and others."
The success of his company can be attributed to combining available technology such as the cloud with mobile devices.
"These two areas are really untouched by the healthcare industry, which has been perpetually stuck in the 1970s and 1980s," Cane said. "Only recently, it has been beginning to digitize, but I would daresay it has not yet modernized."
Cane said his company's software actually learns how the doctor wants to treat a patient, rather than the doctor having to learn the software.
The company also pays heavy attention to education, as reflected in its partnership with Palm Beach State College.
"It's something that I don't think we've paid enough attention to," Cane said. "It's not just producing the volume of talent; we need to produce the right talent. We need to make sure that talent is prepared for the jobs of tomorrow."
He said that it is incumbent on private healthcare organizations to reach out to educational institutions and give them guidance on where they see the opportunities, and added that it is important to keep newly trained workers in the local area.
"Modernizing Medicine wins because we'll be able to hire these people directly into our company," he said.
Cane introduced Parker, who just wrapped up her first year as president of Palm Beach State College.
Parker thanked the chamber for offering the opportunity to talk about the college's partnership with Modernizing Medicine, as well as the opening of the new campus in Loxahatchee Groves, which will become the hub of its medical program.
"I've been here about 14 months," she said. "The most interesting thing was getting around the county and realizing how big it is."
Parker said the economic impact of the college is about $1.1 billion, based on a study done in 2012. About 65 percent of its students are seeking an associate's degree.
"When you come to get an AA degree with us, you actually have a degree that's guaranteed admission to any of the Florida universities around the state," she said, explaining that in 2015, 3,000 students transferred directly to Florida Atlantic University, and the University of Central Florida was their second choice.
The college offers three bachelor's degree programs, in nursing, supervision and management, and information management.
The college also offers two-year certificates in a wide array of fields, including medical technology and skilled trades, as well as creative arts and public safety.
It has campuses in Belle Glade, Boca Raton, Lake Worth and Palm Beach Gardens.
"The campus that we're focusing on today is the one that's going to be right around the corner, which is going to open in 2017, and that's the Loxahatchee Groves campus," Parker said.
The building nearing completion is the first of many that will be built on the new campus.
Phase one will be three buildings of 181,000 square feet, with a projected enrollment of about 2,400 students. Final buildout will be 11 to 13 buildings of 653,000 square feet, which will be built with consideration of the natural attributes of the site.
The programs will focus heavily on what PBSC officials found to be a large number of hospitals and medical offices in the area.
"We thought that it would make sense for us to build programs that will support the natural economic growth that's already occurred in this part of the county, hence we have a health science and technology focus, or I often call it the med-tech focus, within the first building," Parker said.
As the campus expands, it will offer a wider range of degrees and certificates to correspond with the needs of the community.
"We want to ensure that we stick to our commitment to respond to job growth and job needs throughout the county, so when we start on our second building, while we are looking to have a real medical focus on the campus, we'll pay attention to the job demand," Parker said.