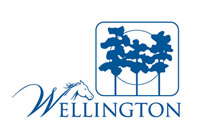 Wellington's Equestrian Preserve Committee attracted a crowd of about 40 residents on Wednesday for a hearing that ended with the committee's approval of amendments allowing the proposed Winding Trails development on the old Wanderers Club executive golf course.
The applicant — W&W Equestrian Club LLC, Jim Ward and Patricia Holloway — purchased the long-unused golf course land surrounding the Lakefield South community off of Aero Club Drive late last year. Plans for the property include nine single-family residential equestrian estate lots with stables, grooms' quarters and other equestrian amenities.
Wednesday's meeting covered four petitions, Wellington Project Manager Kelly Ferraiolo explained. The petitions include a comprehensive plan amendment, a zoning text amendment, a rezoning and a master plan amendment.
Land planner Kate DeWitt from Cotleur & Hearing spoke on behalf of the applicant.
The applicant seeks to change the golf course into nine residential equestrian lots in a community named Winding Trails. The lots will range from 2.43 acres to 4.45 acres, with 0.31 dwelling units per acre. It is included within the Landings at Wellington Planned Unit Development.
The Winding Trails land totals 65.45 acres, currently with 38.41 acres of golf course, 21.88 acres of lakes and 5.16 acres of lake maintenance tracks. It surrounds the Lakefield South community, which has 200 homes.
"It is important to note that Lakefield South is not part of any of the requests before you tonight," Ferraiolo said.
The applicant wants to amend the future map designation for Winding Trails from Commercial Recreation to Residential B; extend the boundaries of the Equestrian Preserve Area to include Winding Trails; and include proposed public bridle trails within the equestrian trails map, she said.
The residential communities surrounding Winding Trails are also labeled Residential B, Ferraiolo added.
The applicant, Ferraiolo said, seeks to create a sub-area within the Equestrian Overlay Zoning District, with specific regulations. Since the project is unique, Wellington staff suggested creating the new sub-area.
Covered arenas will be prohibited, and building height maximums are included in the restrictions. No more than 12 stalls per lot will be allowed with no more than four stalls per acre. A bridle trail is included in the proposal.
The applicant also requested a Landings at Wellington PUD master plan amendment to create a pod within Area D, called D-1, allocating 29 acres for the nine units with access points and a gated exit. The access points are proposed for Aero Club Drive and Greenbriar Blvd., with no access proposed within the Lakefield South community, Ferraiolo said.
"There has been a decline in the use of golf courses both locally and nationally," she said. "Staff has researched the trends in golf course redevelopment and has found many local examples. The proposal tonight is clearly a better alternative than multifamily townhomes, zero lot lines or commercial uses. The density of 0.31 dwelling units per acre is far less than what could potentially be built on the property. It also provides for minimal impacts to the existing infrastructure. Staff supports this request not only because it meets the requirements of the comprehensive plan and the code, but because the potential alternatives could result in greater density and intensity than what is being proposed today."
The executive golf course hasn't been in use since at least 2008, DeWitt said, and has become a maintenance issue with landscaping, lakes, dirt bike use and children fishing in the lakes. "We're excited for the property owner to come in and really revitalize this area and bring it back to life," she said.
Winding Trails will be within one mile of the Palm Beach International Equestrian Center, which provides a great opportunity, DeWitt said, for residents to utilize existing amenities in the area.
DeWitt added that the applicant has been responsive to the concerns of Lakefield South residents, discussing manure bins and their design, where fencing is located on property lines, vegetation boundaries and more.
The applicant reached out to the community, she said, meeting with Lakefield South residents in May and August, mailing out hard copies of plans, talking with residents individually, and providing access to specialists in real estate, landscaping and manure disposal to answer questions. The applicant has created a project web site at www.windingtrailswellington.com with up-to-date plans, frequently asked questions, renderings and more.
Through the outreach efforts, DeWitt said, some residents of Lakefield South who were not originally supportive of the project eventually backed the project and have sent in letters of support. Site plan changes have also occurred based on feedback from residents.
Committee Vice Chair Jane Cleveland noted that Parcel 2 has less of a buffer than other parcels, with vegetation rather than a lake. After some discussion, it was agreed that the parking area and the riding ring would be switched, creating reconfigured buffering space and satisfying Cleveland's concern.
Committee Chair Dr. Kristy Lund asked Planning & Zoning Director Bob Basehart what other things could be built in the location. Basehart called the problem of failed golf courses a difficult issue.
"We've seen, even in Palm Beach County, numerous examples where they're turned into other things. Usually it's multifamily residential, either condominium, townhouses or rental apartments — that's what most of the conversions that have happened around the county and even around the state have been," Basehart said. "But if property has frontage, primary roadways, like this one does, future requests could include nonresidential uses."
Given the alternatives, Winding Trails is a better option, he said.
"Generally, what we see around the county and state, is that property owners are entitled to reasonable use and will keep coming back until they get something that will work for them," he said.
A number of residents spoke both for and against Winding Trails.
Bill Paquin, a 13-year resident of Lakefield West, expressed concerns about stall rentals, traffic, proximity and the number of horses per acre. He suggested fewer horses and asked whether the homes would be rented.
Veterinarian Dr. Jean Oberg was impressed by the applicant. "I would like to, first of all, thank Ward Realty. They've been very generous in giving a lot of their time to us," she said. "When they first presented it, I was one of the ones who said I would like a golf cart access so that we could go to the horse show, because a lot of us go to the horse show in the evening. Within seconds, they revised the plans and had that access road done. I've never seen anybody change their plans so quickly."
An equestrian, Oberg said that those who will purchase the properties will come with many horses, and will be high-level equestrians, who most likely will not want to rent to outsiders.
Cynthia Gardner applauded the developer for trying to take a piece of difficult property and making it as horse-friendly as possible. However, she said, only providing 500 square feet for the grooms' quarters, and limiting a multipurpose path to 8 feet wide, might not be enough. She expressed caution about the dangers of over-restriction.
Doug Marty and Chip Smith, owners of the Wellington National Golf & Equestrian Club, spoke in favor of the project. Marty has lived in Lakefield South for about 10 years.
"I remember when it was a par 3 course; it's just an eyesore now," Marty said. "What Trish and Jim Ward have done here is remarkable. I think the property is going to be so upgraded and upscale, I'm totally supporting it."
Smith is living in a home in Lakefield South that he is considering buying. His hesitation, he said, is the uncertainty of what might happen to the golf course.
"I'd love to see this happen, see something quality go there, versus the alternative," Smith said. "I'm very much in favor of it and making a real estate decision based on what happens."
Attorney Anthony Barbuto, representing the Lakefield South Homeowners' Association, explained that a survey was sent to 200 individual homeowners, of whom approximately 80 responded. Fifty-one homeowners opposed the development, 22 supported it and seven were unsure and wanted more information. The concerns of the residents included security, impact to property values, and questions about manure and odor. The HOA, he said, has maintained a neutral position, with the goal of fact-gathering.
Don Barth went on the record as against the project. Barth explained that he bought his home based on the zoning at the time, specifically not in the equestrian overlay. With this project, the equestrian overlay would surround Lakefield South.
"We're surrounded, and I don't appreciate it," he said.
Committee Member Robert Bushey expressed concern over restrictions, but said he believes that the project is better than the alternatives.
Committee Member Carol Cohen expressed empathy toward the Lakefield South residents who aren't happy with the changes. "I'm concerned with what you're feeling about being surrounded," she said. "I believe that our staff is incredibly sensitive and cares very much about everything that they do within this village."
As an equestrian, however, she believes the project is beautiful and has had every care put into it.
"I am certainly sensitive to your wants and needs, but I don't see what else could be done in this situation," Cohen said. "We certainly don't want cluster housing, and we certainly don't want condos. We certainly don't want it to stay the way it is. In my mind, this may be our best alternative."
Lund called Winding Trails "the lesser of the two evils."
"Nobody wants development, but if you're going to have development, I'd rather have nine homes than 100 developments and condos," she said.
Committee Member Dr. Sergio Guerreiro, an equestrian, pointed out that the property will stay visually appealing because the equestrians who buy the residences will most likely only have horses on the land for five months at a time, giving it time to replenish. With friends who live in Lakefield South, Guerreiro said that another option could be condos.
"There are other alternatives. We just don't know what will be presented next," he said, adding that his friends who live in Lakefield South fear that rental properties will be built up around them.
Guerreiro made motions to recommend approval of the four amendments, which were seconded by Bushey. All four passed 5-0.
The proposal will go to the Planning, Zoning & Adjustment Board on Wednesday, Sept. 14 before it heads to the Wellington Village Council.