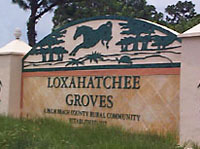 The Town of Loxahatchee Groves is preparing for its 10th anniversary with a down-home, country-style celebration.
As a result of a successful incorporation effort from 2003 to 2006, Loxahatchee Groves became Palm Beach County's 38th municipality with its incorporation on Nov. 1, 2006.
Perla Underwood, the town's finance director, is leading the effort to encourage community participation in the anniversary events.
She pointed out that Nov. 1 is also the date for a Loxahatchee Groves Town Council meeting that evening, and the town plans an open house that morning at Loxahatchee Groves Town Hall. However, the big celebration will be a rural-style festival on Saturday, Nov. 4 at Loxahatchee Groves Park. "What we are tentatively planning is that on Nov. 1, we're going to have an open house breakfast," she said, adding that the town's former elected officials will be invited.
The first council was made up of Dave Browning, who has served as mayor since the inaugural council was seated, along with Dave Autrey, Marge Herzog, Dennis Lipp and Dr. Bill Louda.
Underwood hopes to get current and previous council members, along with those who worked on the incorporation effort, together to celebrate.
The Loxahatchee Groves Landowners' Association has put together a film of the 10 years of incorporation and the history of the town, along with other celebrations.
"This is a three-hour film that's going to be going through it all, and they have a lot of information that they've provided us, such as photographs and things like that," Underwood said.
The sitting council will also give a presentation honoring the first council.
On Saturday, Nov. 4, there will be a rural-style celebration at the Loxahatchee Groves Park pavilions.
"We're trying to do what I envision would be a country fair in a small rural community," Underwood said. "We're going to have hamburgers and hot dogs and ice cream and popcorn."
Loxahatchee Groves is a fairly young community, with an average age of 48, so Underwood hopes to attract families to the celebration.
"You never see that, because most of those people are working every day and taking care of their kids, and they don't have time for government, or getting involved in that respect," she said. "So we're trying to do something that will attract the families of Loxahatchee Groves. They are the future of the town."
Activities will be staged, including games for kids commonly associated with a country fair.
"We're going to have sack races and pie and cake contests, and we're going to have horse exhibits and horse rides," Underwood said. "I know there's a lot of horses in Loxahatchee Groves, but that doesn't mean every kid has a horse."
Activities will include costumed pony rides sponsored by the Good Earth Farm and other horse-related activities.
Officials from surrounding municipalities will also be invited, including people who helped in setting up the town's government.
"When the town first started, it had a lot of help from municipalities in Palm Beach County," she said, specifically noting Atlantis City Manager Mo Thornton, who sat with the council during its first meeting to help get them through the process before they hired any staff.
Sam Goren of the law firm Goren, Cherof, Doody & Ezrol, who helped draft the town charter, has also been invited. "He was instrumental at the beginning before they hired a law firm," Underwood said. "He came in to help them."
Other people who helped include Jamie Titcomb, now manager of the Town of Ocean Ridge, who was executive director of the Palm Beach County League of Cities at the time.
"We're trying to incorporate all of these people who were not just from within the town, but who were able to stand up for them," Underwood said.
The Loxahatchee Groves Landowners' Association is gathering photographs to include in a commemorative calendar.
"They are working with us, they wanted to be involved, and they are sponsoring certain activities that day," she said.
The Palm Beach County Sheriff's Office and Palm Beach County Fire-Rescue will also be involved, as well as health monitoring services.
"We're working with a budget," Underwood said, explaining that plans have not yet been finalized. "We want the families to come, since they are the future of the town and they are the biggest part of the town. I'm hoping that it's going to work out, and it's going to be beautiful."
Anyone wanting to participate, volunteer or provide input is invited to contact Perla Underwood at (561) 793-2418.