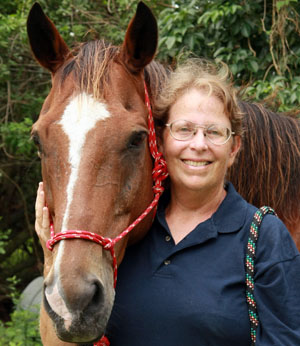 TALES FROM THE TRAILS
Not that long ago, large tracts of Palm Beach County were horse-friendly. Really horse-friendly. Riders thought nothing of heading out from their homes down the dirt roads, dogs trailing in a pack, meeting other riders along the way until they ended up among a large group of horses, riders and dogs stretching straight across the road. There were empty lots, soft dirt roads and not too much traffic.
The Jim Brandon Equestrian Center, Okeeheelee Park and the River Bridge development were open riding areas of scrub and sand. The Lowe's shopping center on State Road 7 had a stable on it, and you could ride a trail through the orange groves behind it all the way to Wellington. For that matter, I remember going on a fox hunt through parts of Wellington.
Well, you know what happened. Progress, they call it, and I suppose it is. Riders in The Acreage are especially concerned these days because of several large developments on the way. As a result, a group of horse owners, primarily from The Acreage and Loxahatchee Groves, decided to band together and form a group called Trail Riders Unlimited. They had their first meeting last June at The Acreage library.
"We're looking to preserve our equestrian way of life," said Tonya Rector. "We want to ensure that we'll still have places to ride our horses and coexist with these big new developments like Westlake. They've successfully done it in Jupiter Farms, Ocala, Caloosa, Fox Trail, Deer Run, Wellington and Davie, where they have excellent trail systems. We'd like to take an active role and have our voices heard as these developments move forward, to be part of the decisions that will be made. It's possible, but we have to start now, or it'll be too late."
The group of eight people discussed such amenities as horse safety signs to educate drivers, a mapped and marked trail system, and safe horse crossings of busy roads with buttons mounted high enough on poles so a mounted rider could push them to call for a light change.
There was a lot of discussion about which areas were safer to ride in, which are more dangerous, the uses of the Nicole Hornstein Equestrian Park, which currently hosts many shows, and other related issues. Some ideas included having group members wear bright yellow shirts with "Slow Down" printed on the back to remind drivers to be careful when passing horses, and the possibility of real trails, similar to the ones in Wellington, with dirt footing suitable for horses and wooden rails to give horses a bit more safety.
There was also some concern that the people moving into the new developments might object to the rural feel of the rest of The Acreage. As someone said: "People buying suburban homes in the country may not like living near horses, cows and goats, and the attendant smells and flies. We're interested in staying an equestrian community, which is why a lot of us moved here in the first place. In order to continue as such, we should offer a variety of equestrian activities, not just shows."
The group decided to talk with the Indian Trail Improvement District, which is sanctioned to construct, improve and maintain roads necessary to provide access to and efficient development of certain areas. ITID is also empowered to buy, develop and maintain recreational areas. But, as someone mentioned, "Politics and horses can be a tough mix."
The group decided to post information on its Facebook page, hold monthly trail rides open to everyone, and start thinking of ways to move forward with plans to gain traction and visibility with both the equestrian community and local political powers.
"If we encourage everyone with a horse to get out there and ride, we'll definitely make a statement," Tonya said. "We're not trying to compete with any local horse showing groups. We enjoy riding with and meeting our neighbors, plus it's safer to ride as a group, not to mention more fun. It's a great opportunity for the equestrian community to come together and get to know each other. Trail rides promote horsemanship, friendship and the equestrian lifestyle."
The first community ride was held in late July. Four riders and six other members, who weren't able to bring their horses, met at a member's house on West Allen Black Blvd., parking along 168th Terrace North. The ride started out a bit after 7 p.m., a cooler part of the day. The parking was easy for horse trailers to get in and out without having to back up, and the road was soft dirt. There was also a wide grass swale beside the canal. People brought covered dishes and snacks to enjoy afterward. "The response was pretty good," Tonya said. "A lot of people couldn't make it because school started soon and they were on vacation with the kids."
For more information, or to check for upcoming events, visit the group's Facebook page at www.facebook.com/groups/905191066277402.