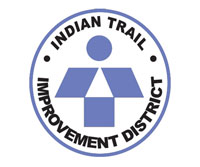 Palm Beach County work crews are cleaning up thousands of gallons of raw sewage that spilled onto homeowners' properties in The Acreage after a force main break Monday near 40th Street North and 110th Avenue North, west of the Pond Cypress Natural Area.
The Indian Trail Improvement District is taking steps to protect its canals and wells from possible contamination.
"This is the third time that it has happened," ITID Manager Jim Shallman told the Town-Crier on Tuesday. "It's a Palm Beach County issue all the way. We don't have authority to do anything in there. What we have done is shut down the R2 control structures in that area. I don't know at this point how many gallons actually went through."
Shallman said initial reports on the cause of the spills were that they're due to settling of the road's base rock, which caused the line to split.
"They didn't go down deep enough, apparently, and the bedding settled and cracked the pipe," he said.
Shallman added that he is trying to get the results of a county study on the pipe.
"It's still not fixed, and that's why I want to get my hands on it, because I'm pretty sure that study recommended changing that whole thing out," Shallman said. "I heard discussions along those lines, but they never actually did anything."
The county did respond in a timely manner to the spill.
"I understand they responded pretty quickly, anywhere between one to three-and-a-half hours are the numbers that I've been receiving between discovering the break and when they got there," Shallman said. "So you can calculate how many gallons escaped and went north."
He has commissioned ITID's water testing company to test for fecal coliform, phosphorus and dissolved oxygen starting at 60th Street and moving south to see how far north the spill may have traveled.
"That's just to protect the workings of the district," Shallman said. "We don't know how much would seep into the wells. We just want to make sure. It's definitely a Palm Beach County issue, and we'll be talking to them seriously about how they are going to resolve this, both financially and for the break."
The break is about 7 feet away from a similar one that occurred in 2013, Shallman noted.
"It's a little early, but we're trying to gather as much information as we can," he said.
According to a Wednesday statement from the Palm Beach County Water Utilities Department, the department was notified at approximately 4:50 p.m. on Monday of the 30-inch force main break and repair crews were immediately dispatched, working throughout the night and the following day to replace the damaged pipe. As of Wednesday evening, the line was back in service.
The Palm Beach County Health Department and the Florida Department of Environmental Protection were notified and were onsite to observe the situation, according to the county statement. Samples from adjacent residential wells and the surrounding canals were taken to be analyzed.
Questions about the situation should be directed to Water Utilities Director Jim Stiles at (561) 493-6214.