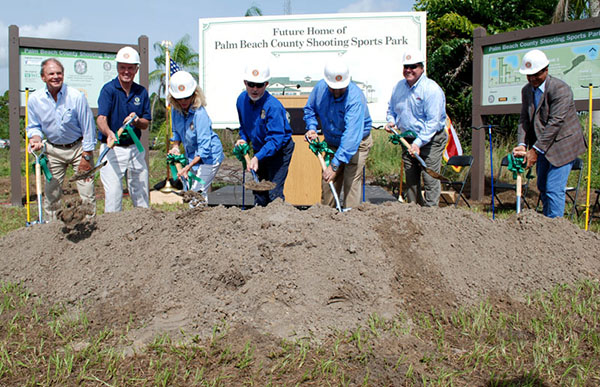 The Florida Fish & Wildlife Conservation Commission held a groundbreaking ceremony on Thursday, Sept. 1 for a long-planned public shooting range north of The Acreage.
The Palm Beach County Shooting Sports Park will be at the north end of Seminole Pratt Whitney Road opposite the J.W. Corbett Wildlife Management Area on the east side.
The 150-acre parcel was acquired in a land trade with the county and the South Florida Water Management District. The shooting range will be similar to others throughout the state.
Carol Lyn Parrish of the FWC said the range will take about one year to complete. "We're excited that this is happening," Parrish said. "It has been about 10 years in the making for the agency to get a start on this public shooting range, and we're excited to have the opportunity to participate in it and make this available for the people who like to recreate down here in South Florida."
Although similar public ranges exist across the state, there are none in Palm Beach County at the present time.
"The closest ranges we have are in Okeechobee and in Broward," she said. "This will be a great spot for people to come and shoot their firearms, and get educated also."
The shooting range design has 20 shooting positions on a 300-yard small bore rifle range, 20 positions on a 100-yard small bore rifle range, 42 positions on a 25- to 50-meter pistol range, 30 positions on a 10-meter/50-foot pistol range, one international (Olympic) trap bunker, 10 combination trap and skeet fields and a 15-position sporting clays course, as well as a 6,200-square-foot concession building.
Construction will be in four phases, beginning with the pistol and rifle ranges, plus rehabilitation of an existing building for offices, target storage and restrooms. Phase 2 will be the sporting clays course. Phase 3 will be construction of the trap and skeet fields and pavilion. Phase 4 will be the construction of the concession building.
For more information, call Lynne Hawk at (561) 625-5122 or visit www.myfwc.com.
ABOVE: Dignitaries gather for the groundbreaking ceremony at the Palm Beach County Shooting Sports Park on Sept. 1. Photo courtesy Palm Beach County