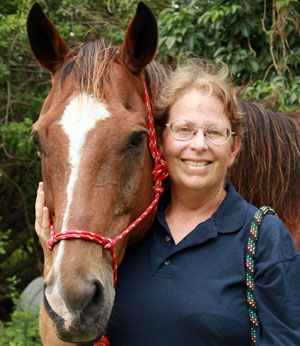 TALES FROM THE TRAILS
You've probably driven past a million times without noticing it's there, but Pinetree Quarter Horses, a family-run breeding and training facility, has been located at 14148 Okeechobee Blvd. for more than 30 years, quietly turning out top-notch show horses.
Doris Collier and her husband, Jim, bought the first 10 acres of raw land in the 1970s, gradually adding three more 5-acre parcels as they became available. Back then, the roads were all dirt, and you had to work hard to get from here to there. The Colliers built the farm, moving there in 1985, then opened the boarding and training business in 2000.
"It was really rustic back then," Doris recalled. "People thought we were crazy. But gradually, our facility evolved. We built it up piece by piece."
Pinetree now boasts a 200-foot-by-300-foot arena, two large show barns, lots of turnout and riding areas, a trail obstacle course, a round pen, a horse walker and four outer two-stall barns with attached pastures for the broodmares.
Doris's heart lies with raising youngsters. "I'm addicted to the babies," she said. "They're so cute. I love watching the moms and babies. We own nine horses, including two brood mares. We do two foals a year, going for quality rather than quantity. We don't over-produce. The bloodline which put us on the map was a great show mare named The Kat Woman. After she retired, she gave us nine or ten foals, every one of which placed in the top five at the Quarter Horse Congress, and many who went world champion or reserve.
Unfortunately, we lost her last year, but we kept two of her fillies. Miss Kat Tails has given us six excellent foals."
The current one, Trudy, is a hunter-type filly with long legs and neck, and is an elegant bay like her dam. Doris's other foal, Ginger, a roan like her sire, is a typical western-looking girl, shorter and rounder. Due to unfortunate circumstances, her dam became ill and had to be put down. Ginger now lives with Buster, a friend's borrowed donkey.
"I've used Buster for years as a babysitter when I wean my foals," Doris explained. "He's the best: patient, kind and a really good boy. When I wean Trudy, she'll join the two of them."
Trudy will eventually be sold, but Ginger's a keeper. "She'll be here forever. I loved her mom, who was the best mare. This way I can keep a part of her with me, always," Doris said.
Doris keeps her focus on mares.
"We don't stand any stallions. They're hard to deal with. I prefer mares. When choosing a stallion, you have to consider what will be the best cross with your mare," she said. "My favorite right now is Hot N Blazing. He throws nice big babies, over 16.1, with beautiful movement and good temperaments. He's got a great show record, and his foals go on to win."
She also keeps to breeding Quarter Horses.
"I've dealt with a lot of different horses over the years, but Quarter Horses won my heart. They're so versatile that they can do anything well, from reining to jumping. And they have that phenomenal temperament. They have great minds and are easy to work with. They have a good work ethic. I believe every Quarter Horse has a niche. You just have to find the things he's good at and enjoys doing, and then you'll have something special," Doris said. "We only attend Quarter Horse shows and compete in the Hunter Under Saddle and Hunt Seat Equitation classes. But we train all of the pleasure disciplines — Western, English and also trail. We don't do jumping, barrels or reining. You can't spread yourself too thin."
Doris added that Pinetree has an excellent staff that can train any horse, from starting youngsters to tuning up show horses. Her daughter and son-in-law, Lori and Andrew Augsburger, along with assistant Anthony Douglas, do most of the day-to-day work.
Andrew, a member of the AQHA's Professional Horsemen's Association, joined Pinetree 12 years ago and has trained multiple Congress Champions, Top Ten Congress, AQHA Honor Roll, and Reserve and Top Ten World Show winners. His horses go in the show ring and do their job with safety and integrity.
Lori, a Florida native, grew up in the Quarter Horse industry. She has trained and won many Honor Roll awards, Congress Champion titles and Top Ten World Show winners. Lori's the coordinator, planning the shows and meeting customers' needs.
Anthony Douglas came to Pinetree eight years ago from Tennessee. His work ethic, people skills and love for horses complete the team.
"We try to educate people and match the right person with the right horse," Doris said. "That's most important. There's nothing worse than a bad pairing. Sometimes parents think it'd be good to get a young horse for their young child and let them learn and grow together. Horses aren't dogs, and yearlings aren't puppies. Novice riders, especially, need older, mature, knowledgeable mounts."
At Pinetree, safety is always a concern. "Our reputation depends on turning out well-trained, well-handled horses who can compete successfully at the top levels. You can't often do that in 30 or 90 days, and if we can't, we'll say so. Some horses need more time. Some come with baggage. I advise clients to do the research to make sure the horse they're getting will make everyone safe and happy. There's no such thing as the perfect horse," Doris said. "To me personally, one of the most rewarding parts is going to a top show and seeing every one of our horses place in the top ten. Watching a horse I've known from a young foal compete successfully at the top levels — it doesn't get any better than that. I live surrounded by great horses and great horse people. I'm very blessed."
For more information, call (561) 798-2001 or (561) 373-9310, or visit www.pinetreeqh.com.