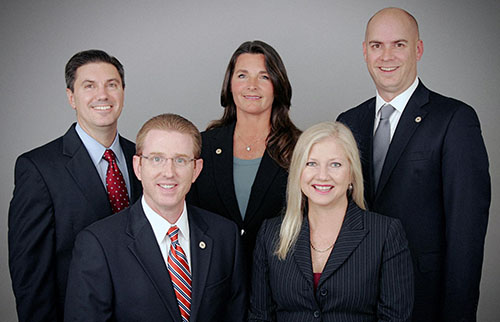 In giving a report to the Wellington Village Council on Tuesday, Aug. 23, the village's lobbyist predicted major changes in the way Tallahassee does business, with a mid-decade redistricting replacing many of the key players.
Screven Watson of Screven Watson & Associates explained that the political landscape has changed in Tallahassee over the past few years.
"In 2015, it was ugly," Watson said. "The House and the Senate didn't get along. It was very contentious, and not a lot got done. In 2016, it was really sort of, 'Can't we all get along?' In the very first week of session — and I've never seen this in all my time in the legislature — the two presiding officers passed their most important bills that had died in 2015."
House Speaker Steve Crisafulli's water bill, the first comprehensive water policy since Gov. Reubin Askew, passed, as well as Senate President Andy Gardiner's bill to help developmentally disadvantaged children.
"Sometimes every session has a different tone," Watson said. "This session had a lot of bills that didn't make sense. There were a lot of radical bills on both sides, so last session was more of, 'Let's do no harm, let's get rid of things,' or try to work against things that are going to be impactful to the village and many other cities. We worked with the League of Cities and special districts on those bills, and many of them didn't pass."
Many of the bad bills contained no provision for state financing, he said.
"There were a ton of unfunded mandates, which is great for Tallahassee — they want to send them down here and have you pay for them," Watson said. "They may have been great ideas — solar lights on bike trails and body cameras — but they weren't coming with any funding, and in these days, that's important."
There were many bills aimed at special districts, such as telling them how to write their contracts, and requiring the districts to pay for utility relocations, which passed, but with amendments so that they weren't so burdensome.
The 2017 session will also take on its own tone, he said.
"Here's what you need to know about 2017," Watson said. "There is going to be a huge turnover in the Florida Legislature with reapportionment. With the term limits, we see that, but with reapportionment, we had the special session, and the Senate maps were thrown out, so every senator is up for re-election. There have been a lot of changes, and you have to get your arms around how new this legislature's going to be."
There will be more than 20 new legislators in the 40-member Florida Senate, he said.
"In the Democratic caucus there are 14 members now," he said. "As few as three could come back, as many as five."
In the 120-member House there will be 43 new members, with 20 freshmen among the Democrats.
"You're going to have a lot of people who don't know where to park and where the restrooms are," Watson explained. "They're going to be bumping into each other in the halls, and there's good and bad with that. There's good because there'll be fresh ideas and there always comes some good energy. It's bad that you have to re-educate. There's a loss of institutional knowledge."
He said Senate President Joe Negron (R-Stuart) and House Speaker Richard Corcoran (R-Land O' Lakes) will wield unusual power because there will be so many new members. "We're going to see what's important to them, and it's going to rule the day," he said.
Amendment 1 passed last year, dedicating funds to acquire and restore Florida conservation and recreation land. It will be discussed in light of frustration about how that money was allocated.
"Here's what's happening all over the state," Watson said. "There's already a feeling that there's a little shell game going on. We all remember the lottery, and we hear people to this day believing that the lottery didn't do what they thought it would do when they voted on it. You're starting to hear people being a little suspicious of Amendment 1."
Different parts of the state have different issues with the amendment. "You have people in North Florida saying, 'Wait a minute, we voted for this, too. We have issues in springs, we have issues in rivers,'" Watson said. "Amendment 1 and how that money is allocated is going to be talked about a great deal, and what you're going to see are some geographic wars."
Healthcare funding, which is a huge part of the budget, including public hospitals versus private hospitals, will be a large part of the discussion.
Watson said water is at the forefront of discussion for Wellington. It comes up every time he speaks with Village Manager Paul Schofield. "In South Florida, sometimes there's too much water; in Central Florida, not enough; and North Florida is like, 'Don't steal our water.' They are very protective of their water," he said.
Watson said that there will be many discussions about how well the water bill that passed last year is working to protect Florida's springs.
"Where does Wellington fit into that? Your proximity to the water conservation area, your proximity to the ground zero that is Martin County and the estuaries and the agricultural area, and your own water issues and how the plumbing works — it's going to be very important that we're part of these discussions," he said.
Watson said Wellington should join with other local agencies to force discussions on water.
"We're going to have to be plugged in because we're all interconnected," he said. "These discussions in previous years happened in a vacuum. We can't allow that any more. There's such a spotlight on water that we're going to need to be a part of these discussions."