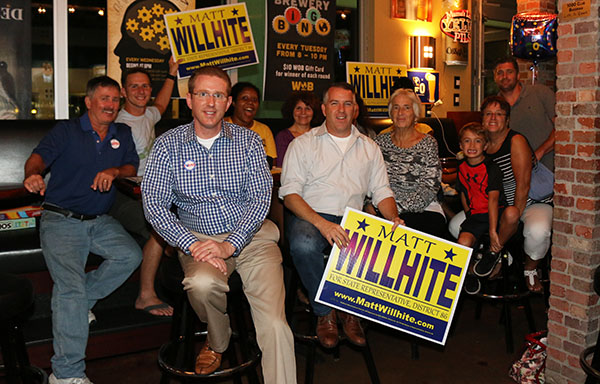 When the Florida Legislature convenes next year, there will be new people representing the western communities. Who those people will be became clearer when the primary election results came in Tuesday night.
In the race to replace term-limited State Rep. Mark Pafford in District 86, which includes all of Wellington, Royal Palm Beach, Loxahatchee Groves and several communities to the east, Democrat Matt Willhite will face Republican Laurel Bennett in November.
In the Democratic primary, Willhite, a former Wellington councilman, defeated Royal Palm Beach businesswoman Tinu Peña. Willhite took 56.29 percent (5,451 votes) to Peña's 43.71 percent (4,233 votes).
In the Republican primary, Bennett, a Royal Palm Beach businesswoman, defeated Wellington educator Stuart Mears. Bennett took 52.71 percent (2,951 votes) to Mears' 47.29 percent (2,648 votes).
Willhite is excited and happy to be the Democratic nominee.
"Obviously, it was a good race; it was a good, contested race. I appreciate my opponent Tinu Peña's candid debate and hard work. I think she's an asset to the community and I appreciate her staying on the issues during the campaign. I look forward to working toward the general election on Nov. 8 and becoming the new state representative for District 86."
He thanked his family, his campaign team and all of his supporters.
"They know, as I do, we worked a good, hard race. We were successful because the issues important to us are important to our residents in District 86. We're going to the stay the course, and we're going to stay working on the issues that I think are very important to them," Willhite said. "Just because one election is over doesn't mean that these issues go away. We're going to keep working on these issues."
Bennett described her feelings about the election results as "elated, wonderful, happy." She plans on taking a few days off before hitting the road and continuing her campaign.
"We'll campaign just a little bit harder with a little bit more knowledge than we had before," Bennett said. "I'm hoping to make sure that the two bills that I'm pushing get some attention for the veterans. I want to make sure that these bills go through that will enable them to get covered. These are Vietnam veterans that I'm trying to make sure get the benefits they were promised a long time ago."
She also wants to make connections, get educational bills started, help repeal Obamacare and see how she can help serve in Tallahassee.
"Thanks to my team and the voters and the people who believed in me and helped me along on this journey," Bennett said. "They are what made this possible. I can do all of the work, as far as the bills and the legislature, but I represent them and without them, I would be nothing. I just want to say 'thank you' to them."
The State House District 85 primary race to replace retiring State Rep. Pat Rooney pitted Republicans Rick Roth and Andrew Watt against each other, with Roth taking 62.04 percent (6,662 votes) to Watt's 37.96 percent (4,077 votes). Come November, Roth will face Democrat Robert Simeone in a northern Palm Beach County district that includes most of The Acreage.
The District 29 State Senate race featured State Rep. Kevin Rader, a Democrat, receiving 58.46 percent (24,546 votes) to Democrat Mindy Koch's 41.54 percent (17,445 votes). Since no one else filed to run, Rader has been elected to the seat, which includes most of Wellington.
The District 30 State Senate Democratic primary saw State Rep. Bobby Powell claim 67.30 percent (21,669 votes) to attorney Michael Steinger's 32.70 percent (10,527 votes). Powell will advance to face Republican Ron Berman in November for a district that covers Royal Palm Beach, Loxahatchee Groves, parts of The Acreage and several communities to the east.
ABOVE: Matt Willhite (center, holding a sign) celebrates with supporters at World of Beer in Wellington after the election returns came in.