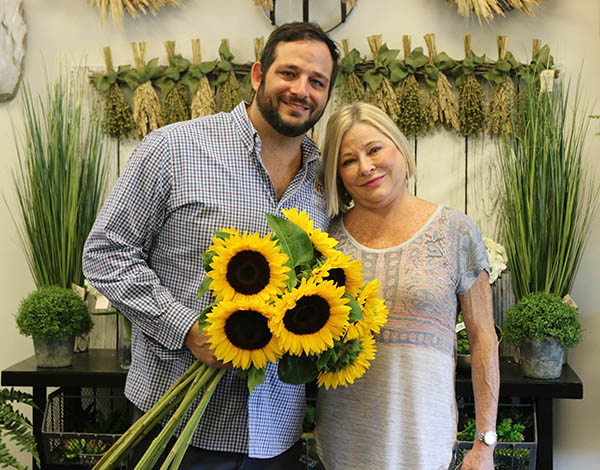 By Brianne Simone
Longtime local business Wellington Florist, founded by Melinda and Dean Varvarigos, recently received a special honor when Melinda was accredited by the American Institute for Floral Designers.
"It's an exclusive certification," explained J.P. Varvarigos, current owner of Wellington Florist and Melinda's son. "It's quite an honor to have the invitation to be inducted into the American Institute of Floral Designers."
Melinda received the accreditation for her excellence in customer service, extensive knowledge of floral design and mastery of the variety of techniques necessary when dealing with the 150 different types of fresh flora that arrive at Wellington Florist each day.
"It lets the customers know that we are competent and able to facilitate their needs, flower-wise," J.P. said. "Whether you're doing one bridal bouquet or you want us to do a $100,000 floral installation… we have the knowhow to pull it off."
The accreditation also shows that Wellington Florist understands the floral industry.
"We're tested on knowing these little industry secrets," J.P. said. "You know we're going to be a florist that can handle what you're talking about; we're not going to make amateur mistakes, like ordering the wrong color of flower or something out of season. It gives the customer a little peace of mind as far as our experience."
Next year, Melinda will be attending the AIFD's National Symposium, where she will be inducted into the institute. J.P. hopes to earn his own accreditation.
Members of the AIFD are expected to partake in charitable work, such as sending floral arrangements to local nursing homes. Wellington Florist is already known as a huge donator of its time and products in the Wellington community.
For instance, one event the company supports is Bubbles & Bouquets, an annual fundraiser benefiting Petals With Purpose, which repurposes flowers to bring joy to children, the elderly and those living with disabilities. It is just one of the causes to which Wellington Florist donates. They also decorate for special local events, often at heavily discounted prices, and deliver breathtaking arrangements to the local veterans' hospital, often staying a while to keep the veterans company.
The Varvarigos family has a long history of working with flowers, which began long before the Wellington Florist founders met for the first time at a flower shop that Dean managed called Budding. There did seem to be an element of fate involved. Melinda was a clerk working for the company when they met. When he moved to start a flower shop of his own, she moved with him.
"My mom became like the chef in the restaurant, and my dad was more like the maître d'," J.P said. "Now that I run the business, I do both. I run the business and I design. I have a passion for both."
Both on the artistic end as floral designers and on the business end, as managers of the shop's public relations and finances, the Varvarigos family has continued to hone their craft over the generations.
In recent years, Wellington Florist has doubled in size, with plans to delve further into the education and competitive aspects of floral design.
Wellington Florist takes pride in the freshness of its products, and most of the flowers are delivered straight from the farm. Many of the premium flowers come from Holland through Dutch brokers living in the United States who have been to the farms, know the industry, and know exactly which farms have the best flowers at different times of the year.
"We order directly," J.P. said. "As they produce, they pack them in boxes and they ship them to us on airplanes."
In order to receive such a fresh product, Wellington Florist has to order a large volume, utilizing various resources that not all flower shops have access to.
"It's really easy to just not know about all of these resources," J.P. said. "Not every flower shop can take advantage of these resources."
Wellington Florist also has an expanded selection of artificial flowers, a vast variety of containers, balloons, Hoffman's chocolates and plushies. They try to accommodate every customer's request, no matter how difficult it may be. From corsages for the prom to a bouquet of roses for an anniversary, the flower shop doesn't refuse any order, often doing the work of days in mere hours. "We specialize in last-minute requests," J.P. said.
To further prevent anxiety, the shop offers a seven-day guarantee on flowers.
"That's one thing that really sets us apart from other florists. Pretty much everyone else in the industry has a 24-hour guarantee," J.P. said, noting that their average arrangements cost from $75 to $100. "We understand that's a lot of money for someone to spend. We don't want them to worry that in two days it's going to be gone."
All staff members are trained and friendly, able to answer the many questions they field over the phone. Many of the Wellington Florist staff members have decades of experience under their belts.
As Wellington Florist evolves, adapting to this new age of automated delivery, e-mails and instant gratification by text message, more of its staff will hit the books, further honing their craft so that they, too, can earn accreditation.
Wellington Florist is located in the Wellington Marketplace at 13889 Wellington Trace, Suite A12. It is open from 9 a.m. to 6 p.m. Monday through Friday and 9 a.m. to 5 p.m. on Saturday. For more info., call (561) 795-9299 or visit www.wellingtonflorist.com.
ABOVE: J.P. Varvarigos with his mother, Melinda Varvarigos, at Wellington Florist.