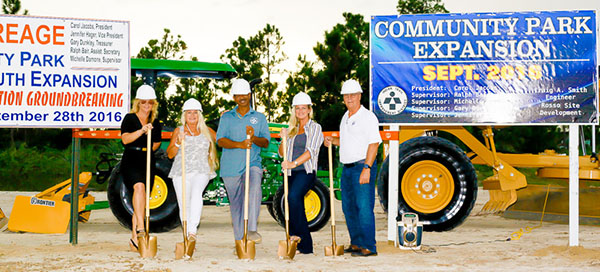 The Indian Trail Improvement District Board of Supervisors held a quiet groundbreaking for its Acreage Community Park southern expansion project on Wednesday, Sept. 28. Construction is set to start Oct. 15.
Supervisor Ralph Bair pointed out that last week's groundbreaking was the second groundbreaking for the delayed project. The first was two years ago. The process has actually gone on for more than a decade.
"I came back on the board in 2006, and between the different district administrators that we've had, [former District Administrator] Tanya [Quickel] was the only one to step in and try to help us move forward with the park. We had the money to do the job, and we had some progress. We already had most of the money dedicated for it. We just decided to use the entire amount to finish up all of the flat, the level part of the park, minus the community center."
The total funding is about $3 million.
An equestrian park will be on the south end, and an area has been dedicated for BMX bike use if funding can be found.
"There's a place there for BMX to be put, and there's one undedicated field, and there's one dedicated field with a track around it that will be lit for additional football fields," Bair said, adding that complete bathroom facilities will be included. "It will be complete facilities. It won't be anything portable or something like that. There will be the Garden of Hope, and the play area is already there."
Also planned is a building to accommodate a splash park, with a raised area for performances. Landscaped parking is on the plans. "It won't be that flat parking lot you see there," he said.
Supervisor Michelle Damone said that she is excited that the park expansion is finally underway, but disappointed that the groundbreaking was called at the last minute.
"It was last minute, and no one was invited but the board of supervisors," she said, adding that she wished that community leaders and volunteer organizations who have been supportive of the park expansion effort were invited. "I would have loved to see some children in attendance… But at the end of the day, I'm just happy that we're moving forward with the expansion. I think an expansion of that size — something the community's been waiting for for more than a decade — deserves more attention."
ABOVE: ITID supervisors Michelle Damone, Carol Jacobs, Gary Dunkley, Jennifer Hager and Ralph Bair at the groundbreaking ceremony.