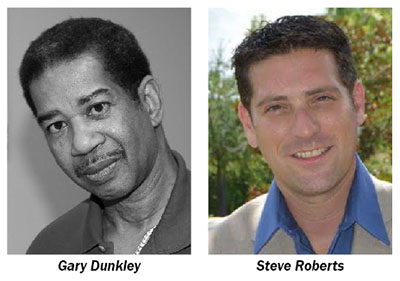 Incumbent Indian Trail Improvement District Supervisor Gary Dunkley will face challenger Steve Roberts in the Nov. 8 election in a runoff for Seat 2 after neither candidate received more than 50 percent of the vote in the Aug. 30 primary.
In that election, Dunkley garnered 38.87 percent (1,808 votes) to Roberts' 24.04 percent (1,118 votes). Roberts narrowly edged out Ryan Bernal for spot in the runoff. Bernal received 23.54 percent (1,095 votes), while Tim Sayre came in fourth with 13.55 percent (630 votes).
Dunkley is finishing up his first four years on the board.
"I made campaign promises, and I tried to keep up with all my promises," he said. "I put out literature based on everything that I've accomplished since I have been on the board, and my focus for the future is replacing the inverted siphon, keeping our focus on drainage and infrastructure, prioritizing services of the district, and identifying water storage areas to solve our past and future problems."
Dunkley joined the ITID board shortly after the flooding in the area from Tropical Storm Isaac. He noted that the irony is that The Acreage has a higher elevation than the surrounding areas. It does not, however, have the same drainage rights as other areas.
"We're in a situation now where the county has failed us," he said. "They have created this situation with overdevelopment, and it's the cause of our traffic problems. We need to come up with solutions for that. I think the county has failed us by not doing its due diligence before it put all this development into it, by seeing that our roads can't take it."
Another important issue for Dunkley is preserving water quality. "We need to have a testing program for our water because, with all this development that's coming up, I think we need to keep tabs on our water," he said.
Dunkley has also started a farming class free to residents as a way to try to promote home gardening.
Above all, Dunkley said, he wants to listen to the residents.
"That's one thing I said I would do — listen to the people and try to be fair-minded and come up with decisions that are fair for everyone," he said.
Dunkley added that he routinely pulls items from the supervisors' agenda at meetings to ask questions, even though he knows the answers, so that members of the public have an idea of what is happening.
"That's what I'm there for, to shine a light on things that are not known," Dunkley said. "There's so many things without people having a chance to question. I try and be an advocate for the public. When I was sitting out there, I was shut up so many times… There were many times that I really wanted to lose my patience and my cool, but I try and keep my decorum and keep respectful, because I believe we can talk things through."
Dunkley also pointed out that his campaign is completely self-financed.
Roberts has campaigned against the high level of contention during board meetings that he believes has led to dysfunction.
"Even more so now," Roberts said. "Over the last two or three meetings alone, berating Palm Beach County water management when they were trying to present a solution, when someone speaks up and says anything against him, Gary actually said, 'shut the hell up' to a fellow board member right in the middle of the meeting. It's just argumentative, and it's not just to board members, but it's also to people representing GL Homes."
Roberts said the contention is not productive but, rather, destructive.
"You're attacking someone who is trying to present a solution and answer the question," he said. "You have to explain yourself three times. It's frustrating. If you can't understand the question the first time, or the second time or the third time, then what are you doing? These are things that continue to come up."
Roberts said that the Acreage Horseman's Association was having trouble with its paperwork recently and, rather than offering help, a board member discussed replacing the organization.
"These are community events," he said. "A change is needed on the board. You have to be able to get along with people. You have to be able to understand and be able to function at a level that is conducive of the community. If we need something from one of the neighboring districts, we're not going to be able to get it if the person on the board that tried to talk to them… is always yelling at them."
Roberts said that there are also issues with board member interference with district staff.
"The administrator still hasn't had his evaluation," he said. "I know he was out sick for a while, but it still should have been done. These are all concerns, and I just don't believe that with an attitude, and that much anger against people, it helps. We need to start working with people. Under no circumstances should you be yelling and screaming at another board member. We should be working with developers that are offering resolutions for additional drainage or equestrian parks or anything that's going to help by being an activated unit of ITID."
Roberts said he would like to see that all nonprofits are treated fairly and equally, and see that personal issues on the board are put aside.
"These are decisions that have to be made based on the facts presented, and what the general consensus of the community is," he said.